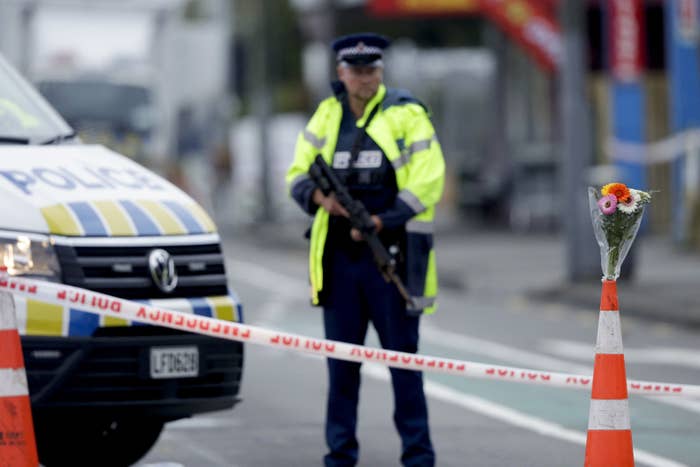 Sky New Zealand has clarified that Sky News Australia was removed from its platform on Friday to ensure the rolling coverage of the mass shootings in Christchurch didn't "compromise ongoing investigations".
The satellite TV provider initially posted a tweet Saturday morning that announced:

"We stand in support of our fellow New Zealanders and have made the decision to remove Sky News Australia from our platforms until we are confident that the distressing footage from yesterday's events will not be shared."
The decision came after New Zealand police asked the public not to share footage of the attacks on two mosques in Christchurch.
A number of media outlets in Australia and the UK used some of the footage in their coverage, including Sky News Australia.
A Sky spokesperson told the New Zealand Herald: "We made the decision to remove Sky News Australia from our platform while disturbing footage of the shootings was being shown to avoid causing any distress to our viewers.

"It will remain off air until we are confident the footage won't be shared."
On Saturday afternoon, a Sky News spokesperson told BuzzFeed News the decision to replace the news coverage with sport had been made after consultation with Sky New Zealand management.
"As the live rolling events of the Christchurch shooting unfolded, an editorial decision was made by Sky News Australia to offer sports programming to SKY NZ in place of Sky News Australia's live feed to ensure any footage or reporting did not compromise the ongoing investigations taking place in New Zealand," they said.
"Sky News Australia acted responsibly and prudently in replacing the service as soon as it was able to early yesterday evening after consulting with SKY NZ management."
In the UK, the Daily Mail was one of several news outlets that defied requests from police not to spread the footage, which had been repeatedly shared across social media platforms in the wake of the attack.
Sky News Australia has attracted considerable criticism recently.
Last year the channel apologised and removed an interview with far right nationalist Blair Cottrell.
During the interview Cottrell declared Australia should stop all immigration apart from South Africa. His controversial appearance on the station attracted widespread criticism, including from Sky News staff.
In the aftermath, Cottrell targeted one of Sky's female journalists, Laura Jayes.
In a tweet Cottrell, the former United Patriots Front leader, said he "might as well have raped" Jayes on air because "not only would she have been happier with that but the reaction would've been the same".
In November, Sky News host Ross Cameron was sacked after using racist terms to describe Chinese people on his late night cable and free-to-air TV show Outsiders.
"If you go to the Disneyland in Shanghai, on any typical morning of the week you'll see 20,000 black-haired, slanty-eyed, yellow-skinned Chinese desperate to get into Disneyland," Cameron said.
The show has long been controversial. Last year, Sky News apologised for allowing an offensive comment made by Liberal Democrat senator David Leyonhjelm about Greens senator Sarah Hanson-Young to be highlighted on screen.
Sky New Zealand did not immediately respond to a BuzzFeed News request for comment.