Sainsbury's Staff Poster Revealing Plans To Make Customers Spend More Goes Viral
The supermarket's Twitter account admitted the poster was meant for "staff areas" only. H/T @joncstone.
When TV freelancer Chris Dodd allegedly spotted this poster in a Sainsbury's window, he decided to let the supermarket know on Twitter.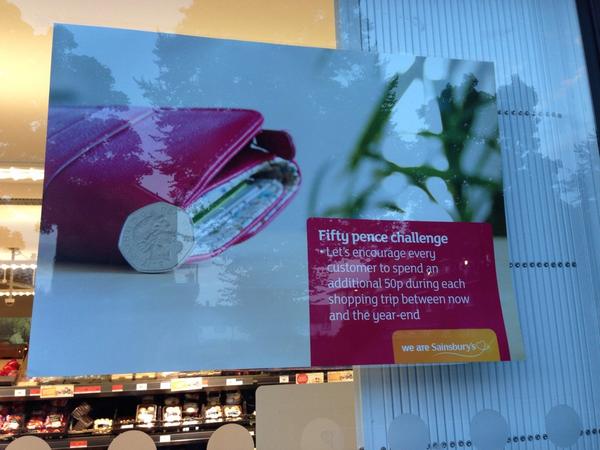 The poster talks of a "Fifty pence challenge" designed to encourage customers to spend an extra 50p every time they shop between now and the end of the year.
A guy called Ross, who was apparently running Sainsbury's official Twitter feed at the time, responded and asked to know which store was showing the poster.
But Dodd had other ideas and thought the British public should know about the supermarket's plans.
At this point Ross started getting rather desperate for information...
Ross went on to acknowledge the poster was meant for "staff areas" and not for the public to see.
Now, now – play nice, Ross.
BuzzFeed News has reached out to Sainsbury's for comment on the tweets and the existence of the 50p challenge.
Dodd has now revealed to BuzzFeed News that he spotted the poster at the Sainsbury's on Romford Road in Stratford, east London. So there you go, Ross, you now have your answer.
Sainsbury's eventually released the following statement: "We often use posters to make store targets fun and achievable for our colleagues.
"They are intended for colleague areas in the store, but this one was mistakenly put on public display."