Newspaper Apologises After Using Picture Of Late "Jackass" Star Instead Of Soldier Killed In Gaza
The picture was taken off the soldier's Facebook page after his death.
The New Zealand Herald has apologised after using a picture of Ryan Dunn instead of a New Zealand-born Israel Defense Forces soldier when reporting on his death.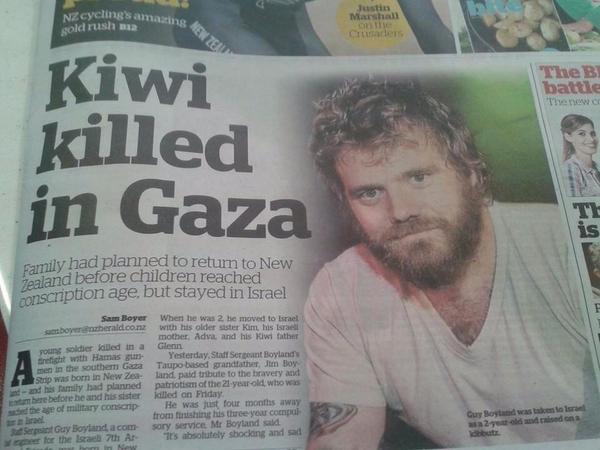 Sergeant Guy Boyland, 21, reportedly died during clashes between the IDF and Hamas in the southern Gaza Strip on Friday.
While covering the news, the Herald took pictures off his Facebook page and mistakenly thought images he had posted following Dunn's death in a car crash three years earlier were images of the soldier.
On Monday the paper's editor Shayne Currie issued an apology to his readers saying he took responsibility for "errors that should never have occurred".
"The New Zealand Herald apologises unreservedly to the family and friends of Guy Boyland following the incorrect use of two images in today's paper and on the New Zealand Herald website," the statement declared.
Currie said he had spoken to Boyland's family and they had been "remarkably forgiving, particularly in the circumstances".
"I have apologised for adding to their grief and I will keep them fully updated on how this happened as obviously it is unacceptable," he said.
Currie added: "Guy Boyland was a fan of comedian Ryan Dunn and had posted the photo we used on his Facebook page when the comedian died in 2011." Dunn, one of the stars of the popular MTV show "Jackass" died in a car crash in Pennsylvania in 2011.