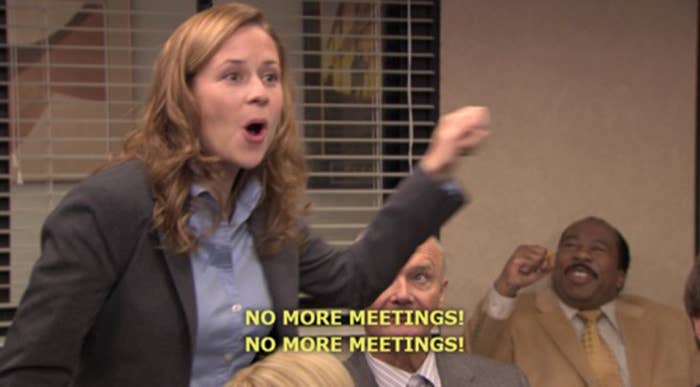 1. Yessss, almost lunchtime, maybe I'll go to Chipotle.
2. I deserve a Chipotle – I've been working solidly for 20 minutes now.
3. Email from Craig.
4. Meeting? Now?
5. But it's 11:52am, Craig.
6. Only arseholes schedule meetings during lunch.
7. This is such a Craig thing to do.
8. I wouldn't wish a lunch meeting on my worst enemy.
9. Why are we having this meeting anyway?
10. TO TALK ABOUT MEETINGS?
11. This has got to be a joke.
12. First thing I'm going to suggest in this meeting about meetings is a ban on lunchtime meetings.
13. Wait a minute, if it's a lunchtime meeting, then there has to be lunch.
14. I'm such an idiot – lunchtime meetings are actually the best!
15. There'll be a nice sandwich selection from Pret, maybe a few biccies or mini Danishes.
16. I'm so fucking pumped for the mini Danishes.
17. Hmm, there doesn't seem to be any food in here yet, just jugs of water.
18. Maybe it's running late.
19. Why is the meeting starting? The food hasn't arrived yet, people!
20. Three minutes into this meeting and I've already switched off.
21. Just make sure you look like you're in deep thought and nod your head every now and then.
22. Good, now you can strategise about how you're gonna get Blac Chyna to follow you on Instagram.
23. I wonder if you can use a NutriBullet to make pesto.
24. Must remember to pick up cold-and-flu tablets from Boots.
25. How old is Gloria Estefan?
26. Shit, remember to look engaged – this meeting is apparently important.
27. Nod your head enthusiastically.
28. Oh no, Craig, I was just nodding because I...well...I don't know.
29. No, I don't have any thoughts on the new logging system.
30. Great, now I look like a fucking idiot.
31. Chipotle Chipotle Chipotle Chipotle.
32. Stop saying Chipotle!
33. CHIPOTLE!
34. Shit, that was out loud.
35. Graham just looked at me with sad, pleading eyes.
36. He too wants a burrito, I can feel it.
37. I'm too hungry to concentrate.
38. And weirdly horny.
39. I wonder what Graham looks like underneath all that corduroy.
40. What you hiding behind that waistcoat, Graham, you sexy–
41. CONCENTRATE!
42. Why are we talking about accounts, that's not even my team!
43. YOU SAID THIS MEETING WAS ABOUT MEETINGS, CRAIG.
44. Raise your hand and ask if you can leave.
45. You don't even belong here.
46. Why does Debra get to leave?
47. Oh, she's going to the Reading office and needs to catch her train.
48. Never been so jealous about going to Reading in my life.
49. Note to self: Ask to work at the Reading office more.
50. Now we're talking about best ways to communicate company changes.
51. NOT WITH SOME BULLSHIT MEETING, THAT'S FOR SURE.
52. Sorry, Craig? I look like I want to say something?
53. Ask him where the mini Danishes are.
54. Yes, Craig, a biweekly meeting is a great idea.
55. You're pathetic.
56. Oh my god, the catering guy is coming in with the food cart!
57. HALLEFUCKINGLUJAH!
58. I can see sandwiches! Coffee! Biscuits! AND MINI DANISHES!!!
59. No, Craig — what are you — why are you telling him it's the wrong room?!
60. Shit, it's for a client meeting.
61. But the mini Danishes.
62. Right, as soon as this meeting is over I'm heading to Chipotle with Graham and I'M GETTING GUACAMOLE I DON'T EVEN CARE.
63. Oh my god, Graham has said we should wrap this up as he thinks someone else has booked the room.
64. Take me now, Graham, you delicious–
65. OH MY GOD PEOPLE ARE GETTING UP IT'S ALL OVER.
66. Yes, Craig? Do I have a sec?
67. As long as it's just a sec.
68. Yeah, sure we can have a meeting about the biweekly meeting.
69. This twat.
70. Now?
71. No, Craig.
72. But my Chipotle, Craig.