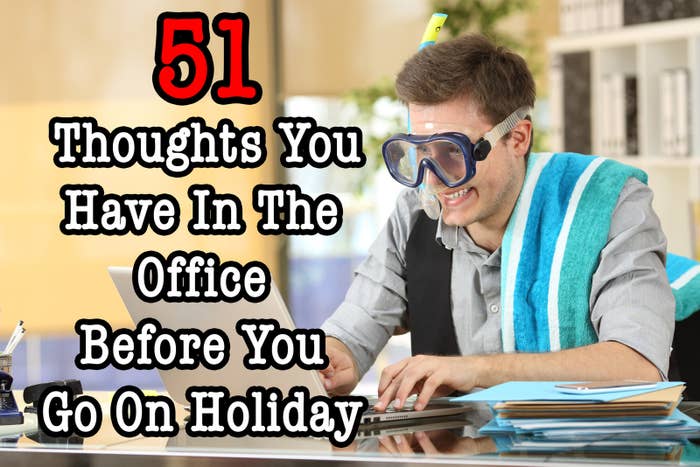 1. Ok just three more days, you can do this.
2. IBIZA IBIZA WE'RE GOING TO IBIZA GONNA GET FUCKED UPPPP WOOOOO!
3. Contain yourself!
4. There's lots to do before you go, now is NOT the time to switch off!
5. HAHAHA BRAIN SHUT DOWN DOWN DOWNY DOWN!
6. Jesus fucking christ this is going to be tough.
7. Right, send out those emails, reply to Stan, and get cracking on that report...
8. But first let's check if my bikini has been despatched!
9. Still in the warehouse? Oh god what if it doesn't come in time?
10. Gonna have to buy one at lunch just to be safe.
11. There's just not enough time left!
12. How am I supposed to print off my holiday itinerary, buy a bikini, do low carb AND do my job?
13. I need a holiday before my holiday so I can prepare for the holiday.
14. Then I need a holiday after the holiday to recover from the holiday.
15. I'm doing holidays all bloody wrong.
16. I might as well put my Out Of Office on now.
17. "Hello I'm not actually out of the office yet but I might as well be because I give zero shits right now."
18. Shit, must remember to print off my boarding pass.
19. And hotel confirmation and the car rental.
20. The only good thing about being here right now is access to the printer.
21. I'll print off three copies of each thing just to be safe and because it's free innit.
22. Shit, Darren the snake is by the printer.
23. Aaaand I've accidentally put 30 copies instead of 3, fuuuuckkk!
24. No Darren it's fine! It's just my report Darren – no need to sort through it all!
25. You nosy fucker.
26. Now I'm gonna have to tell a terrible lie to get him away from the printer.
27. Darren there's doughnuts in the kitchen.
28. That'll get rid of him.
29. Fuck have I bought travel insurance?
30. Do I even need travel insurance, I'm not planning on dying any time soon.
31. Maybe I'll go and speak to Maureen she's old, she'll know about policies and shit.
32. Plus she's senior so no one can tell me off for having a long chinwag with her.
33. Ugh what does Greg want?
34. You want me to help with the Sparta pitch?
35. BUT I'M GOING TO IBIZA GREG DON'T STRESS ME OUT I'VE ALREADY HAD A BIKINI NIGHTMARE TODAY.
36. I'm not getting involved in any big projects before I leave because there's no way I'm checking my emails on holiday.
37. In fact I'm deleting all apps off my phone. I'M HAVING A CLEANSE.
38. And then if they try to call me I'll ignore it and just say my phone got stolen by a teenager with a mullet riding a moped.
39. Greg can see the light's gone out in my eyes.
40. That's it Greg, fuck off, I'm in holiday mode baby!
41. What does bloody Jean want now? WHY ARE PEOPLE BOTHERING ME LIKE I WORK HERE OR SOMETHING.
42. You're on holiday tomorrow so you can't do this report?
43. The cheek of this bitch! Palming off her work to me just because she's going on holiday!
44. That's disgraceful Jean! Why should we suffer just because you're going to Corfu with your sexy husband?
45. Oh look it's Terry!
46. Terry I'm going on hollibobs tomorrow mate, can you take care of this please thanks bye.
47. Good ol' Terry.
48. OK all I've done today is bought a new swimsuit and broken the printer.
49. I'll be much more productive when I get back from Ibiza.
50. I'm gonna go try it on in the toilets.
51. Maureen can you come and look at this one piece I got for Ibiza?