With House Set To Return, Washington Inching Toward The Cliff's Edge
Fiscal cliff negotiations make a last stand. But the path to a deal remains treacherous.
by
,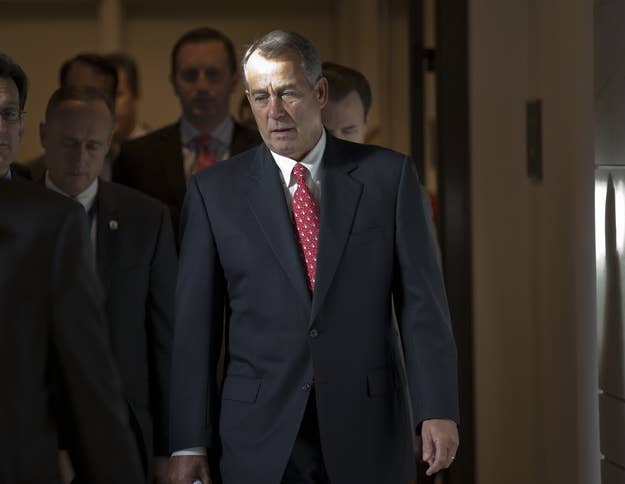 WASHINGTON — As fiscal cliff negotiations entered the final days before a rash of tax hikes and spending cuts automatically take effect, lawmakers indicated they are still open to a last-minute deal — but the practical path to such a compromise remains unclear.
President Barack Obama will meet Friday at the White House with congressional leaders, including House Speaker John Boehner and Minority Leader Nancy Pelosi, and Senate leaders Harry Reid and Mitch McConnell, a Democratic leadership aide confirmed Thursday.
That meeting was in flux for a few hours Thursday afternoon as Democrats sought to determine whether an in-person gathering could yield any progress. At press time, Republican aides said they had not yet agreed to meet. White House aides would not confirm the meeting.
Meanwhile, Majority Leader Eric Cantor told Republicans on a conference call Thursday that the House will return to session Sunday afternoon.
However, House Republican aides insisted privately Thursday that they aren't coming back to Washington to conduct further negotiations — but instead to wait on the Senate to act on its fiscal cliff bill from this spring, which included no tax increases for the wealthy.
"That's our offer," a senior House GOP leadership aide said. "That's our position. If they want to change it, they're free to do so."
Boehner's decision to return to Washington might also be a simple response to optics — the networks and other media outlets have been pounding House Republicans for leaving the capital before Christmas, and with his team already in a deep PR hole, leadership seems to think it best to bring Republicans back, even if they would not do much of anything, other aides speculated.
Even if Boehner, Obama, Reid and McConnell were to agree to a deal — something that is, for all of Thursday's bluster, no closer to happening — that doesn't mean it could pass muster with enough of Boehner's conference to actually pass.
Indeed, House members might simply be coming back to Washington to stand witness with their Senate counterparts as the country plunges off the fiscal cliff.
"We'll see what the President has to propose," McConnell said on the Senate floor Thursday. "Members on both sides of the aisle will review it, and then we'll decide how best to proceed."
In his conference call with members, Boehner continued to place the onus of responsibility on the Democratic-controlled Senate.
"The House has acted on two bills that collectively would avert the entire fiscal cliff," Boehner told his members during the conference call, according to a source on the call. Boehner added, echoing a statement he had made earlier, "If the Senate will not approve these bills and send them to the president to be signed into law in their current form, they must be amended and returned to the House."
"Once this has occurred, the House will then consider whether to accept the bills as amended, or to send them back to the Senate with additional amendments," Boehner said. "The House will take this action on whatever the Senate can pass – but the Senate must act."
But doubt persists that Boehner could shore up enough support within his own caucus to pass a compromise package, and the path to an agreement before the end of the year remains unclear. In particular, Democratic aides in the Senate pointed to last year's payroll tax cut debacle as a cautionary tale about Boehner's ability to actually marshal his conference.
In the days leading up to Christmas last year, Boehner assured McConnell, and then both Reid and McConnell, that Boehner could deliver the votes for an agreement to extend the tax cut for one year. All Reid and McConnell had to do was send over a bill.
But during a conference call with his members in which Boehner laid out the payroll deal, he and his leadership team came under attack from rank-and-file — who took their complaints to the press within minutes.
That revolt forced Boehner to back out of his agreement with McConnell and Reid, and the episode has left a sour taste in Senate mouths ever since.
When asked if Reid would simply accept an assurance from Boehner that he could, in fact, pass a bill in the House after the Senate were to agree to it, a Democratic leadership aide said bluntly, "After last year? No. No way."
Zeke Miller contributed reporting.