House Working Through Violence Against Women Act Sticking Points
Behind the scenes, Republicans search for a compromise. Democratic leaders "pretty confident" the measure will be reauthorized.
by
,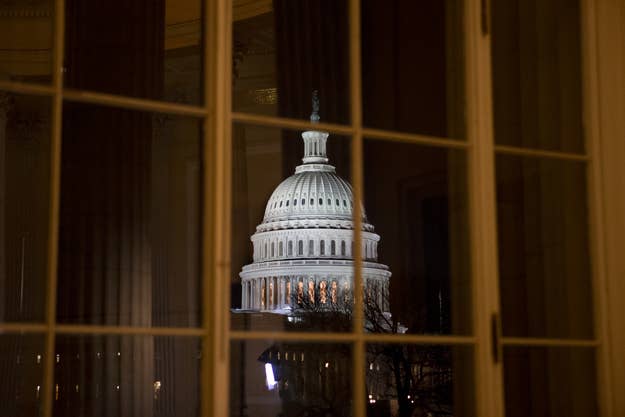 WASHINGTON — The Violence Against Women Act appears to be on a path to reauthorization in the House — but Democrats are slinging attacks at their Republican counterparts in the meantime.
In an email Tuesday, House Democrats sounded a familiar refrain in the years-long saga: "House GOP Standing in Way of VAWA, Again."
Democrats went on to attack House Republicans for delaying a vote on the measure, which would renew a law meant to curb domestic violence.
Even so, House Minority Whip Steny Hoyer said Tuesday he is "pretty confident" the measure will be approved by the House this time — although he left an opening for tweaks to the bill.
"The Senate version is the best version," Hoyer said. "I'm not in a position to say, 'My way or the highway,' however."
The Senate's bill extends to a few key groups for which some House Republicans oppose protections: Namely, immigrants, LGBT women, and Native Americans.
Those provisions proved nonstarters in the Republican-controlled House last year, but there are signs that the majority party might reconsider.
House Majority Leader Eric Cantor and Rep. Tom Cole met Tuesday to discuss the latter sticking point in particular, which Cantor opposes and Cole supports.
"Our leadership has moved a long way," Cole told reporters. "I really appreciate some of the efforts they've made, because not everybody is going to be happy, and in the end of the day we ought not to deny Americans the right to protect their own citizens in their communities. ... Tribal governments just don't have the same policing authority and proscecutorial authority that they need, and I hope to correct that in this bill."
Asked whether he thought his Republican colleagues might be able to support protections for Native Americans, Cole responded, "If they got more familiar with it, I hope they would."
"If we don't get in the base language in the bill, …I think we certainly ought to get a shot at getting it in on the floor," he added. "I don't have that agreement yet, but I'm certainly pushing for it."
Whether — and when — an agreement will be reached remains unclear, however.
"We're continuing to work on the best approach to protect women and prosecute offenders," said Michael Steel, spokesman for Speaker John Boehner.