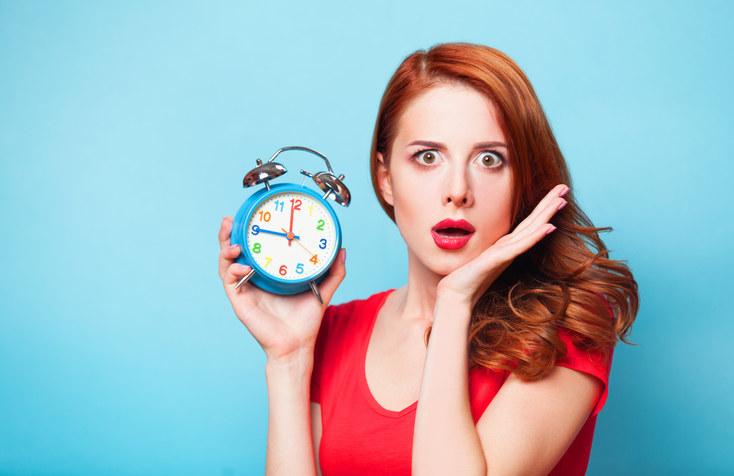 Have ever caught your friends setting up an EARLIER time for you and a LATER time for the rest of the group.

Have ever stuck inspirational messages on your alarm clock to help you wake up.

Have ever slept through a test.

Have ever felt like a marathon runner because you spent all morning sprinting so you can show up on time.

Took longer than nine months to be born.

Set all the clocks ahead in your house to try to fool yourself.

Have been reprimanded by your boss for tardiness.

Have had people give up and start eating without you.

Have ever missed a flight.

Have woken up after the time you said you'd be somewhere.

Have said, "On my way!" when you're still getting ready.

Have blamed being late on traffic.

Take start times as mere suggestions.

Have arrived at a party as it's winding down.

Have taken so long getting ready that you gave up on going out entirely.

Have arrived on time and people were startled by it.

Have left early, and still wound up showing up late.

Think you deserve a medal for leaving late but still showing up on time.

Can't remember the last time you ate breakfast at home.

Live by the motto: "Running late, but I'm on my way!"

Walk quickly everywhere you go, even if you're not running late, just because it's what you're used to.

Hate it when you race to show up on time to the doctor's office just to wait like an hour for them to see you.

Don't watch your favorite show when it's on, and end up getting everything spoiled for you.

Have become an expert on putting on makeup on the bus.

Or at brushing your teeth while you're getting dressed.

Have the couple minutes you were running late turn into a couple hours because everything seems to go wrong when you're running behind.

Sometimes feel like the day is only three hours long.

Think of the snooze button as your best friend.

Surprise yourself with how creative you can be when you're making excuses for being late.

Are late for something right now because you wasted too much time taking this quiz.
Looks like there are no comments yet.
Be the first to comment!