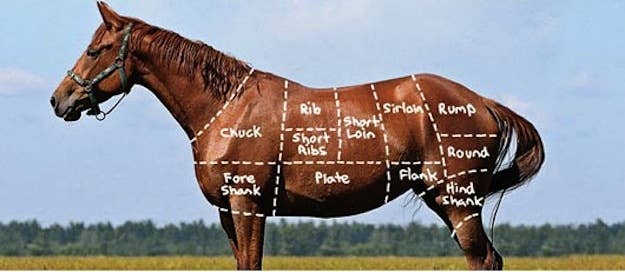 In light of Britain's ongoing collective freakout over the discovery that a whole bunch of products containing ground "beef" in U.K. supermarkets are actually full of ground horse, the question must once again be asked: What is the deal with eating horses? Why is this the line (short of kittens and corgis) that past and current citizens of the British Empire just won't cross?
The obvious problem in this particular instance is that no one knew they were eating horse. Mislabeling ingredients is a serious concern, whether you're dealing with fish or quadrupeds. But let's take distributors' dishonesty and/or shoddy inspection standards out of the equation. Then the total absence of horsemeat in U.K. and U.S. restaurants and stores can only be written up to a cultural squeamishness that's pretty odd in countries so comfortable with plenty of other truly disquieting meat products.
"Culturally, horses are more akin to pets or partners," said butcher Tom Mylan of The Meat Hook in Brooklyn. "We're not psychologically set up to think of them as food." That mind-set may have come from our British forefathers, but at a certain point, it's become a U.S. specialty. "Americans, out of all the other cultures in the world, have the most fraught relationship with our diet in general and eating meat in particular," he said. "We're all over the place with strange cultural taboos."
Equine dining is nothing new or special in parts of Canada, Europe, Asia, and plenty of other places in the world. "You can find horsemeat at all of our major grocery stores," said David McMillan, one of the chef-owners of Joe Beef in Montreal. "It's not a question, it's just another protein that we eat." Diners visiting from south of the border seem to have trouble grasping that. "We have a lot of Americans that come to eat it as novelty. Why do you want horse when there are so many other things on the menu? They want something for Instagram, they want something to tweet about."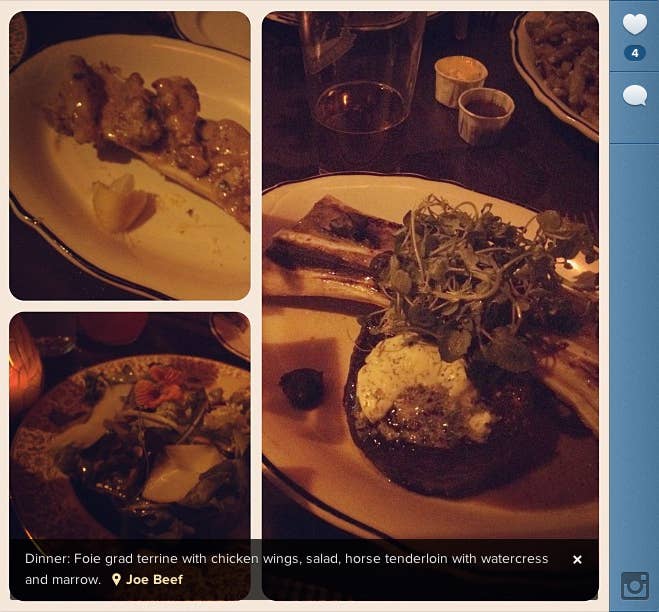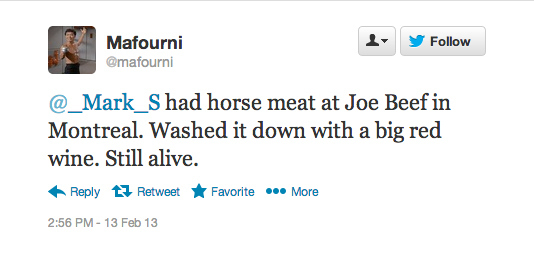 Professional chefs in America tend to take a more practical view than their civilian counterparts: To them, eating horses is just not that big a deal.
"If this is about a labeling issue, obviously all packaging and labeling should be honest and upfront," said chef Matthew Jennings of Farmstead in Providence, Rhode Island. "They shouldn't lie. But horsemeat on the whole? Yeah. It's good."
Chef Vinny Dotolo of Animal in Los Angeles, a mainstream popular restaurant where the menu currently lists crispy pig head, beef heart, veal brains, and rabbit sausage, wrote, "Horse is good. Wish I could serve it or find it."
"I looked into procuring it in New York, and I found that few suppliers, if any, actually distributed horsemeat," said chef Noah Bernamoff of NYC's Mile End Deli.
Mylan doesn't see that changing anytime soon. "There's just no infrastructure at all for horsemeat, and no slaughterhouses with experience, so we generally stay away from it," he said. The lack of supply isn't because it's verboten — it's now perfectly legal to buy and sell horsemeat in the U.S. — but there's no demand. And there's no demand because, as Mylan puts it, "when you look at a grassy slope dotted with black angus cattle, you think steak. With a horse, you think Mr. Ed."
Horsemeat would need aggressive rebranding to escape the taboo ghetto — for the sake of bored chefs, if no one else. "We've been cooking the same damn 20 animals forever, and every year the list of fish we can cook is smaller. There's only so much pig you can eat," said McMillan.
McMillan's experience in Quebec suggests that marketing horse as the ultimate healthy protein might work. "It's high-quality, lean protein. I'll have athletic types come in with their girlfriends and have a salad and double horse, no sauce, with wine. Mothers will go to a horse butcher to get horsemeat for babies that have an iron deficiency. All the bodybuilders go there."
If any suppliers are daring enough, there could be an untapped market for lean horsemeat among American weight-watchers and Paleo dieters looking for something more than a lifetime of chicken breasts and farmed tilapia. And for those who aren't into the diet angle, there are plenty of other things you can do with a horse.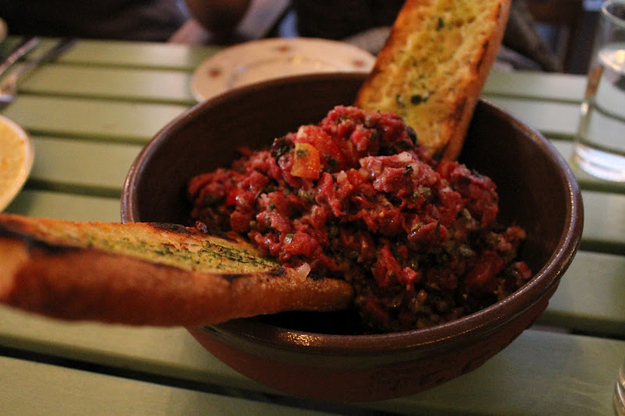 "Horse is delicious as prime-cut steaks, rib steaks, tenderloin steaks," McMillan said. "The best thing is horse tartare — that's the classic." Cured meats are an option too. Bernamoff described a "pony baloney" made by NYC chef Hugue Dufour (of M. Wells Dinette) as "totally awesome."
Sourcing may present a few hurdles, especially given a lack of regulatory oversight and the risk of contamination from steroids and hormones that can be toxic to humans. "You have to source your horse properly, because it's a bit of a free-for-all. The traceability is questionable," said McMillan. "You can call the big horse butcheries in Quebec and they're very evasive about telling you where they get it. We have one supplier for horse, and we would never serve it unless it was from this one supplier."
Jennings agrees that, at least at the moment, the supply chains for horse are murkier than they should be. "But so long as it is from a good, trusted source, I'd munch on mare any day," he wrote.
From McMillan's point of view, Americans are uniquely small-minded about meat. "A chef friend of mine was saying that NYC, no matter how you slice it, is one giant steakhouse. America is America," he said.
But in America, bigger is better, right? So maybe we could just add a few pages to the steakhouse menu.
For those hungry, resourceful souls who can get their hands on some authentic horse parts from a reliable source, here's a recipe from the Joe Beef cookbook (which is a sassy and awesome cookbook) to get you started on the road to lean protein (plus bacon) bliss:
Filet de Cheval à Cheval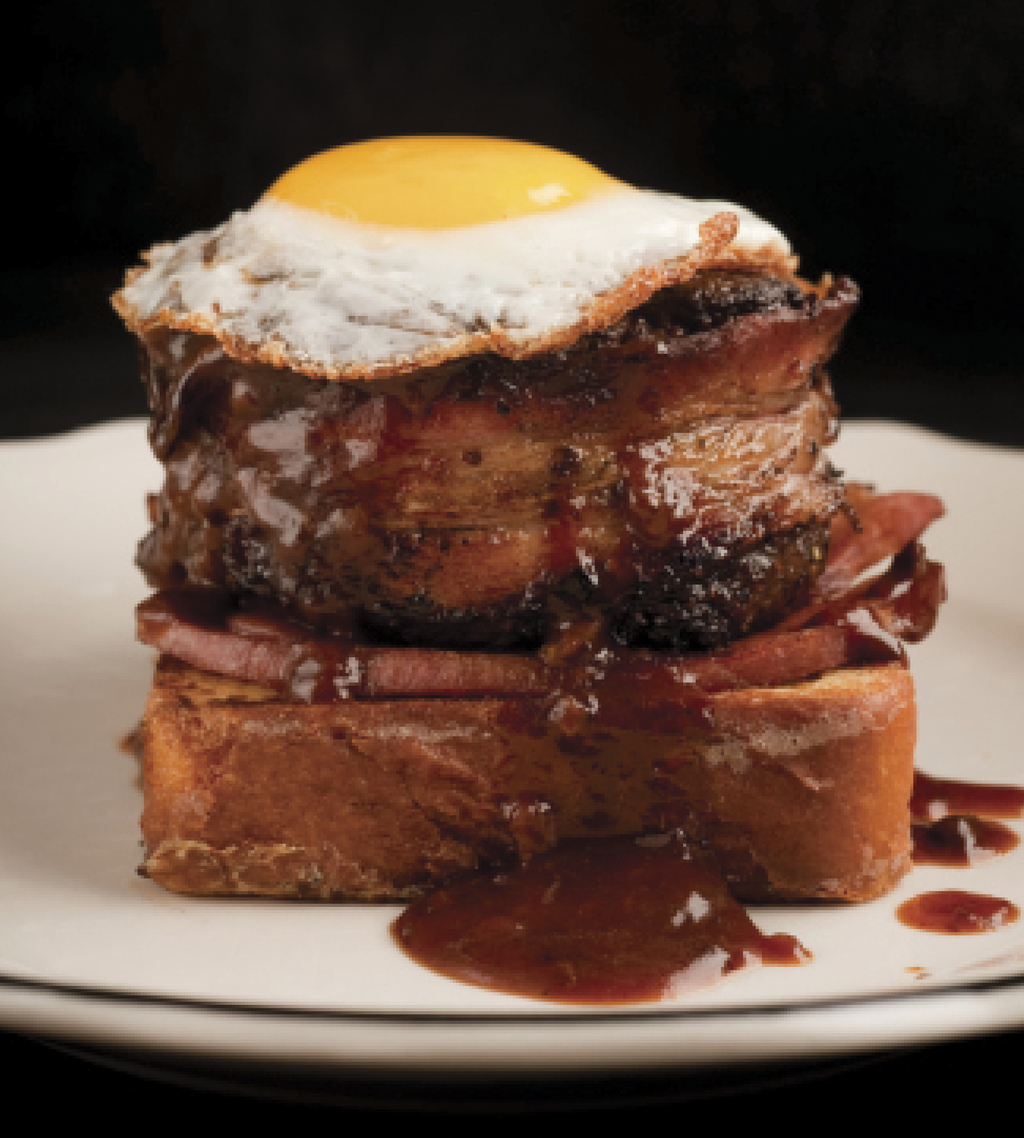 Serves 4
2 Tbsp. canola oil
4 slices bacon
2 Tbsp. unsalted butter, plus more for frying
1 bay leaf or 1 sprig thyme (optional)
4 horse steaks, 8 to 10 ounces (225 to 280 g) each
1 cup (250 ml) Joe Beef Sauce Vin Rouge (see below)
2 Tbsp. Dijon mustard
4 eggs
4 slices brioche (optional)
1. Place a large sauté pan over high heat and add the oil. When the oil is hot, add the bacon and fry for about 5 minutes, or until nicely browned but not crisp (you are going to want to wrap it around the steak). Set aside.
2. Pour out the fat and wipe the pan clean. Add the 2 tablespoons butter to the same pan over medium heat. When the butter is bubbly, add the bay leaf. Now add the horse steaks to the pan and cook for 5 minutes on the first side. Turn and cook for 4 minutes on the second side. Transfer the steaks to a plate and let rest for 4 minutes, keeping them warm. Wipe the pan clean and set aside.
3. Meanwhile, in a small pot, warm the wine sauce over medium heat and whisk in the mustard. Remove from the heat and keep warm.
4. Add a little butter to the sauté pan and fry the eggs, then toast the brioche, if using. Wrap a slice of bacon around each steak, if you can, and then top the steak with an egg. Or, just place a bacon slice and an egg on top of each steak. If you have toasted brioche, slip a slice of toast under each steak.
Pour a couple of spoonfuls of wine sauce over each portion, and you have the classic filet de cheval à cheval — "fillet of horse on horseback."
Joe Beef Sauce Vin Rouge
Makes 2 cups (500ml)
1/2 cup (55g) sliced French shallots
1 small red beet, peeled and thickly sliced
2 cups (500ml) dry red table wine
2 Tbsp. cheap-ass balsamic vinegar
1 bay leaf
2 cups (500 ml) beef stock
3 Tbsp. unsalted butter
Salt
1 tsp pepper
1. In a small saucepan, mix together the shallots, beet, wine, vinegar, and bay leaf. Bring to a boil over high heat and reduce by half. Add the stock and continue to boil until reduced by half.
2. Whisk in the butter and season generously with salt and with the pepper. Serve right away. Or, let cool, transfer to a tightly capped container, and refrigerate for up to a week or freeze for up to a month.
Recipes reprinted with permission from The Art of Living According to Joe Beef by Fredéric Morin, David McMillan & Meredith Erickson, copyright © 2011. Published by Ten Speed Press, a division of Random House, Inc.