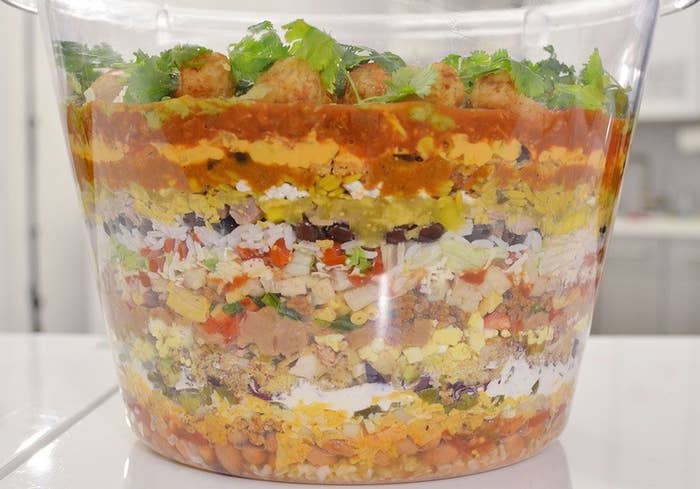 What could possibly match the epic drama of the year's biggest Beyoncé show (or whatever) better than an appetizer that weighs more than a human baby? This dip weighs 17 lbs. This dip has 47 DIFFERENT layers of food. This is a gosh darn touchdown in a bowl.
So how do you make it?
A little advice, should you dare to attempt it:
DON'T DO THIS ALONE. That is something only a maniac would do. Instead, make it potluck style: Ask your friends to each prep a few ingredients and bring them over on game day. Then you can assemble the beast together.
The chicken nuggets (aka nugs) and French fries are unquestionably the heart and soul of this operation. We highly recommend buying the authentic article at McDonald's. Michael Pollan, if you're up there listening, I'm sorry and I hope I can still go to Chez Panisse when I die.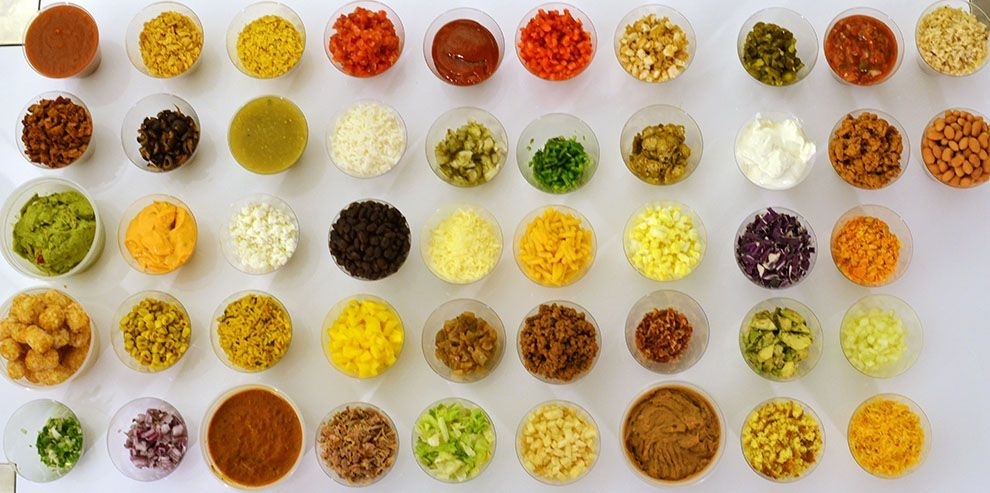 Here's what you'll need:
GEAR:
Get a big-ass bowl/vessel to hold everything, about as wide as it is deep, preferably with a flat bottom, and definitely clear so that you can see the beauty of the layers. I used THIS, which is technically an ice bucket. You'll also need the following:
• a flexible spatula to smooth layers
• a very long serving spoon (or a couple)
• lots of small bowls, Tupperware containers or small Ziploc bags to hold prepped ingredients (47 of them!)
PREP: 2 DAYS BEFORE
Crush enough Fritos, Cool Ranch Doritos, and Nacho Cheese Doritos to get 1 cup of each. To crush, put one type of chips in a Ziploc bag, press out as much air as you can, then whack at them with the back of a spoon until they're mostly small crumbs.
Cook about 8 to 10 slices of bacon until crispy, and crumble it into ½-cup bits. The best, easiest way to do it is to spread the bacon out on a wire cooling rack set in a sheet pan. Bake in the oven at 375 degrees for 15 minutes or until crispy. You could also just buy bacon bits.
Chop yellow onions and sauté with a little oil and salt until they're golden-brown.
Cook each type of rice — brown, white, and yellow (from a Goya box) — according to directions. Set aside 1 cup of each.
Sauté 1 cup frozen corn in a nonstick pan until water evaporates and it starts to brown.
Hard-boil 3 or 4 eggs.
Stash everything in small containers or Ziploc bags and refrigerate.
PREP: 1 DAY BEFORE
Finely chop enough of these veggies and other things to yield the amounts indicated:
Hard-boiled eggs (1 cup)
Red cabbage (1 cup)
Iceberg lettuce (1 cup)
Bell pepper (1 cup)
Fresh tomatoes (1 cup)
Mango (1 cup)
Dill pickles (½ cup)
Pickled okra (½ cup)
Black olives (½ cup)
Pickled jalapeños (¼ cup)
Fresh jalapeños (¼ cup)
Red onion (¼ cup)
Scallions (¼ cup)
Cucumber (¼ cup)
Grate cheddar cheese and Pepper Jack cheese and crumble feta/cotija cheese — 1 cup each.
Sauté ground beef with ½ packet taco seasoning (according to instructions). Cook ground turkey with the remaining ½ packet.
Sauté ½ lb. chorizo (about 2 to 3 sausages) until it's browned and fully cooked, then chop finely.
Bake cornbread according to instructions. Once it cools, crumble enough for 1 cup.
Stash everything in small tupperware containers or Ziploc bags and refrigerate.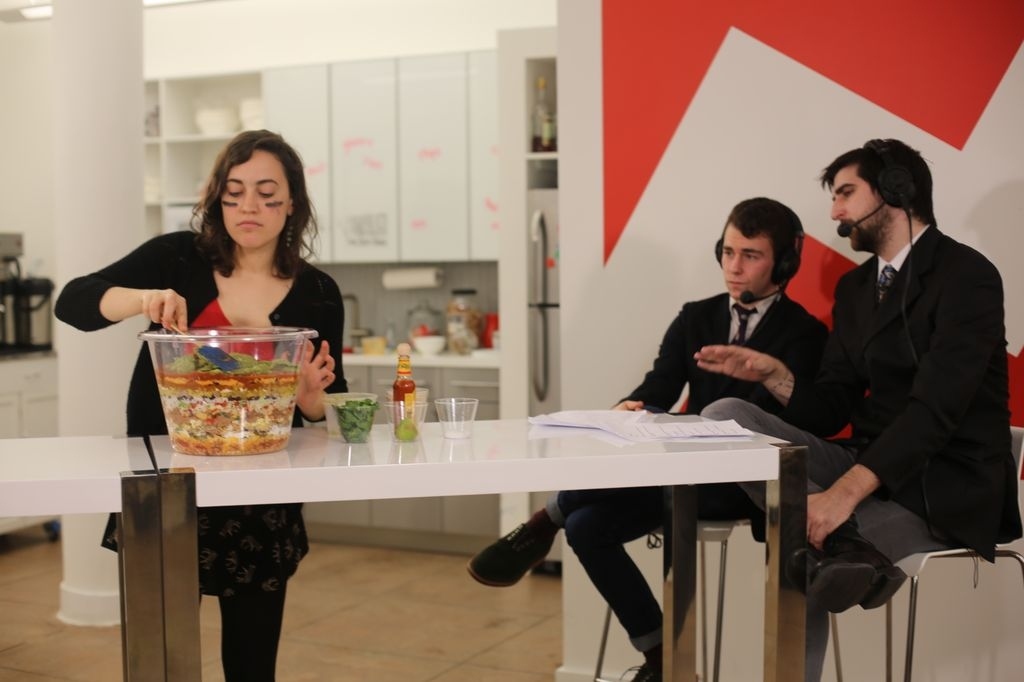 PREP: GAME DAY
Round up the jars or measure out 1½ cups of these saucier ingredients:
Pico de gallo
Red salsa
Green salsa
Salsa con queso
Guacamole
Sour cream
Ketchup (just 1 cup)
Thoroughly drain black beans and pinto beans.
Chop avocado and drizzle with lime juice to keep it from browning.
Finely chop chicken nuggets and French fries to yield 1 cup each. Or a little more. No such thing as too many nugs.
Heat up refried beans and beef chili in microwave or on the stove in small saucepans.
Cook mac 'n' cheese according to instructions and set aside 1 cup (you can eat the rest!).
Bake ½ bag frozen Tater Tots according to instructions (you can do this last-minute, while you're assembling the rest of the dip).
ASSEMBLE!
Start with brown rice at the bottom of the bowl and work your way up in the order shown. Sprinkle each ingredient over the last and then use a spatula to smooth out into even layers. Remember that you want to make sure each layer reaches the edge of the bowl so you can see it from the outside.
Squeeze the juice from half a lime and sprinkle a pinch or two of salt every 10 layers or so.
At the very end, top with about 1 cup fresh cilantro leaves and drizzle with your favorite hot sauce.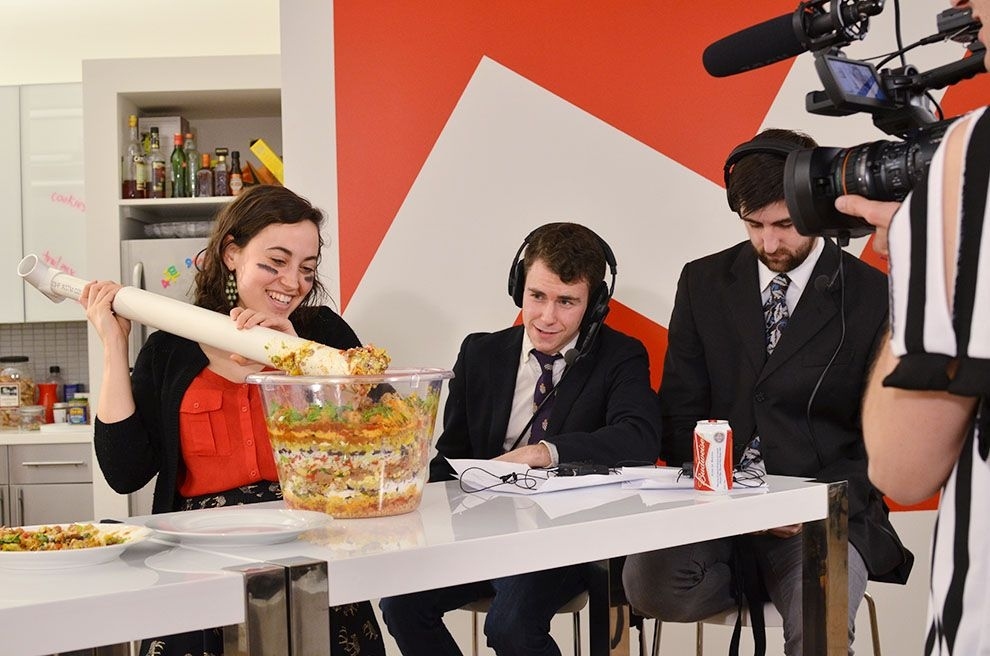 SERVE!
You'll have to develop your own signature approach to actually consuming this monster, but it works pretty well to excavate a vertical cross section like so:
Find the longest/largest serving spoon or spatula you have. Use it to carve out a section of the dip, going down from the top all the way to the bottom. Then, pressing against the side of the bowl to hold the layers together as you go, pull it up and out onto a plate.
YOU DID IT! YOU WIN THE SUPER BOWL!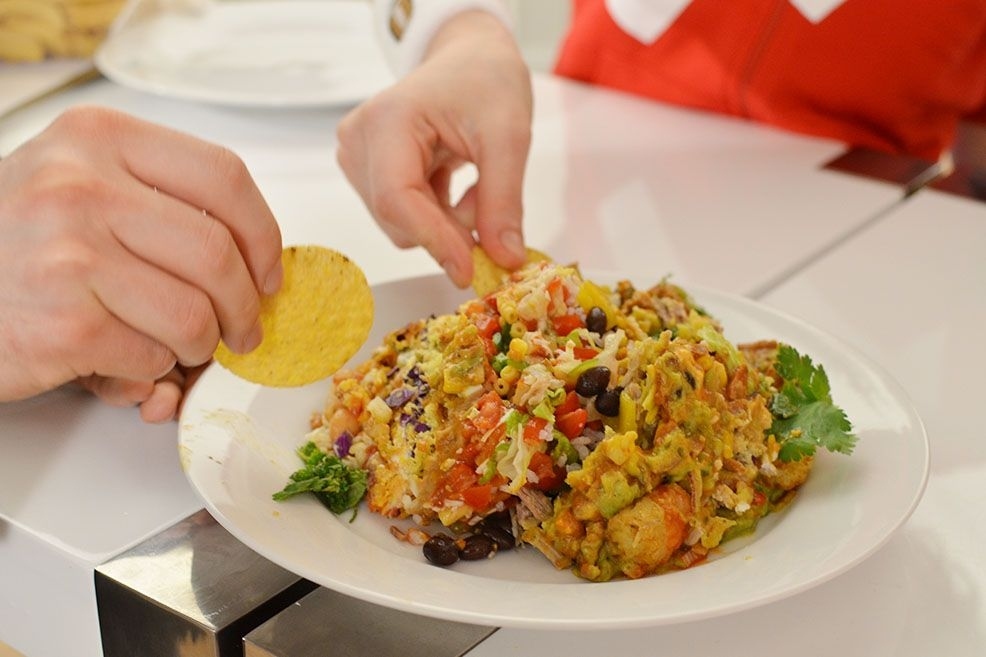 You don't even have to care about football to enjoy this miracle.