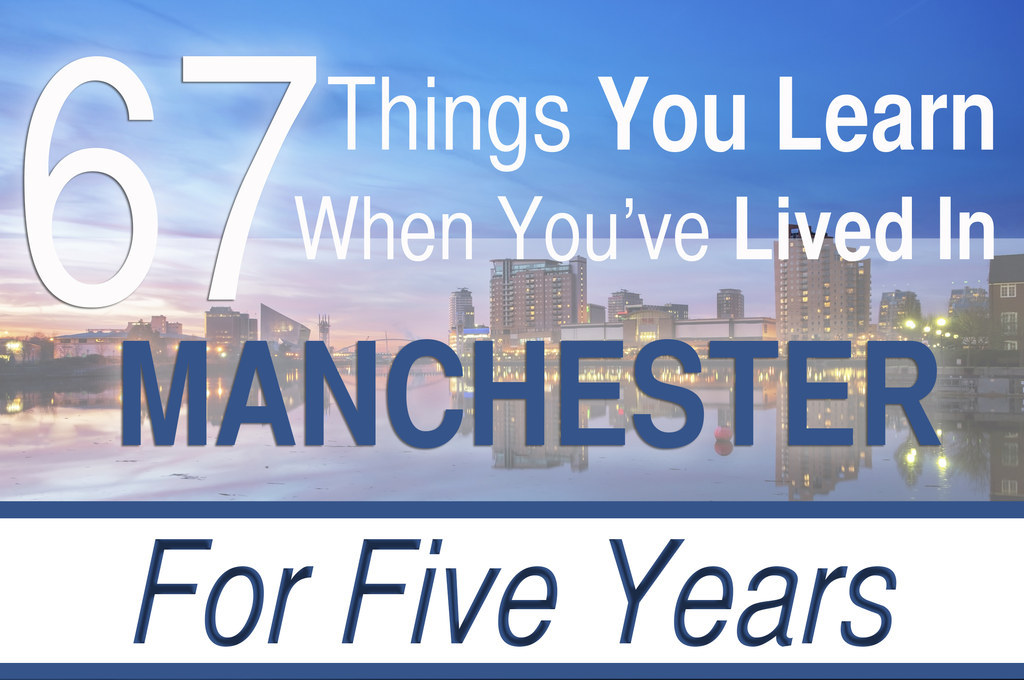 1. "Ar kid" means your brother or sister, not your offspring.
2. Pants are trousers. So "should I wear my pants tonight?" is not a saucy sentence.
3. Kecks are trousers too.
4. Everyone knows someone who has a mate who once shagged Mick Hucknall, Ryan Giggs, or one of Take That.
5. You take tea very seriously and you call it a brew.
6. Tea is also what you call your evening meal.
7. And dinner is what you eat in the afternoon.
8. If anyone challenges you, ask them why dinner ladies are called dinner ladies.
9. Either way, supper is for bellends.
10. And Friday is chippy tea night.
11. You have gravy on your chips.
12. Better still, you slap them in a barm cake for a chip butty.
13. You can never have too many carbs in one sitting.
14. A Greggs pasty sandwich is one of the best meals.
15. So is a lasagna pie.
16. You've sampled the "foodie" scene.
17. And you decided "air of carrot" just doesn't cut the mustard next to a dirty burger or pie and mash.
18. Town is how you refer to the city centre, so you can leave your own town to go into town.
19. You get a Joe, Joe Baxi, Taxi into town without flinching when the driver talks to you.
20. The tram you get on is called the Metro, not the Metrolink.
21. People on it will look at you, sometimes smile, and even engage in conversation, and that's fine.
22. If look out of the window you can see things, unlike on the tube.
23. What time the last Metro is.
24. What time the first Metro is.
25. If you're at Cornbrook, you can get to anywhere on the whole Metro network and it's bloody freezing.
26. You can't buy your ticket on the Metro.
27. And it will always pop out of the machine on the platform just as the doors shut.
28. You can park your car for free at East Didsbury station.
29. But if you live in Didsbury, you won't be able to park outside your own house.
30. The Cheese Helmet, sorry, Hamlet in Didsbury village will always raise a snigger. As will Seimens.
31. Over the other side of the parkway in Chorlton, clogs and beards are compulsory.
32. You know never to ask for honey in Unicorn, the vegan shop in the village.
33. Because one of your mates did and was told: "Go away and think about what you've just said."
34. Walking down Market Street means running the gauntlet of chuggers.
35. You know which homeless fella on Piccadilly smacks himself in the face and pretends he's been mugged.
36. But you did fall for his line the first time.
37. Christmas Markets are ace.
38. The people who only come into town once a year for the markets are not.
39. Town on match days is to be avoided.
40. Unless you're actually at the match.
41. You HAVE to go to the pub after work if there's a midweek game, cos you'll never get home through that traffic.
42. Derby Day is a compulsory all-dayer, like a bank holiday.
43. The Magic Bus will take you anywhere for £1.
44. There's every chance you've bumped into someone from Corrie.
45. And said "hiya" to them before realising they're not someone you know and you've only seen them on the telly.
46. The Manchester 10k run has to be done once.
47. So does Bikram yoga, which you'll either love or be utterly repulsed by.
48. You'll wonder why some of the men there thought it was appropriate to wear white underpants that go see-through when they're drenched in sweat.
49. The Trafford Centre is the best place for a quick shop, but town's better if you want to browse.
50. But you should avoid it from November onwards, unless you have sharp elbows and lots of patience.
51. The Northern Quarter actually used to be a bit of a shithole known as Ancoats.
52. Chances are, if you're not a hipster, you've been knocked back from a bar there for not having a beard or wearing vintage.
53. Afflecks Palace never loses its charm.
54. The "Soapy Tit Wank" graffiti under a bridge on the canal near Old Trafford will always be funny.
55. Particularly as it's been there for YEARS and no one's cleaned it off.
56. Belle Vue in Gorton is the best place for a cheap night watching dog racing.
57. You wish you'd been around in the days when Led Zeppelin played the stadium there for £1 a ticket.
58. Media City is dead trendy and all that, and it's a great place to go and laugh at the queue for Jeremy Kyle.
59. Waking up with a pocket full of flyers is a sign of a good night's clubbing.
60. The Madchester scene is still alive and well, 25 years on.
61. Taking the piss out of everyone is mandatory.
62. Especially Scousers.
63. You can buy your meat in the pub, like on Shameless, and your razor blades.
64. Being called a "knobhead" is a term of endearment, especially by older barmaids. Same applied to "cock".
65. If something in Salford is good, like Media City, then it is part of Manchester, but if it's shite, like the crime rate, then it's Salford.
66. It rains a lot.
67. Always carry an umbrella.