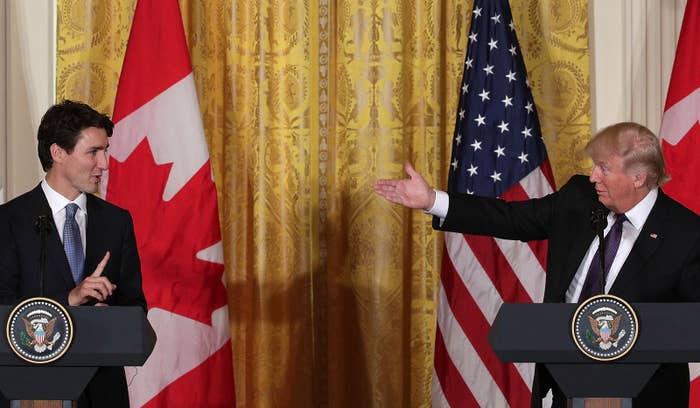 WASHINGTON — Canadian Prime Minister Justin Trudeau and US President Donald Trump made a show of friendship during their first meeting Monday, despite the massive ideological divide between them.
"We're going to have a great relationship with Canada, maybe as good or better hopefully than ever before," said Trump at a joint press conference in the White House.
Both men praised the closeness of the Canada–US relationship and glazed over their major policy differences.
Whereas Trudeau has dramatically increased the intake of Syrian refugees to Canada, Trump paused all Syrian refugees from entering America and attempted to temporarily ban non-Americans from seven majority-Muslim countries from entering the country. That ban has been halted by the courts for now.
Trudeau refused to comment on the ban.
"Canada and the United States have been friends a long time ... but there have been times where we have differed in our approaches," he said.
"The last thing Canadians expect is for me to come down and lecture another country on how they choose to govern themselves."

Trudeau is a Liberal who is trying to make feminism, acceptance of refugees, and environmentalism the defining features of his government. Trump is a Republican who has focused on security, law and order, and economic protectionism. Even their temperaments are vastly different. But both focused on the similarities between their two countries rather than their differences.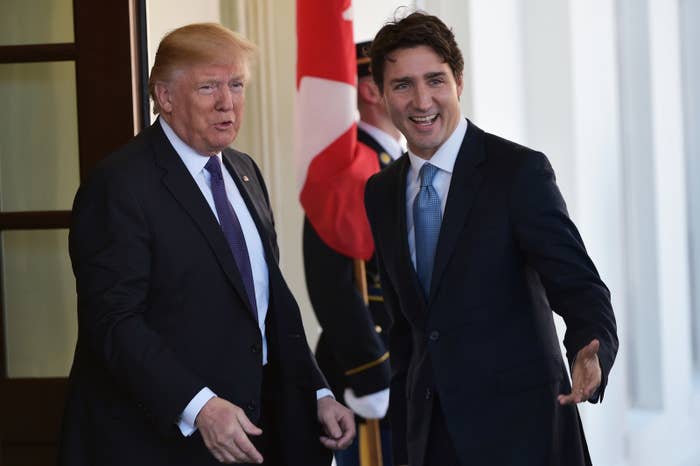 Trudeau also dodged a question asking him to compare Trump to his predecessor as US president, Barack Obama. Trudeau and Obama had highly publicized meetings in Washington and Ottawa when their administrations overlapped.
Meanwhile, Canadian businesses got some good news when Trump said he was happy with the trade relationship between the two countries. Trump has frequently promised to tear up the North American Free Trade Agreement, which would be a massive shock to Canada's economy, but typically only mentions trade with Mexico.
"We have a great, outstanding trade relationship with Canada," said Trump. "It's a much less severe situation than what's taking place on the southern border."

Trump did say there will be "tweaking" of the trade deal on the Canadian side.
They also announced a joint initiative called the Canada–United States Council for Advancement of Women Entrepreneurs and Business Leaders. The program will help empower women-owned businesses, according to a joint announcement.