Canada Is Being Accused Of Negligence After The Deaths Of Nepali Guards
Outsourced security guards were killed in a suicide bombing while on their way to work for the Canadian embassy in Kabul.
People in Nepal are angry with the Canadian government after 12 Nepalis working as embassy security guards in Kabul were killed by a suicide bomber.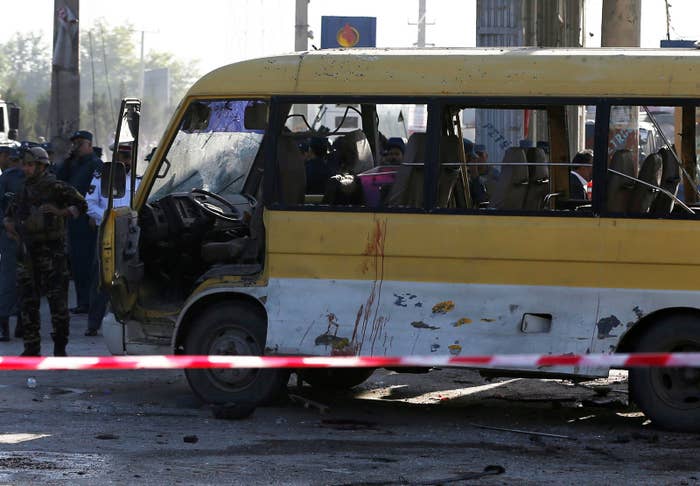 One member of the Nepali parliament said the June 20 deaths of 12 Nepali guards — as well as two Indians also killed in the explosion — were caused by Canada's negligence.
"The Nepali guards were left unprotected. They used to be taken to work at the Canadian embassy without any security measures. It was a sheer negligence on the part of the Canadian government," Chudamani Biswakarma told the Nepali Times.
There was also anger on social media.
The guards worked for British company Sabre International, which is contracted to provide security for the Kabul embassy. They were on their way to work when a suicide bomber walked up to their bus and detonated an explosive.
In total, 14 people were killed and nine more were injured. The Taliban claimed responsibility for the bombing.
We asked Canada's foreign affairs department if there were adequate safety measures for the Nepali workers, whether changes would be made after the attack, and whether Canada will compensate the families of the murdered guards.
The government did not directly respond to any of these questions, saying they don't comment on security measures abroad.
They did say they "take the safety and security of our personnel very seriously" and continuously review staff security.
Prime Minister Justin Trudeau publicly condemned the attack. In a statement, Foreign Affairs Minister Stephane Dion said the guards "have been part of our embassy family for years."
Dion said Canada is working with the Nepali, Indian, and Afghan governments to assist in the repatriation of the victims.
Thousands of Nepali migrant workers have been working in Afghanistan since 2003, many of whom work as laborers inside military bases and as security guards for diplomatic missions. The government of Nepal provided permits to nearly 9,000 Nepali nationals to work in Afghanistan in the last 10 years, according to Republica. More than 1,200 Nepalis were authorized work permits for Afghanistan in the last three months alone.

With few opportunities for jobs at home, hundreds of thousands of Nepalis go to the Middle East and Gulf countries for migrant labor. Despite the risks, the lure of jobs that pay higher salaries — security guards can make at least $500 a month — has driven many young males to seek help from traffickers and recruiting agencies that illegally send them to war zones in Iraq and Afghanistan.