Some shouted "sieg heil" – the Nazi salute. Other protesters at the Day for Freedom march called a Muslim man arguing with them a "paedo". Some waved St. George's flags, so-called "Kekistan" flags – a green "joke" version of the Nazi flag – or the flag of the white-supremacist Generation Identity movement.
There were marchers in army fatigues, others in Trump-red baseball caps. Some held a banner invoking his slogan: Make Britain Great Again. They did not look ready for a drag queen. Several thousand marched from Hyde Park to Whitehall, where the show would unfold.
Organisers, attendees, and speakers – some of whom had been prosecuted for hate crimes or banned from entering the UK – called it a freedom of speech march. Counterprotesters (who shouted "Nazi scum") and journalists, including a BuzzFeed News reporter, said make no mistake: This was a far-right protest, and free speech was merely the Trojan horse in which to smuggle extremism.
As the flags fluttered in the heat, speaker after right-wing, alt-right, far-right, nationalist, or libertarian speaker took to the microphone. Into this mix, Tommy Robinson, the founder of the English Defence League, welcomed to the stage Vanity von Glow – an established, popular drag queen on the London gay and club scene.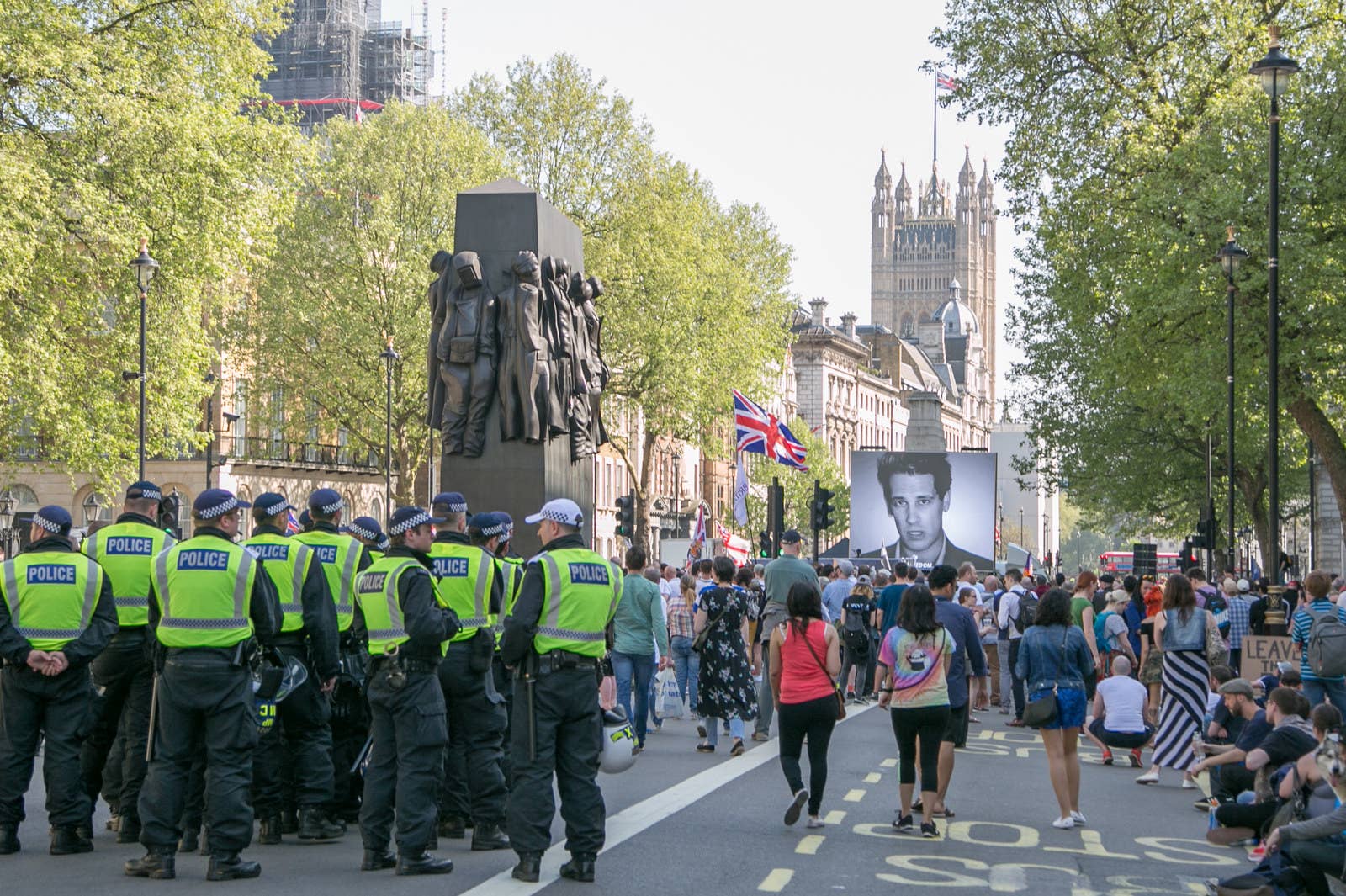 She sang Queen, Emeli Sandé, and Shania Twain, the last of which because Twain had recently said she would have voted for Trump. Glow introduced the song by decrying "the gays" for "abandoning" Twain over her "forbidden opinions".
The song title, "That Don't Impress Me Much", foresaw the reaction. Glow had not previously been associated with political views of any kind, and when footage emerged on Twitter, fury ignited. And when she then tweeted a backstage selfie with Milo Yiannopoulos – the notorious high priest of Trump-loving, trans-bashing, Muslim-baiting attention addicts – fury turned to horror: How could she?
Glow (whose real name is Thom Glow) describes herself simply on her Facebook page: "a cunt". The comments flooding social media made clear that many in the LGBT community now agreed with this description.
Within 24 hours, two of Glow's regular clubs cancelled her appearances. Press coverage swelled. She posted a lengthy spiel on Facebook defending her decision: "I would be a hypocrite to only champion free speech when it suits my own ideological ends." She said she was a lifelong Labour voter. She did not mention the far right.
Three days later, Glow – out of drag – agreed to give BuzzFeed News the first interview. During 90 minutes of extensive questioning, Glow described his motives for performing at the event and his beliefs regarding freedom of speech.
What emerged is that on this issue, on the event itself – and on those behind it – Glow's views flounder under scrutiny as either unformed or uninformed. It took 13 attempts to discover whether or not Glow believed incitement to racial hatred should or should not be illegal, in part because he did not seem to understand the concept or the law.
His responses overall, however, answered a question underpinning many of the online comments: How had drag come to this? How was it that, 50 years ago, the queens stood with trans women, people of colour, gay men, and lesbians, fighting back at the police for raiding New York's Stonewall Inn, but now a drag artist stood on a makeshift stage performing to extremists?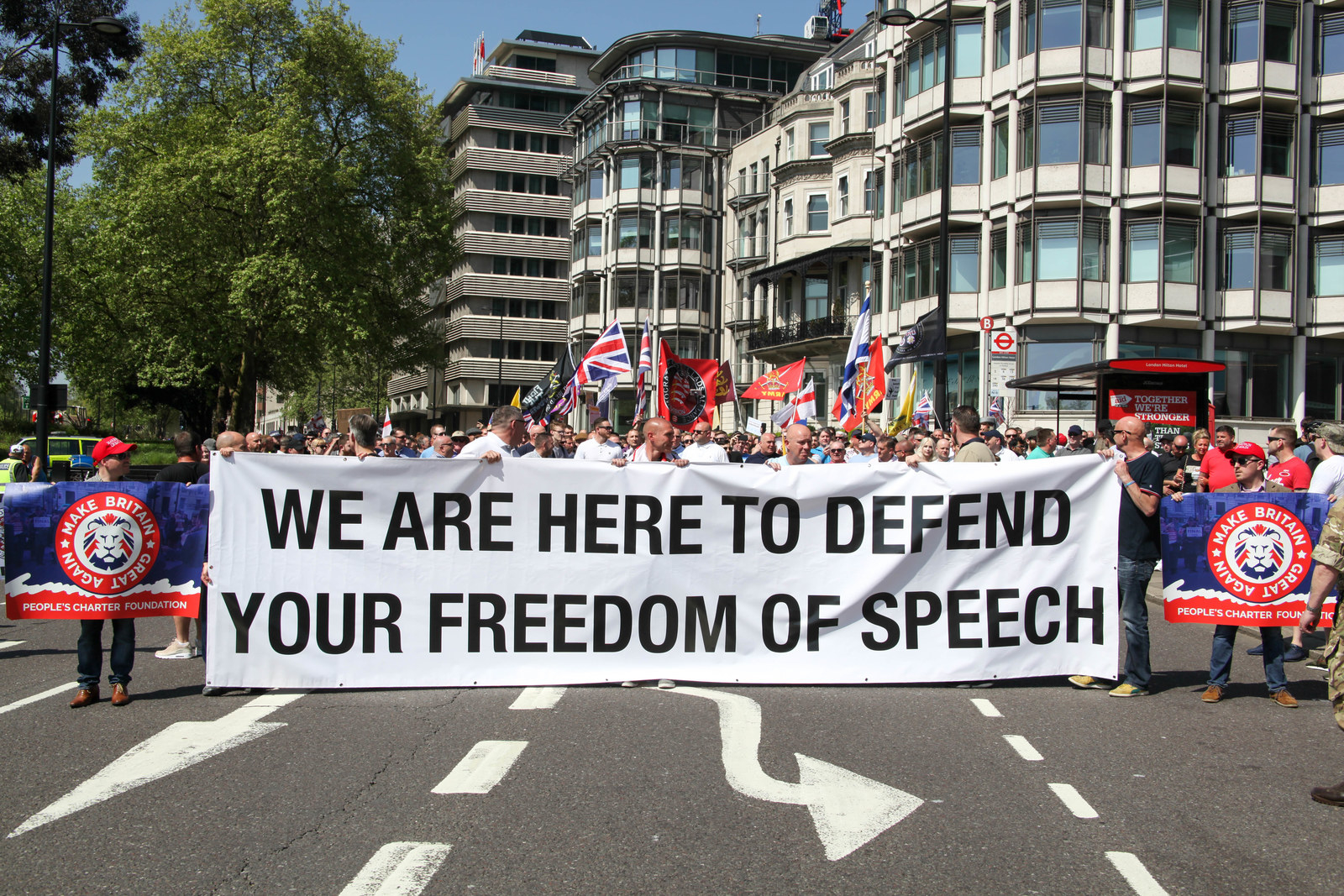 It wasn't for the money. Glow, sitting in the BuzzFeed News office in jeans and T-shirt, says he was paid £300. The real impetus for doing it trickles out more gradually.
"I said yes originally because I thought, Great: outspoken people. All I'm going to do is sing some songs. I wasn't there as a speaker so I thought, I'm going to a free speech event expressing myself in a gown, in a wig, in drag. I'll go utilise my freedom of expression."
As the rally neared, Glow says he thought the "free speech" spectacle would be an "opportunity to claim some of that space as not just belonging to people of an ideology, but belonging to everyone." He is sick of those on the right of politics claiming free speech as their cause. "I am as much entitled to claim free speech as anyone else."
Two weeks beforehand he asked for more information. He learned that Milo Yiannopoulos and Lauren Southern – a Canadian who has been banned from entering the UK for racism – and Tommy Robinson, who has been banned from Twitter for hate speech against Muslims, would be speaking. He was undeterred. "I wasn't there to endorse anyone's opinions," he says.
But that, BuzzFeed News suggests, was exactly how it looked.
"I'm not sure I agree with that," he says. Glow says he didn't know about Robinson's Twitter ban or that his disgruntlement over this was what prompted the event. He also rejects the suggestion that by taking a selfie with Yiannopoulos he looked like an excited fan.
"Taking a selfie isn't an endorsement," he says. "I just kinda thought, He's visually ridiculous and he's a court jester. So I was like, 'Oh get a picture with Milo!' I was being whimsical." He disagrees with Yiannopoulos on transgender rights. Trans people, he says, should have the right to "self-determination".
In which case, when it came to the performance, why not use his free speech to denounce homophobia, transphobia and racism?
"Fair," he concedes at first, before adding, "I feel I did that by being there and being gay and visible. "I didn't think, I'm going to go in and lecture them. I think I would have turned them off to me. And I think I turned a lot of people on to me."
He wanted them to like him? This, he agrees, was the case but in order for him to "look reasonable, to seem reasonable."
Referring to "the gays" who "abandoned" Twain was not throwing gay people under the bus, he insists, but "an attempt at being light-hearted. There was a point later on where I said, 'Are there any gays here?' And there was a decent cheer from the audience. And I went, 'Get 'em!' [It was] a joke!"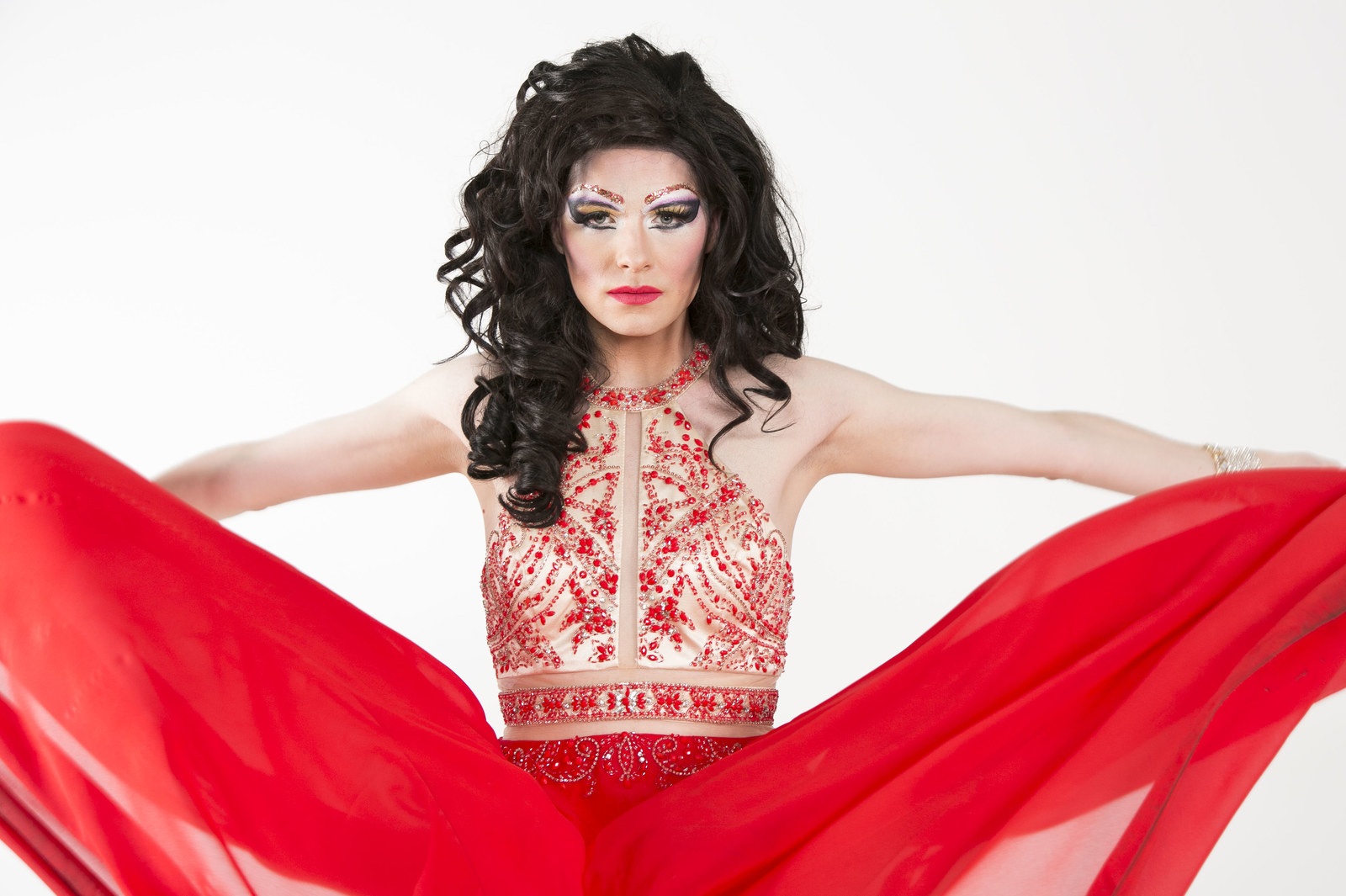 Humour is, for many across the political spectrum, one of the central pillars cited in free speech debates. It is also used by the far right online, particularly, to spread their message. This was one of the charges laid at the feet of Mark Meechan, also known as Count Dankula, the YouTuber who spoke at the rally a month after being charged with a hate crime for posting a video of his girlfriend's dog doing Nazi salutes and reacting to the phrase "gas the Jews".
But Glow, when asked, knows nothing about how the far right uses apparent humour. And it is on the subject of free speech – the purpose of his appearance at the event – where Glow stumbles and stumbles.
Glow has stated on Facebook that "the exception to my support for free speech is where that speech incites physical violence", and when BuzzFeed News asks about this exemption, Glow initially reiterates this position, but later says, "Does that not put the onus and the responsibility for a violent crime on the person that said to someone to do it? If you commit a violent crime you are wholly responsible for your misdeeds."
In which case, is he saying whoever incited that person is not at all responsible?
"I don't know whether or not they should be legally responsible," he says. "I don't know."
Glow also doesn't know whether incitement to religious or racial hatred should be illegal – which it is in Britain.
At the first attempt to elicit a clear response to this question, Glow replies, "Can you give me an example of inciting someone to hatred? Is that the idea that you can put a seed of hatred in someone's head?"
At the second attempt, he says he is "not a lawmaker". At the third, he says it is a "difficult question" and "I don't like hate, I don't like the far right, I don't like the far left."
The next few attempts prompt varying confusing responses such as "If I was the editor of a magazine I would say 'not in my name'," and "Do you mean like Holocaust denial laws?" and "The ideal situation would be, of course, that there are not limits but we also still want society to work. It's a delicate balance. I don't think I'm smart enough to know what the balance is all the time."
When we return to the subject later in the interview, he restates that he isn't sure about the issue but would "love to have conversations like the one we're having more often". He says he doesn't know "how people define incitement" or "hate".
What about sexuality? Does Glow think it should be illegal (which it is) to incite hatred against gay people?
"By saying what?" he replies. "By writing an article saying gays are violent, gays are disgusting? I think people should be allowed to say gays are violent and disgusting even though I don't think they are." He expands on this: "I think hatred against gay people or against anybody is one of the bad ideas that we should combat with better ideas."
But not with the law? He pauses. "No. I don't think so."
We venture on to other exemptions in British law to freedom of speech: defamation, for example, and reporting restrictions on certain criminal trials. Glow accepts these current exemptions – once they have been explained to him.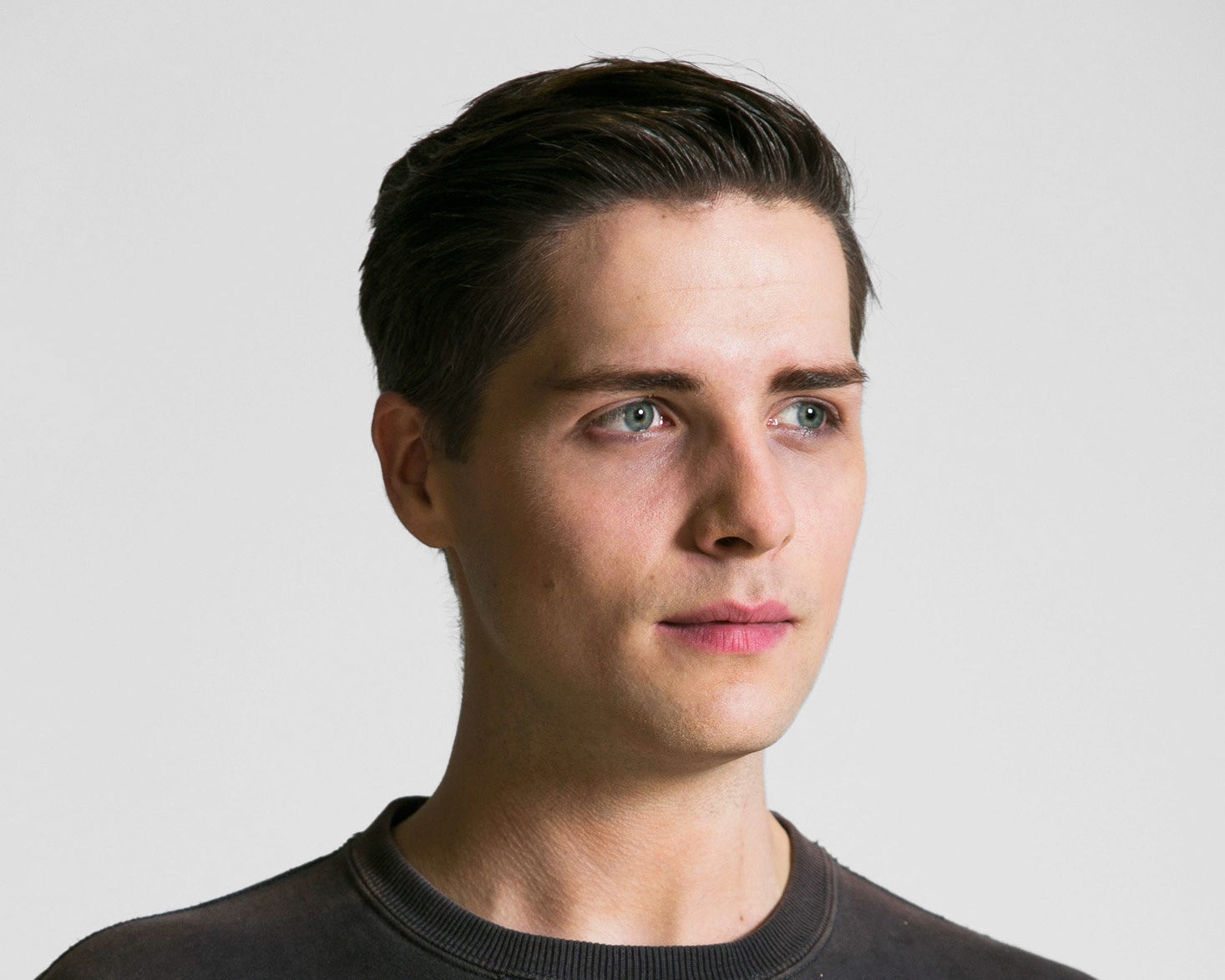 Under closer scrutiny, it transpires, he does not even agree with the organisers of the rally on free speech. Should Twitter be allowed to ban Robinson?
"I'm not sure," he replies before thinking about it some more. "I think they [Twitter] are just saying, 'You can't speak here', right?" He then says private companies "more or less" should be allowed to ban people from their platforms.
Does Glow agree with the organisers that freedom of speech is under attack?
"Personally I don't feel that," he says. "What I feel is that our relationships are falling apart because we can't disagree well."
Glow also does not seem to be aware of what happened at the event beyond his own performance. In a Facebook status he referred to Gavin McInnes, the cofounder of Vice Media – who has said that "people would be happier if women would stop pretending to be men", that he doesn't want "our culture diluted", and that "we need to close the borders" – as a "total gentleman backstage".
Footage from the event shows McInnes arguing with Mohammed Hijab, a British Muslim YouTuber, with McInnes telling him that the Qur'an is "disproportionately violent" shortly before admitting he hadn't read it. McInnes does not mention whether he has read the violent passages in the Old Testament.
Glow restates how "nice" McInnes was to him, before adding: "I've described my experience of him, which has now expanded because of what you've said."
Does it not reveal Glow's white privilege for him to describe McInnes as a "gentleman", ignoring how McInnes interacts with those who are not white?
"I don't know the extent to which I'm to be responsible for whatever he's up to on the other side of the stage," says Glow. He then adds: "OK, I didn't know enough."
But it is what happened to Hijab's friend Ali Dawah, also a Muslim YouTuber, that is perhaps most telling. He was disinvited from speaking at the "free speech" event. "Tommy silenced my speech," Dawah tweeted afterwards. Was Glow aware of this?
"I didn't know about that," he says. Was this, therefore, a freedom of speech rally if someone who was invited to speak was then prevented from doing so?
"Perhaps not," Glow says. 'If that's true then I'd be profoundly disappointed." He adds, after considering it further: "With people being no-platformed, which is laughable when you're protesting that, then I completely disavow that and I would agree that the event was not the event I was expecting at all."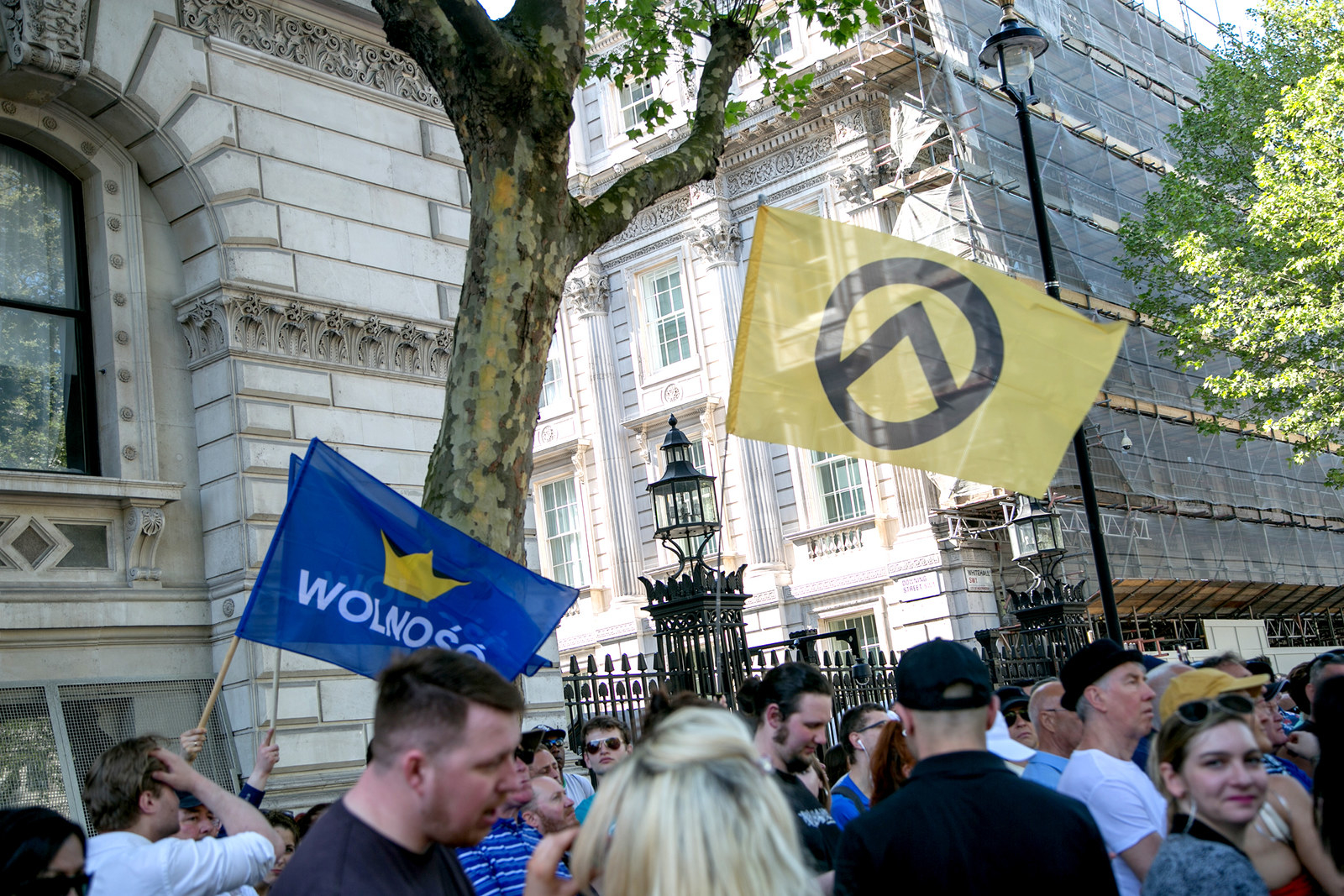 Caolan Robertson, a right-wing YouTuber who booked Glow to appear at the rally, has stated on Facebook that the headquarters of the Guardian newspaper should be "toppled" – a surprising position for a supposed champion of free speech. Glow says he had not seen this. "I'm not sure I would take that as literal," he says. "I don't agree with him on that."
Does Glow feel used by the organisers to legitimise their message – as their puppet?
"I don't agree that that has worked, for one thing," he says. "I'm not sure what far-right agenda is currently being bolstered by the presence of me singing 'That Don't Impress Me Much'."
Why, then, does he think he was hired?
"I suppose to some extent they were looking forward to the opportunity to have somebody there who was unexpected, that would make them look a bit more risky in some way."
The risk, however, was only to Glow, the consequences of which have not yet fully played out.
"I think I was naive," he says. "Free speech is one thing, clear speech is what we should be striving for also, and I've obviously not got that right."
Asked if he would appear at a protest like this again, Glow says he would want "guarantees that an event that pertains to be for freedom … is going to represent a broader breadth of views".
Does he want to apologise to those within the LGBT community who are hurt by his appearance at the rally?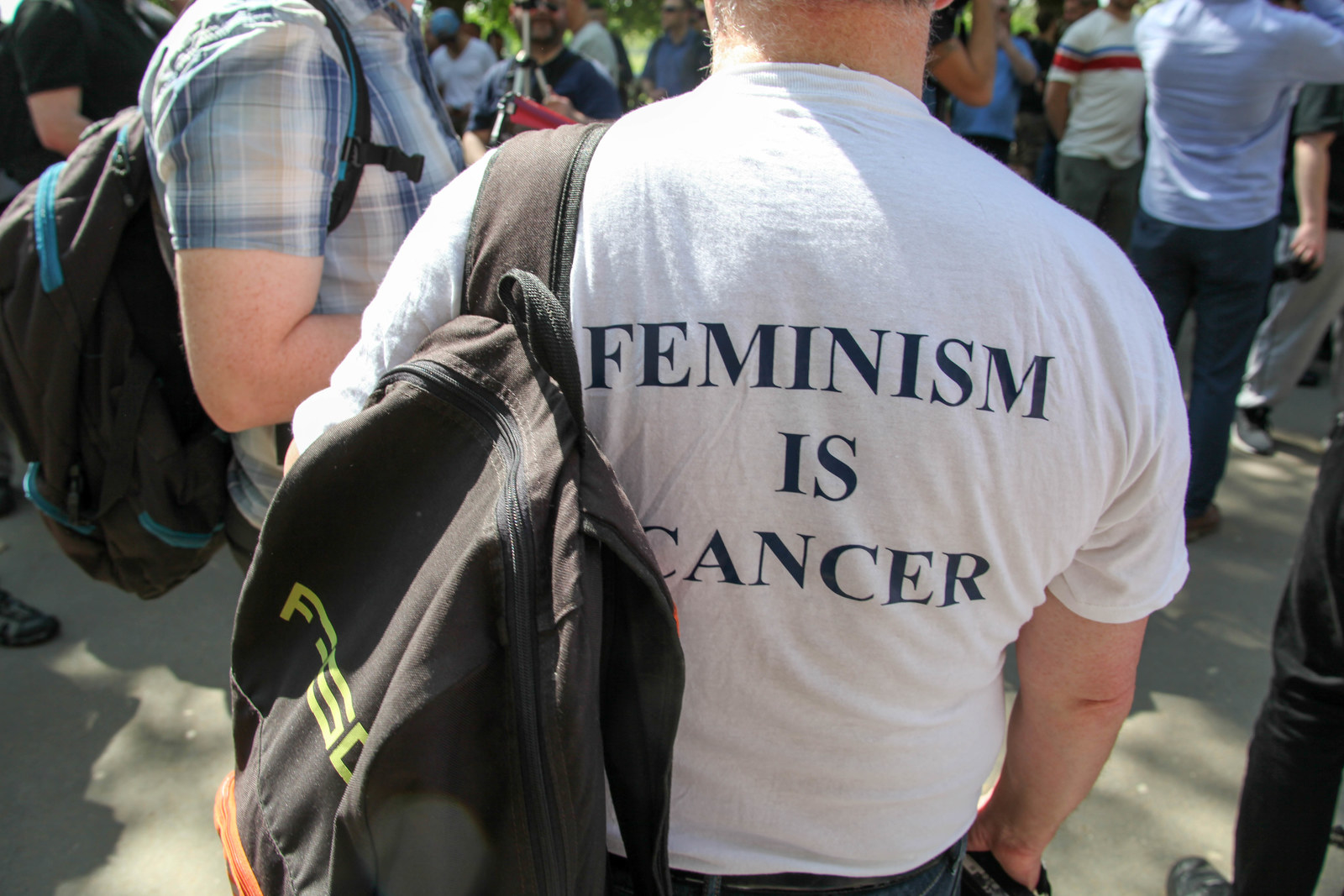 "I wasn't coherent and I understand the confusion that has come as a result of that incoherence. I'm sorry for that," he says. "Genuinely sorry. And that's on various levels. I feel uncomfortable that I've not represented myself well. I'm also sorry that the people who enjoy my shows … that I've disappointed their expectations of me. I don't want to hurt people I work with…"
At this Glow begins to cry. "I feel like I've been treated extremely well my whole life by people who get what I'm about," he says. "So, that this has caused a disconnection and been seen as ungrateful for their patience? I'm gutted to have let them down."
As Glow breathes and the discussion moves on, something he had said at the start of the interview begins to sound hollow.
"I've got thick skin," he had said. "I work around a lot of young people and I always encourage them to stand up tall and even if people are being mean to you, just move on." People today, he added, "want freedom from being injured emotionally". In doing so, he invoked one of the central charges made by those on the right who purport to be saviours of free speech: that those who complain about hateful words are merely oversensitive "snowflakes".
Glow was discussing such sensitivities in the context of his reasoning for performing at the rally: that what he really wanted to do was make the point that just because you disagree with someone doesn't mean you shouldn't be their friend or their partner, or that you shouldn't share a platform with them.
And during the performance he told the crowd that "back in the day it was the utility of freedom of speech" that enabled gay people to become liberated and that it is "because of freedom of speech that drag artists can perform".
The wider crowd, however – gay kids watching at home, trans women, LGBT migrants, his fans, his employers, and everyone who criticised or shunned Glow after seeing the footage – did exactly as he and the organisers want. They exercised their freedom of speech.