Why Are Asking Prices For London's Luxury Flats Falling?
BuzzFeed News has identified more than £18 million worth of asking-price reductions among flats at the Nine Elms regeneration area on the south bank of the Thames.
Asking prices for high-end new-build flats in one of London's key residential construction zones have fallen by as much as £1.5 million since they were put on the market, in a sign that domestic and international appetite for luxury homes in the capital is fading.
By analysing property listings, BuzzFeed News has found more than 150 properties for sale in the emerging Nine Elms district on the south bank of the Thames that have had their prices reduced since they were first listed on property website Rightmove.
These include a three-bed flat in St George's Wharf that has been reduced by £750,000 since it was first listed in June 2015, and a 2,665-square-foot townhouse in the vast Battersea Power Station development that has been reduced from £5.5 million to £3 million since it was added to Rightmove in February 2016.
This could have a tangible impact on everyone, according to Henry Pryor, a property-buying agent who secures homes on behalf of clients in London and the South East of England.
"What happens in the new-build market in London will inevitably affect the wider new-build market," he said. "That and the second-hand market are separated – the new-build market is being driven to a huge extent by speculation, by people wanting and believing they will make money, and in some cases doing so."
A one-bed flat in the Riverlight Quay development listed for £750,000, reduced from £770,000, is advertised as a "BELOW MARKET VALUE OPPORTUNITY". The listing says it's a "great opportunity to invest before properties in the area sky rocket in value."
The average fall across all the reduced properties was £114,000 – but in total the reductions amount to more than £18 million. The average house price is £218,000 in the UK and £475,000 in London as of February 2017, according to the Office for National Statistics.
The ongoing fall in asking prices is a snapshot of a section of a market under pressure. The luxury market is suffering as growth stalls in central London and slows across the country.
Chris Applegate / BuzzFeed News
Change in asking prices on Rightmove listings for properties in the Nine Elms area.
"We've seen this before in housing cycles and we'll see it again – it's the equivalent of the California gold rush, when everyone piles in excited, but then the music stops and there aren't enough chairs for people to sit on," said Pryor.

Pryor said a similar scene to that witnessed in Nine Elms' boom years could play out in the north: "The party is still in full swing in the North West [of England] in places like Manchester. But where London moves [economically], the rest of the country inevitably follows. It happens time and time again."
All this should be seen in the context of London's house price boom coming to an end: Prices in the capital are now growing more slowly – just 3.7% in the year to February – than the rest of England, where prices grew by 6.3% on average, year on year.
A housing market slowdown could have some benefits to cash-strapped Londoners. While London remains by far the most expensive place to rent privately, average rents there grew 0.4% more slowly than the rest of the country in the year to March. This could be the first year in which rents grow faster in the north of England than in the south.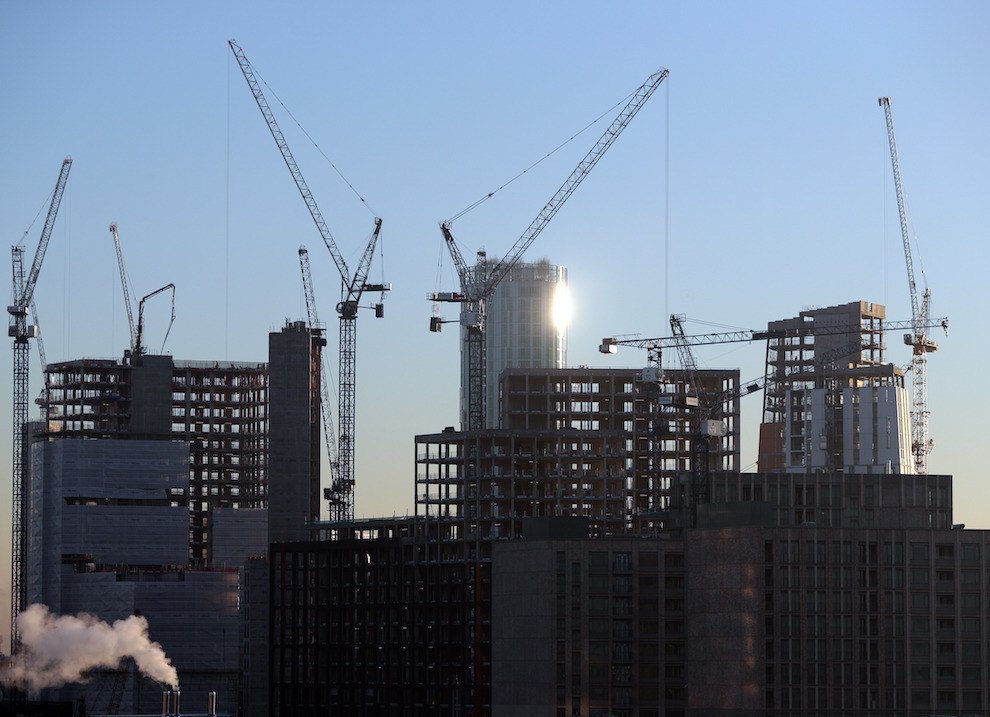 The 500-acre Nine Elms site, which runs from Vauxhall in south London to Battersea Power Station on the Thames, has 19 developers building more than 20,000 homes as well as shops, offices, and public spaces in what is one of the biggest regeneration areas in Europe.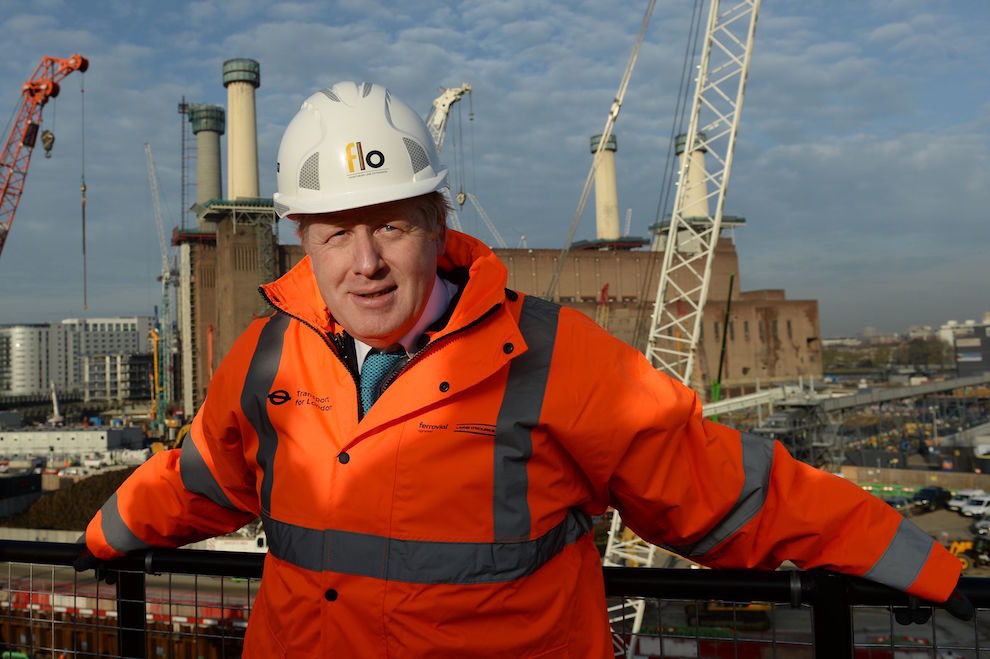 In total there are almost 40 separate construction projects, including the new US embassy and two new tube stations, Nine Elms and Wandsworth Town. These will be paid for via a £1 billion government loan that will be repaid through tariffs on new-build flats and business rates. There are differing levels of affordable housing across the area – some developments paid towards transport infrastructure instead of meeting the local authorities' affordable housing quotas.
Media coverage over the years has pinpointed investment in the area as proof the city's construction sector was on a roll, with one analyst telling the Evening Standard in 2013: "We see continued support for London retaining its top ranking as the most liquid international investment market."
The same paper in 2014 declared that flipping – the risky art of buying a property off-plan (before it's completed) and quickly selling it on at a profit without ever taking possession – was making a comeback and singled out Nine Elms as a good place to do it. "I ditched pension plans years ago to put what money I have into the London property market," one speculator told the paper.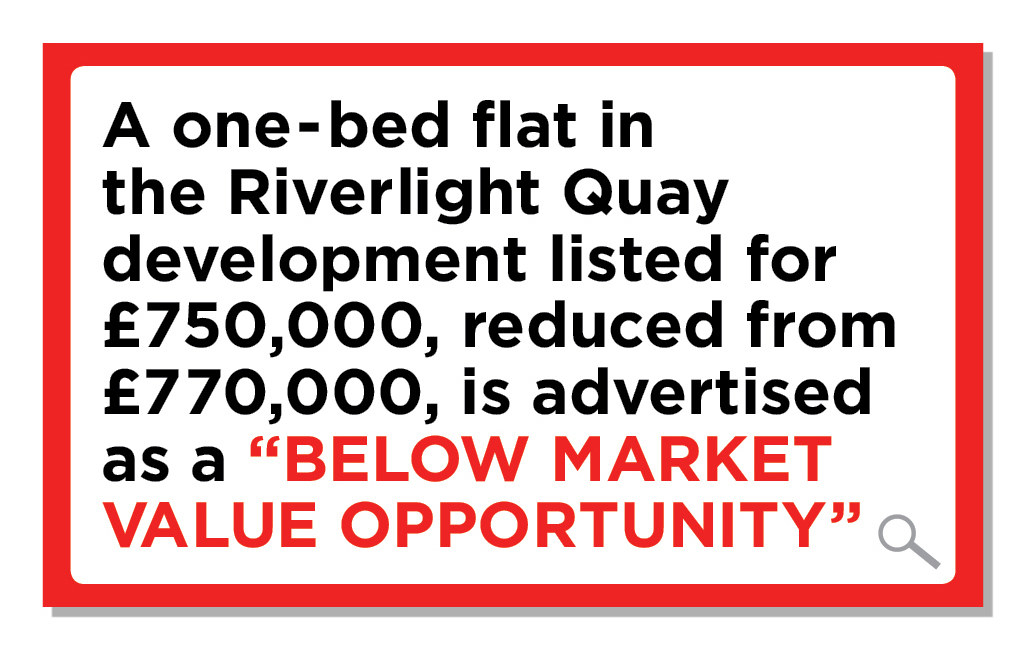 But as the number of units entering the market increased, the number of sales in the area dropped, suggesting an oversupply at the top end of the London housing market. In 2013 there were 1,313 sales, falling to 1,200 in 2014 and 1,100 in 2015.
Early investors who bought flats at Nine Elms in the clamour for prime London real estate began to sell them in 2015 as fears of an oversupply took hold. In 2016, then chancellor George Osborne increased the top level of stamp duty to 12% for the portion of a property's value above £1.5 million – 15% for second homes – adding to the slowdown in new-build sales.
The June 2016 Brexit vote added further uncertainty to a globalised marketplace. Around the time of the referendum, it emerged that some properties were being sold for less than the original developer sale price.
One property in Nine Elms, a four-bed penthouse in the vast Battersea Power Station development, has been reduced by £1.5 million since it was first listed on Rightmove on 26 February 2016 and is now worth £4 million. A small number of properties in the area increased their asking prices in the same period.
BuzzFeed News used the browser plugin PropertyBee, which tracks changes to property listing pages on the website Rightmove over time, to collate changes in price across properties in the area.

Rightmove does not list how many times and how recently a home was sold, and in some cases asking prices could be higher than the original price the developer sold it for. Some investors who bought flats off-plan – before they were completed – in 2014 and 2015 will have already sold at a profit, while some developers have seen sale prices rise.
BuzzFeed News compiled the data on 31 March and since then several of these properties have been sold or are under offer – but for less than they were originally advertised for.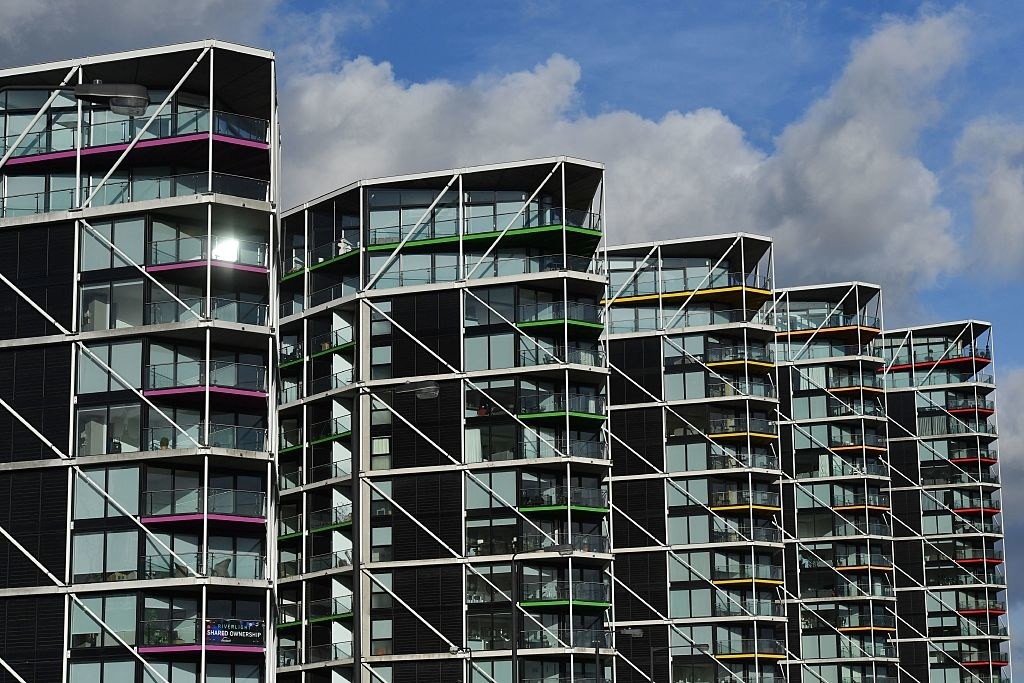 Nervous about talk of falling prices, developers are keen to argue that the underlying value remains strong and growing.
A spokesperson for Battersea Power Station said: "Asking prices might be falling elsewhere in London but it is entirely incorrect to suggest prices at Battersea Power Station have fallen. The average uplift in value currently stands at 25% compared to original purchase prices."
However, Neal Hudson, an independent housing market analyst, told BuzzFeed News that while it was fair to say that property website listings don't include the initial developer sale price, they "do show market dampening against vendors' expectations".
"That creates a more difficult market for developers so [they] will inevitably be keen to avoid any signs of wider weaknesses in their local market," he said.
Hudson said lower prices were the result of two main factors: an increase in supply and, due to a number of economic factors, a drop in demand.
"The market is probably suffering from quite a lot of new homes coming to the market this year," he said, "and there's this large amount of supply coming through.
"A lot of that supply is at particularly at high price points, so £1,000 a square foot, and then that's combined with a much weaker demand due to the stamp duty changes, Brexit and all the rest of it.
"So these two factors have created a very tricky time for people who are trying to sell off any new homes that are yet to be sold. For developers who are trying to offload the last few blocks, they're going to take quite a significant drop just to exit."
Hudson said domestic developers, who may have been sitting on their land for a long time, may have fared better than foreign companies who came late to the area.
According to estate agent JLL, central London asking prices were down 5.7% year on year in the last quarter of 2016. In that period there were 1,880 new-build property sales in London, 24% lower than in the last three months of 2015.
Demand for property in Nine Elms hasn't evaporated: In March this year Bellway Homes sold 79 homes off-plan at the launch of the first phase of its Nine Elms development The Residence, which when finished will have 324 homes and be 19 storeys high.
The ambitious Battersea Power Station scheme, scheduled to complete in 2025, aims to create some 20,000 jobs and house 25,000 people. A range of publicly accessible shops and restaurants is due to open on-site in summer 2017.

The project scored a coup with the confirmation that Apple will move in and base its European headquarters there from 2021 – although the decision to offer more office space and fewer homes is a reaction to the wider market.

As Rob Tincknell, CEO of the Battersea Power Station Development Project, put it:" If there's no residential market and a very strong office market then we will build offices."
Separately, last month Barratt Homes sold 172 unsold flats across several London developments to the investment firm Henderson Park for £140.5 million. This includes all 118 homes at the Nine Elms Point tower in Vauxhall which were previously on sale for at least £880,000, but will now be available for rent instead.
And while one unnamed Chinese investor last month pulled out of a deal to buy a prime 10.2 acre site at Nine Elms, another Chinese investor, R&F Properties, last week signed a £157 million deal to buy the Vauxhall Square development, a mixed-use scheme with two 50-storey buildings planned. There are still those hoping the luxury residential market's problems are a temporary blip.

The slowdown of the London new-build market has led speculators both domestic and foreign to turn their attention to other UK cities, such Manchester, which has become a residential and commercial property hotspot.
Pryor warned that the cycle was set to repeat itself: "No amount of local enthusiasm is going to insulate Greater Manchester and Merseyside from the bloodbath that I suspect is coming to central London and the shiny developments on the Thames."