The Star, Sheffield's daily newspaper, is facing online criticism for choosing a letter supporting convicted rapist footballer Ched Evans as its daily Star Letter yesterday.
The media frenzy surrounding the Ched Evans case is nothing short of disgraceful, but given the unprecedented amount of cheap publicity it has afforded to those who claim to act in the interests of all woman, their desire to keep it in the public eye is not surprising.

May I suggest that a better use of their time and effort would be in the education of young women and the responsibility they have towards themselves when going out on the town.

They must be made aware that their conduct and behaviour might have repercussions they could regret. It is not a very good message to be sending out and indeed trivialises the ordeal of those women who are victims of domestic violence or by simply being in the wrong place at the wrong time are victims of violent sexual attack. These woman are deserving of all our sympathy.

I am a staunch supporter of Sheffield United, of Ched Evans and his right to play football again, preferably for the Blades. I am very sceptical of the numbers of people who allegedly have taken part in an on-line petition aimed at preventing him from doing his. I do know of supporters of other clubs who have 'clicked a mouse' against him, not once but many times.

These figures are very iffy to say the least.

Ched Evans has served his sentence according to the law and is therefore free to find employment in his chosen profession.

Unlike a plumber, builder, electrician etc there is no hiding place for him. He will face much aggravation from opposition fans but these same fans will soon change their tune if he were to be scoring 20/30 goals a season for their team. Such is the fickleness of football supporters.

I am entirely behind Ched Evans and I sincerely hope that Sheffield United will give him the chance to rebuild his career.
Several people tweeted their disbelief and anger today.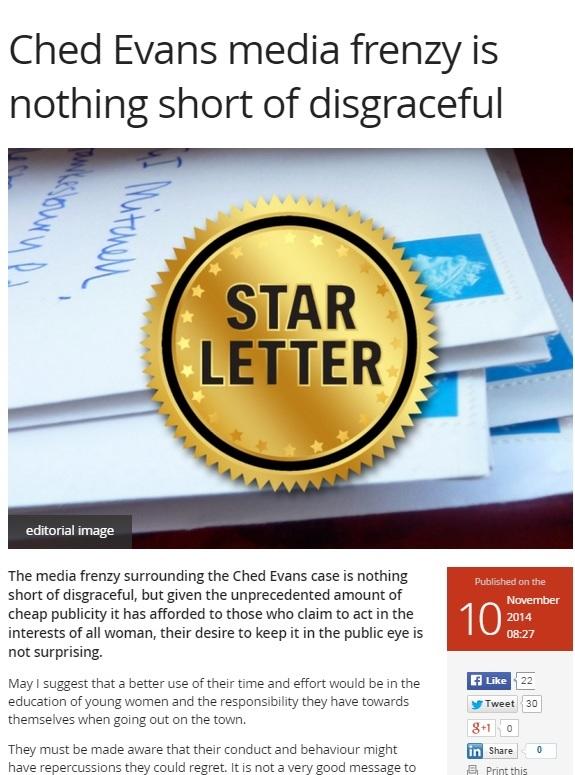 However, staff are keen to stress the letter doesn't reflect the paper's view. Editor James Mitchinson wrote a balanced article about the Evans affair two weeks ago in which he said:
If...IF he is cleared, and United then sign him, they won't have signed a convicted rapist, but Ched Evans the footballer. For now, that's a fantasy world.

"But if we don't sign him, someone else will" certain factions have shouted. Evans did not bring any would-be club – the people who pay his wages, the fans who wear his name across their backs – into disrepute. He did bring Sheffield United into disrepute. He let them and the fans down badly.

So, yes, Evans will come back into football. I do believe someone should employ him somewhere, in football or otherwise, but I think he has hurt United too much for them to allow him to return.
Mitchinson said today he disagrees "entirely" with the letter, but defended the paper's decision to highlight it.
BuzzFeed News spoke to Tim Cotton, the journalist handling the Star letters section, who told us there was a range of views expressed in the section on this subject. He said:
We've got to be quite even-handed in the coverage of the letters page. A couple of weeks back the editor had to come out and write quite a long, reasoned piece about his and the newspaper's view after he was subjected to a lot of abuse on social media, particularly on Twitter.

There were threats made and he did come with a robust view, which is that he's a convicted rapist until proven otherwise.

Yes, that's quite a strong letter but there have been letters from both sides that have had a lot of response. When football and social media come together, polarised postitions come to the fore.