This Is How An Ordinary Wedding Photo Ended Up On The Cover Of Pulp's "Different Class" Album
The most famous wedding photo in rock.
Ever wondered who the people getting married are on the cover of Pulp's Different Class record? When we got married and we were putting the wedding together ourselves, we pulled a lot of favors from people we knew and we both worked at a publishing company that ran a car magazine. Sue managed to get a couple of cars, we got all the printing done fairly cheap.My little brother Ben went to art college in Edinburgh and he made friends with a guy [Donald Milne] who subsequently became a photographer and had done a lot of work with the Britpop bands, I think with Blur and Elastica and of course Pulp.We asked him a couple of months before whether he would be prepared to do some photos for us, and he couldn't actually do it because he said he was busy working on some Pulp stuff. But he phoned us about a week before and said Pulp were thinking about using some photos with real people, including a wedding photo and if we'd do some joke shots with him and bring some life-size cutouts of the band, but he'd do some proper wedding shots for us as well.And that's basically what happened. They rocked up with the life-size cut outs of the band and took the photos, the rest is history.
Here is a photo from the day without the band cutouts.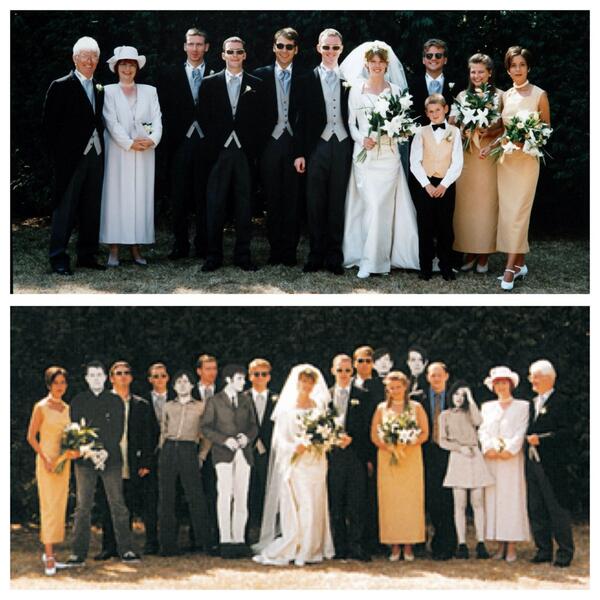 Did Dom and Sharon get anything in return for appearing on an album that sold more than one million copies in the UK alone? Not really.
Dom told 6 Music: "At the time we didn't get anything. Life just went on. But they got back in touch when they reformed, Rough Trade got back in touch so we did come to a proper agreement with them, but it was pocket money really.
"But it's such a nice thing, it's our wedding day, you don't want to ruin it (by arguing over money), but it's a really nice cool thing, so we're happy to have the memory."
Plus, Jarvis sent the couple a signed copy last year, with the message: "Thanks very much Dom and Sharon for letting us crash your wedding."
You can listen to the full clip here.
The BBC is running a Britpop season at the moment, with programmes running across BBC 6 Music, Radio 2 and BBC Four.