Sadiq Khan Says Trump's Travel Ban Is "Cruel, Prejudiced And Counterproductive"
Khan is hosting a reception for diplomats from 100 nations at City Hall on Wednesday night and will ask them to stand together in opposing the ban.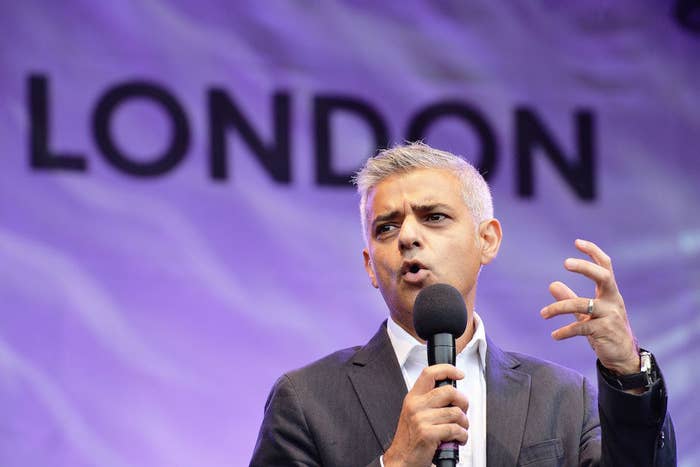 Sadiq Khan, London's elected mayor, has condemned the inward travel ban enforced by the United States on seven Muslim-majority countries as "unacceptable for a liberal, open democracy like America" and called on the international community to stand together in opposing it.
Khan, speaking days after US president Donald Trump was invited on a state visit to the UK later this year, called on the government to rescind the invitation. A petition calling on the government to halt the trip has now reached 1.7 million signatures.
Khan, who is the first Muslim politician to become mayor of a major Western city, said in a statement: "You don't need me to tell you that there's no contradiction between subscribing to Western values – of human rights, democracy, the rule of law, and freedom of speech – and being a Muslim.
"Nor do you need me to tell you that targeting people for no reason other than their faith or their country of birth is cruel, prejudiced and counterproductive."
Khan's statement went on: "The Executive Order signed by President Trump will not only see the US turn its back on its obligation to refugees fleeing persecution at a time when great nations around the world should be doing more, not less – it risks playing straight into the hands of terrorists and extremists whose overriding goal is to divide people and deceive them into believing that Islam is incompatible with Western values.
"I've been clear that President Trump's actions are unacceptable for a liberal, open democracy, like America, and we can't be seen to be endorsing them in any way.
"As an international community, I believe we have a responsibility to show moral leadership and so my ask of you tonight is this: join me in speaking out against this ban and condemning it for what it really is – discriminatory, self-defeating and completely un-American."
To underline his statement, Khan will on Wednesday night host a reception at City Hill with the diplomatic representatives of 100 countries, which the mayor's office claims is the biggest reception of its kind since the post of London mayor was created 17 years ago.
The US is among the countries City Hall said are set to attend the event.
It's not the first time Khan has clashed with Trump's populist, hardline stance on Islamic extremism. After Khan's election in May 2016, Trump appeared to backtrack on his proposed temporary ban on all Muslims entering the US and said he might allow Khan entry if he won the presidential election.
Khan, however, said he would decline such an invitation and called Trump's views on Islam "ignorant". Trump then shot back that Khan was in denial about the scale of "Islamic terrorism" in the world.