Theresa May Is Under Growing Pressure To Cancel Donald Trump's State Visit To Britain
The US president is due to be hosted by the Queen later this year. Opponents of his ban on refugees say he shouldn't be welcomed until it is lifted, and 1 million people have signed a petition against the visit.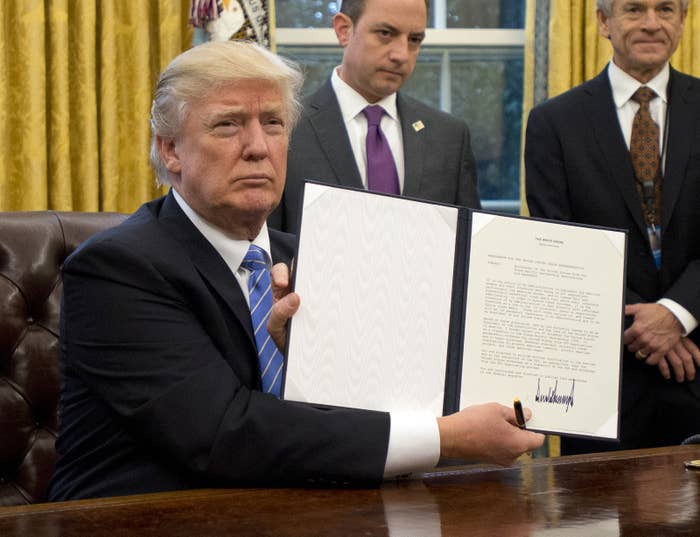 There is growing pressure on the government to cancel a planned state visit by Donald Trump to the UK later this year.
Theresa May announced the visit, officially at the request of the Buckingham Palace but directed by ministers, when meeting the US president at the White House on Friday.
But opponents of his crackdown on immigration from seven majority-Muslim countries and his suspension of the US refugee programme say he should not be welcomed until the bans are lifted.
A petition on the UK parliament website saying the state visit should be called off – leaving Trump free to visit as head of state – has been signed by more than 1,000,000 people as of Monday morning, easily passing the 100,000-signature threshold for it to be considered for debate by MPs.
A Downing Street source told BuzzFeed News the visit would go ahead. "Our line is simply that an invitation has been extended and accepted," they said.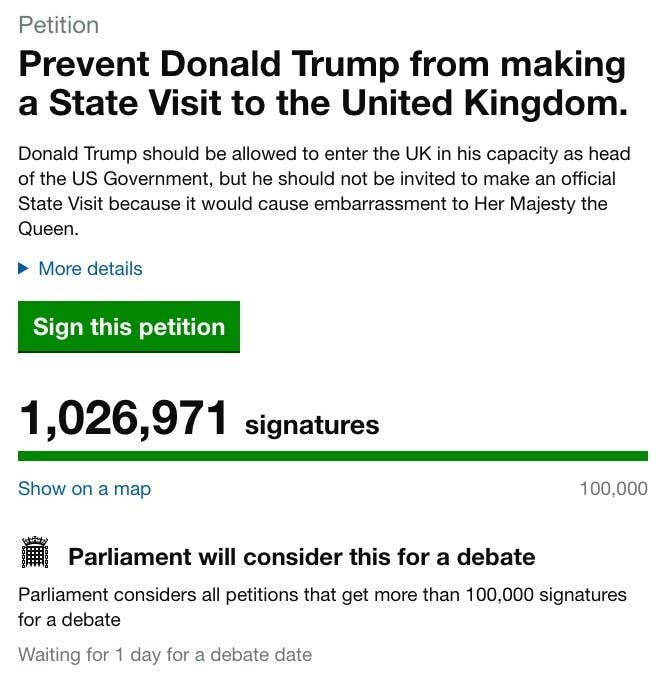 Scottish Conservative leader Ruth Davidson said on Sunday afternoon she supported calls for the state visit to be cancelled.
"State visits are designed for both the host, and the head of state who is being hosted, to celebrate and entrench the friendships and shared values between their respective countries," she said.
"A state visit from the current president of the United States could not possibly occur in the best traditions of the enterprise while a cruel and divisive policy which discriminates against citizens of the host nation is in place. I hope President Trump immediately reconsiders his Muslim ban."
Labour leader Jeremy Corbyn had led calls for the state visit to be called off until the ban on refugees was lifted.

An executive order signed by the US president on Friday halted visas being issued to people from Syria, Iraq, Iran, Sudan, Somalia, Libya, and Yemen for 90 days, suspended the US refugee programme for 120 days, and blocked Syrian refugees from arriving indefinitely.
The order was signed hours after May left Washington to fly to Turkey, where she initially refused to criticise Trump's policies, before a Downing Street spokesperson, upon returning to the UK, said the PM did "not agree" with them.
In a statement provided to BuzzFeed News, Corbyn said: "Donald Trump should not be welcomed to Britain while he abuses our shared values with his shameful Muslim ban and attacks on refugees' and women's rights.
"Theresa May would be failing the British people if she does not postpone the state visit and condemn Trump's actions in the clearest terms. That's what Britain expects and deserves."
Corbyn, speaking to ITV's Peston on Sunday programme, said Trump had to be "challenged" on the executive order: "I'm not happy with him coming here until that ban is lifted."
"It's slightly odd he should be invited so quickly particularly in view of the statements that he's made," Corbyn continued. "I suspect his visit is something that might find its way into the long grass.
"I think we need to find out exactly what his intentions are in the long run, and how much the US parliamentary system [sic] is actually going to protect fundamentals of rights and freedoms and laws. And is it really right to endorse somebody who has used this awful misogynist language throughout the election campaign, awful attacks on Muslims, and then of course this absurd idea of building a wall between themselves and their nearest neighbour."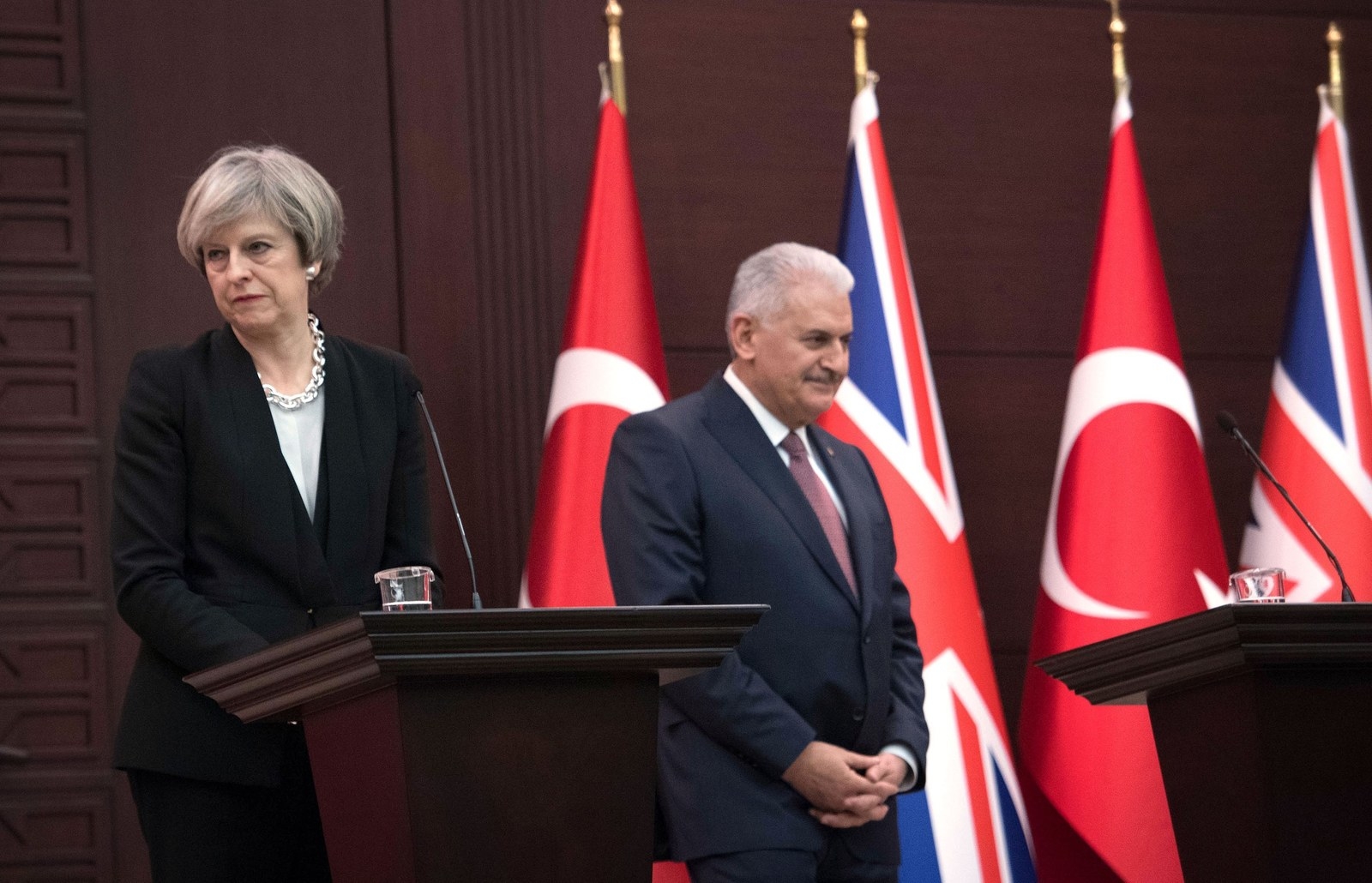 Speaking to Sky News' Sophy Ridge on Sunday programme, Liberal Democrat leader Tim Farron also said that the state visit invitation should be rescinded.

"It should be withdrawn, it should never have been made in the first place," Farron said. "That's not to say we are wrong to go to talk to Donald Trump. I've often said in international relations if you only spend time with the people you share values with you will be very lonely and achieve very little.
"What I am opposed to is Theresa May, when she should have gone over to the States to defend our corner and stand up to Donald Trump, she's gone over there and held his hand and to be seen now to offer him a royal audience in the United Kingdom."
Tory MP Sarah Wollaston is among those calling for the scope of Trump's planned state visit to be limited, in a series of tweets in which she called the US president a "sickening piece of work".
Green party co-leader Caroline Lucas, meanwhile, said she was pleased the petition calling for the state visit to be cancelled had passed the 100,000 mark, and that she was looking forward to a debate "where MPs can call out PM for complicity with tyranny".