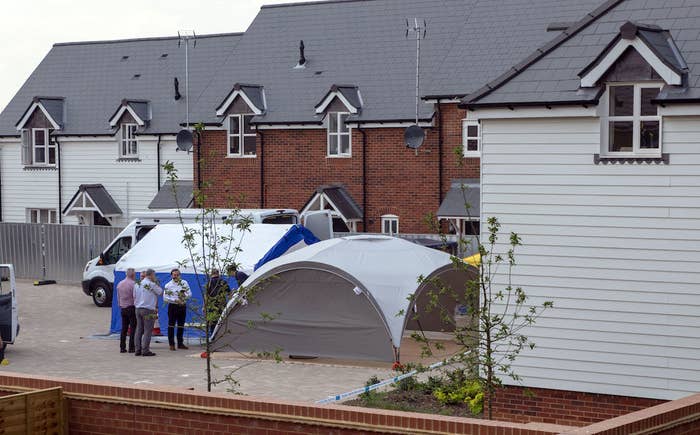 Counterterror police say they have found a small bottle containing Novichok, the deadly nerve agent that killed Dawn Sturgess in Wiltshire earlier this month and left her partner, Charlie Rowley, seriously ill in hospital.
The Metropolitan Police, which is leading the murder investigation as part of the UK's counterterror network, said in a statement on Friday afternoon: "On Wednesday, 11 July, a small bottle was recovered during searches of Charlie Rowley's house in Amesbury. It was taken to the Defence, Science and Technology Laboratory (DSTL) at Porton Down, Wiltshire, for tests.
"Following those tests, scientists have now confirmed to us that the substance contained within the bottle is Novichok. Further scientific tests will be carried out to try and establish whether it is from the same batch that contaminated Sergei and Yulia Skripal in March – this remains a main line of enquiry for police.

"Inquiries are underway to establish where the bottle came from and how it came to be in Charlie's house."
Some areas of Salisbury remain cordoned off and police can't confirm whether there is more of the nerve agent still somewhere in the area.
Assistant Commissioner Neil Basu, the head of UK counterterrorism policing, said: "This is clearly a significant and positive development. However, we cannot guarantee that there isn't any more of the substance left and cordons will remain in place for some considerable time. This is to allow thorough searches to continue as a precautionary measure for public safety and to assist the investigation team."

Sturgess, 44, died on July 8 after being exposed to the nerve agent. Rowley, 45, is still being treated in hospital and is said to be conscious but in a serious condition. The pair were found by paramedics at Rowley's house on 2 July.
Their poisoning came just months after former Russian military spy Sergei Skripal and his daughter Yulia were exposed to the same nerve agent in Salisbury and became critically ill, before recovering.
Police have been keen to stress that the two incidents have not been directly linked, and while the UK government believes that the Russian state was behind the Skripal poisoning – an attempted murder inquiry is ongoing into their poisoning – it is not thought that Sturgess and Rowley were maliciously targeted.
Public Heath England has urged people in the Salisbury area to not pick up unknown objects, as a precaution.
The UK has asked Russia to explain how the Novichock agent, which is believed to have been developed in the Soviet Union in the 1980s, came to be in the country.