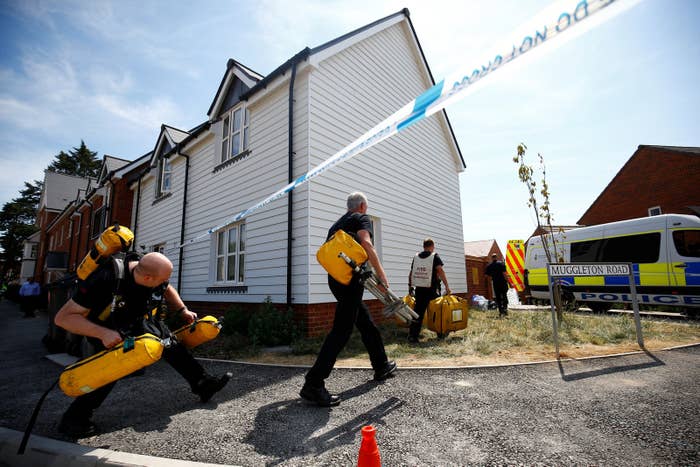 The murder investigation into how a woman died from coming into contact with a military-grade nerve agent in a quiet British town is centred on finding the container the substance came in, police have said.
A woman, identified as 44-year-old Dawn Sturgess from Durrington, died a week after being exposed to the military-grade nerve agent Novichok, the London Metropolitan Police announced on Sunday evening.
She was found unconscious with her 45-year-old partner, Charlie Rowley, in Amesbury, Wiltshire on June 30. Rowley remains in a critical condition.
The pair are understood to have come into contact with a "high dose" of the nerve agent, police said on Monday, the same type that left former Russian spy Sergei Skripal and his daughter Yulia in a critical condition when they were poisoned in nearby Salisbury in March.
Neil Basu, head of the Metropolitan Police's Counter Terrorism Command, told a press conference on Monday: "The investigation is being led by detectives from the UK's Counter Terrorism Policing Network.
"At this stage, they are unable to say whether or not the nerve agent found in this incident is linked to the attack on Sergei and Yulia Skripal. However, this remains our main line of enquiry.
"The investigation must be led by the evidence available and the facts alone. Our focus and priority at this time is to identify and locate any container that we believe may be the source of the contamination.
"Their reaction was so severe, it resulted in Dawn's death and Charlie being critically ill. This means that they must have got a high dose and our hypothesis is that they must have handled a container we are now seeking."
Prime minister Theresa May said she was "appalled and shocked" by the death.
"Police and security officials are working urgently to establish the facts of this incident, which is now being treated as murder," May said.

Angus Macpherson, Wiltshire's police and crime commissioner, said he was "horrified".

"Ms Sturgess was an innocent member of the public who should have been able to go about her daily life without becoming an unwilling victim in such an unprecedented, international, incident," he said.

Local MP John Glen expressed his condolences in a Facebook post, and said the poisoning of Sturgess and Rowley was "very likely" the result of picking up a container discarded after the attack on the Skripals.
"The only way the current poisoning could likely have been averted would have been to conduct a fingertip search of every square inch of South Wiltshire – a logistical impossibility, especially when there was no way for the police to know that an object from the original incident had been discarded like this," he said.

Government scientists at Porton Down, the UK's weapons research centre, are taking samples from a red Ford Transit van that Rowley is understood to have travelled in before he fell ill.
Last week, UK home secretary Sajid Javid said that while he didn't want to "jump to conclusions", links between the latest incident and the poisoning of the Skripals are currently "the main line of enquiry." He also demanded answers from Russia.
"It is now time that the Russian state comes forward and explains exactly what has gone on," Javid said while speaking in the House of Commons last Thursday.

The Russian Embassy in the Netherlands wrote on Twitter that the UK must think Russia is "dumb" to carry out such an attack "again."

Basu said in a statement that Sturgess's death "has only served to strengthen our resolve to identify and bring to justice the person or persons responsible for what I can only describe as an outrageous, reckless and barbaric act".
"Detectives will continue with their painstaking and meticulous work to gather all the available evidence so that we can understand how two citizens came to be exposed with such a deadly substance that tragically cost Dawn her life," he said.
Speaking on the Today program last week, the minister of state for security, Ben Wallace, said the government's assumption is that, unlike the Skripals, the latest victims did not appear to be actively targeted.

There is "no evidence" that the woman, Sturgess, and the man, identified as Charlie Rowley, 45, visited locations that the Skripals had prior to their poisoning, UK's home secretary Sajid Javid said last week.