Channel 4's Benefits Street is hitting the headlines at the moment, but what's the big deal? "There are 99 houses, 13 nationalities and most of the residents are claiming benefits," the narrator says at the start of each episode.
This week the show focused on Romanian labourers, who felt they had come to the country on a false promise of work.
It was controversial before it even aired. Birmingham-born comedian Frank Skinner was asked to narrate the show, but said no because he "didn't want to be derogatory about the people in Birmingham". One scene features recovering drug addict "Fungi" attempting (but failing) to steal a satnav from an ASDA delivery van. West Midlands Police said it was deciding whether the show contained any criminal activity.

To absolutely no one's surprise, it has pissed off a lot of people. This week the company behind the programme, Love Productions (who also make Great British Bake Off), was faced with protests outside its office.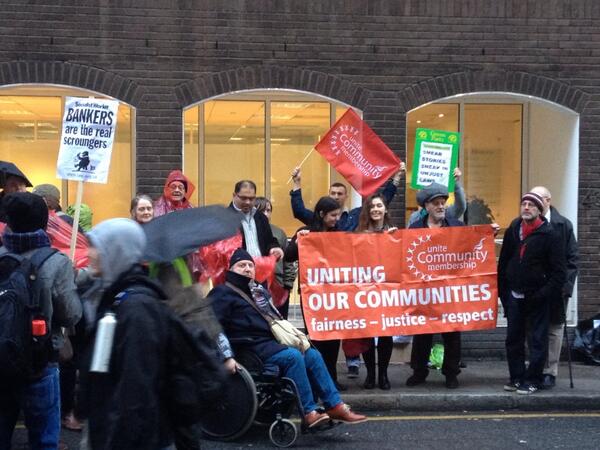 Trade unionists and community activists accused the show of "mindlessly supporting the government's divisive attack on families who are in need of support, as a result of record unemployment and spiraling prices."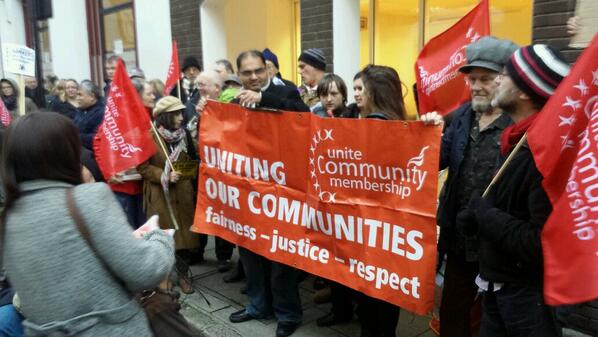 A petition calling for the show to be axed has reached 40,000 signatures and Ofcom has received almost 500 complaints.
There is a widespread feeling that the show is exploiting poor people rather than highlighting the issues they face.
People on Twitter were angry. Really angry.
There is no shortage of people pointing out how big "benefit fraud" is compared to the amount of tax dodged by big corporations and wealthy individuals.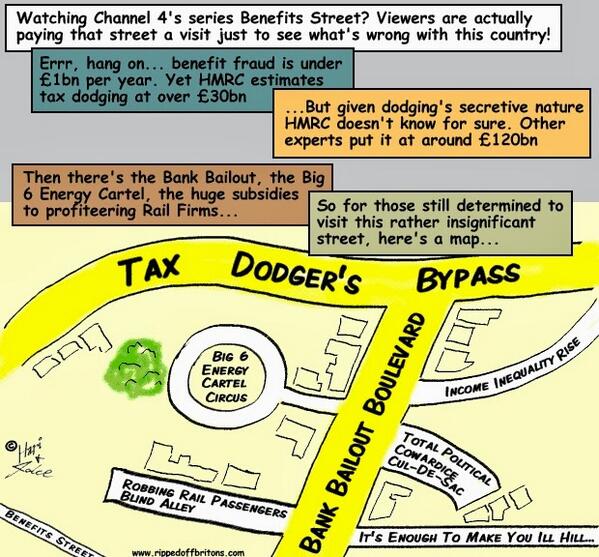 If you are telling me that shining a light on poverty in Britain is pornographic, so we shouldn't pay attention to poor people, I think that's outrageous. It's just a term being trotted out by people who want to have a bash at television. The notion that the show represents people on benefits around Britain is not accurate; we never say that. We were focusing on a particular group of characters living on a street in Birmingham.
What struck me is that it was called Benefits Street and then three-quarters or more of the programme actually followed one storyline which was about a petty criminal and shoplifter and how he lived on the proceeds of his crime, rather than the reality of what people face when they live on benefits.Through the programme, there were occasional glimpses of the community and the kindliness and help they all give to one another, but that was very, very marginal in the programme. It concentrated on one storyline that wasn't really about benefits.
But it plays straight into some politicians' plans to re-work the welfare state. Work and pensions secretary Iain Duncan Smith praised the show in a House of Commons debate. This is upsetting to many. But Channel 4 could argue that its job is to annoy people, to some extent.
The channel's remit as a public service broadcaster is dependent on it commissioning programming which "demonstrates innovation, experiment and creativity in the form and content of programmes" and "exhibits a distinctive character". It likes to ruffle feathers.
It's clear that Benefits Street's negative and positive media attention has added to its audience - and that it was a savvy and timely piece of TV commissioning with a headline-grabbing title. TV shows have to shout louder to get noticed now.
As Love Films's McKerrow puts it: "Now you have to find different, innovative ways of making sure that serious issues stay in peak. I often get, 'you have made it noisy because you are trying to bring in an audience, you tried to entertain'. I say, 'if you are looking at me to apologise for trying to entertain you, you are talking to the wrong guy'."
Yet, the size and role of the welfare state is one of biggest political issues of this decade - so is Benefits Street public affairs journalism or entertainment, or an uneasy mixture of the two?
In any case, whether the show's makers have given a fair representation of the people featured is something media regulator Ofcom may yet have to rule on.