The Grenfell Tower Disaster Survivors Might Not Be Rehoused In The Same Part Of London
Despite a government promise that residents will be rehoused in west London, the local council has said there is no guarantee it will be in the same area as the tower.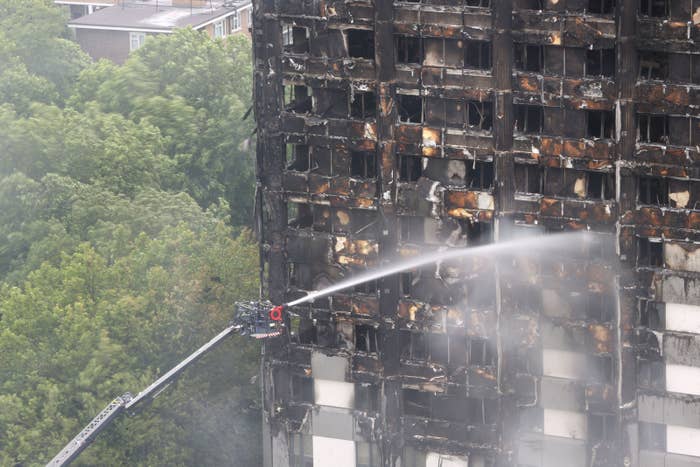 Survivors of the Grenfell Fire disaster, in which at least 30 people died, might not be rehoused in the same borough or even in the same part of London, according to the local authority.
Kensington and Chelsea council said in a statement on Friday afternoon: "While we will try do our upmost to ensure those affected remain in or near the borough, given the number of households involved, it is possible the council will have to explore housing options that may become available in other parts of the capital."
However, later on Friday the council appeared to retract their earlier statement. It said: "Our understanding has changed. Once our housing people have looked at this in greater detail we will be issuing a new statement."

In the earlier statement, the council said all former residents who had approached them for help had been placed in hotels. On Thursday, several residents expressed concern that they will be permanently resettled in a different borough of London.
The council's admission appears to contradict a government pledge made on Thursday, when housing minister Alok Sharma told a briefing of MPs at Westminster on Thursday that "the government will guarantee that every single family will be rehomed in the local area".
While Theresa May pledged that "every effort" would be made to rehouse the families as close as possible to the tower, there was no guarantee there they would be housed in the same borough.
One resident, Eve Wedderburn, 40, told BuzzFeed News on Thursday: "Don't say this isn't political. This whole thing is political. They have a decamp strategy, which is about rehousing all social tenants outside of the borough. They're rubbing their hands."
Dayo Gilmour, 43, said: "It's social cleansing. There's a 20-vote Labour majority here and they're trying to rid this borough of poor people. The people that live in those houses are people. And some of them are dead. People are angry, this is not going away."
The council is obliged under section 189 of the Housing Act to offer temporary accommodation to council tenants affected by disaster and, in most cases, to help secure long-term housing. But this alternative housing could technically be in private ownership and elsewhere in London, or the UK.

Jolyon Maugham QC, a barrister specialising in tax avoidance, is one of a number of lawyers who has offered to assist Grenfell residents with free legal advice. He told BuzzFeed News that he had spoken to many residents in the aftermath of the disaster who feared being moved out of the borough.

"The short-term exercise is making sure people have somewhere to live and that they have ID," he said. "Apparently there are a lot of non-UK nationals who were living in the tower – what will happen to their residency status or their applications? Will the Home Office be understanding about that?
"And there are people who are very concerned about what happens if they allow the borough to rehouse them outside the borough, they are worried this will be used as a mechanic to get social tenants out of the place where they have lived their lives.
"That distrust creates a real problem because there is nowhere obvious for them to turn."
Some, including the Labour MP for Tottenham, David Lammy, have already declared that the disaster is an example of corporate manslaughter. Lammy later said that the public inquiry into the fire announced by May shouldn't preclude any possible criminal charges.
Asked whether it was too early to be talking about litigation, Maugham said: "After the the short-term needs are met there's going to be a big and complex piece of litigation.
"I can't think of another occasion where people were so clearly and explicitly warned of a risk that led to a catastrophe of this scale. Unless we're going to abandon the notion of corporate manslaughter and the notion of their being proper meaningful accountability through the criminal law for serious regulatory breaches, you've got to think that that has to be on the table."
Labour leader Jeremy Corbyn, who visited the site and spoke to survivors on Thursday, called for luxury flats in the area that are left empty by their owners to be used to house Grenfall families.
Housing charity Shelter is providing housing advice and support to Grenfell residents. Its interim chief executive Graeme Brown said: "In all cases, landlords must respond to renters concerns when it comes to life and death issues. The full facts must now be investigated and authorities need to reassure renters living in high rises by making clear how they'll ensure this will never happen again.

"We need to be confident that lessons are being learned from this and previous tragedies including through the promised government review into fire safety."
Brown added: "Shelter's immediate priority is working with partner organisations to offer advice clinics for people whose homes have been lost or damaged in this terrible fire."
Anyone affected by the fire can contact Shelter's London advice line on 0344 515 1540 and the North Kensington Law Centre on 0208 9697473.