Motivated by a recent hairstyling incident involving a black runway model, black actors are using the #ActingWhileBlack hashtag to share their own experiences of negligence and inattention from on-set hairstylists and makeup artists.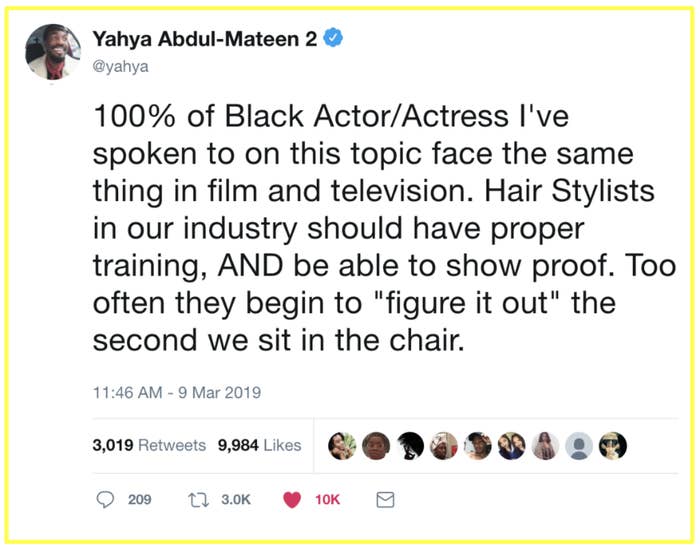 The viral discussion centered on the fact that most sets don't have hairstylists who are trained in and skilled with black natural hair textures...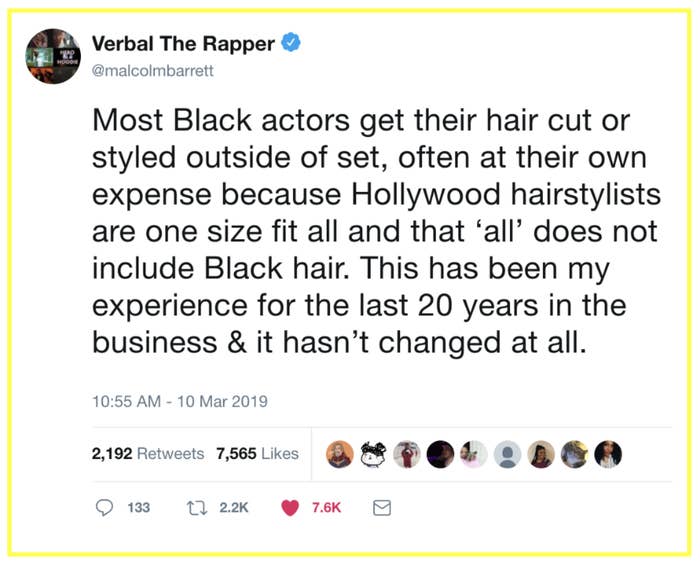 ...while, on the other hand, the same stylists are proficient in and overall more comfortable with styling straight or loosely textured hair.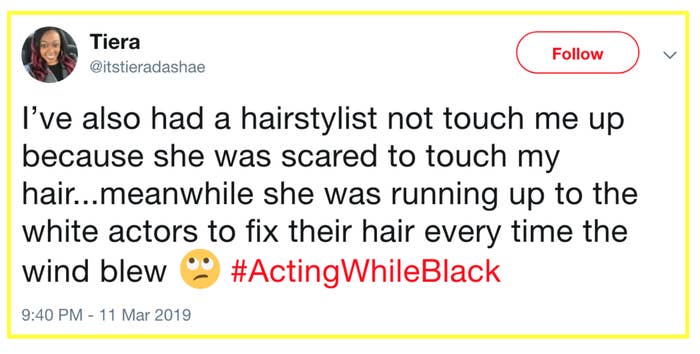 The same goes for makeup artists, in respect to working with deep and dark skin tones.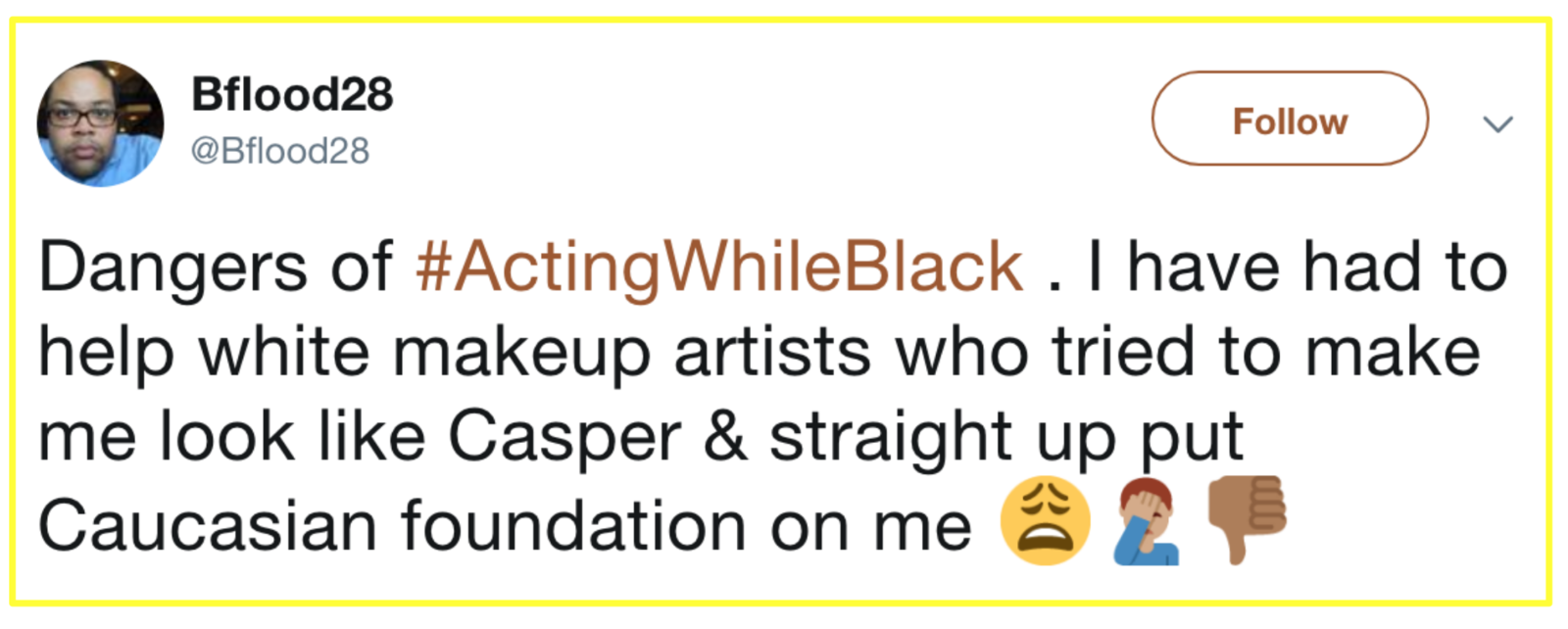 That's why, more often than not, black actors must resort to purchasing and bringing their own beauty accessories and products to avoid looking both disheveled and discolored on camera.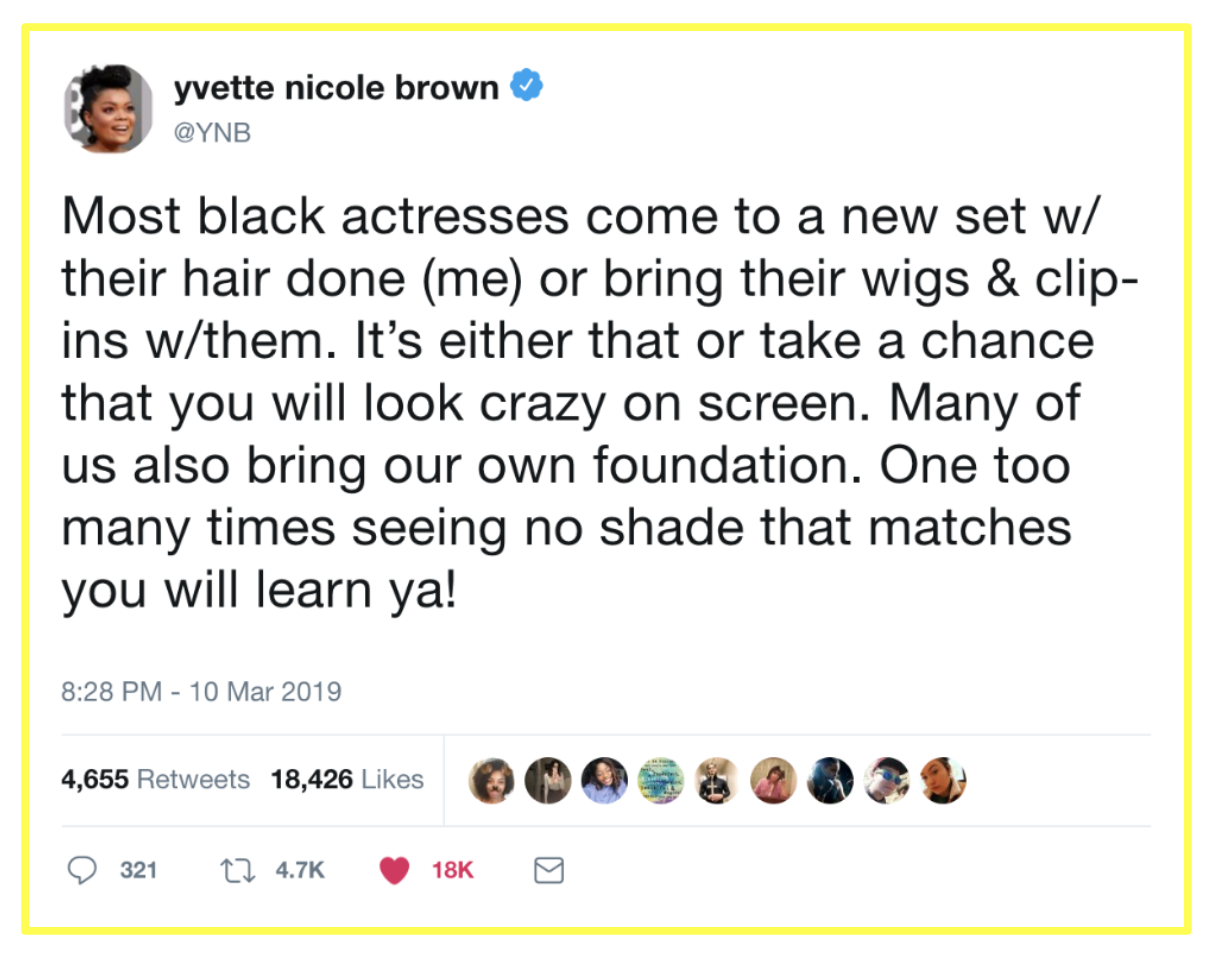 And considering how crucial hair and makeup is in transforming actors into a different person for the camera or stage…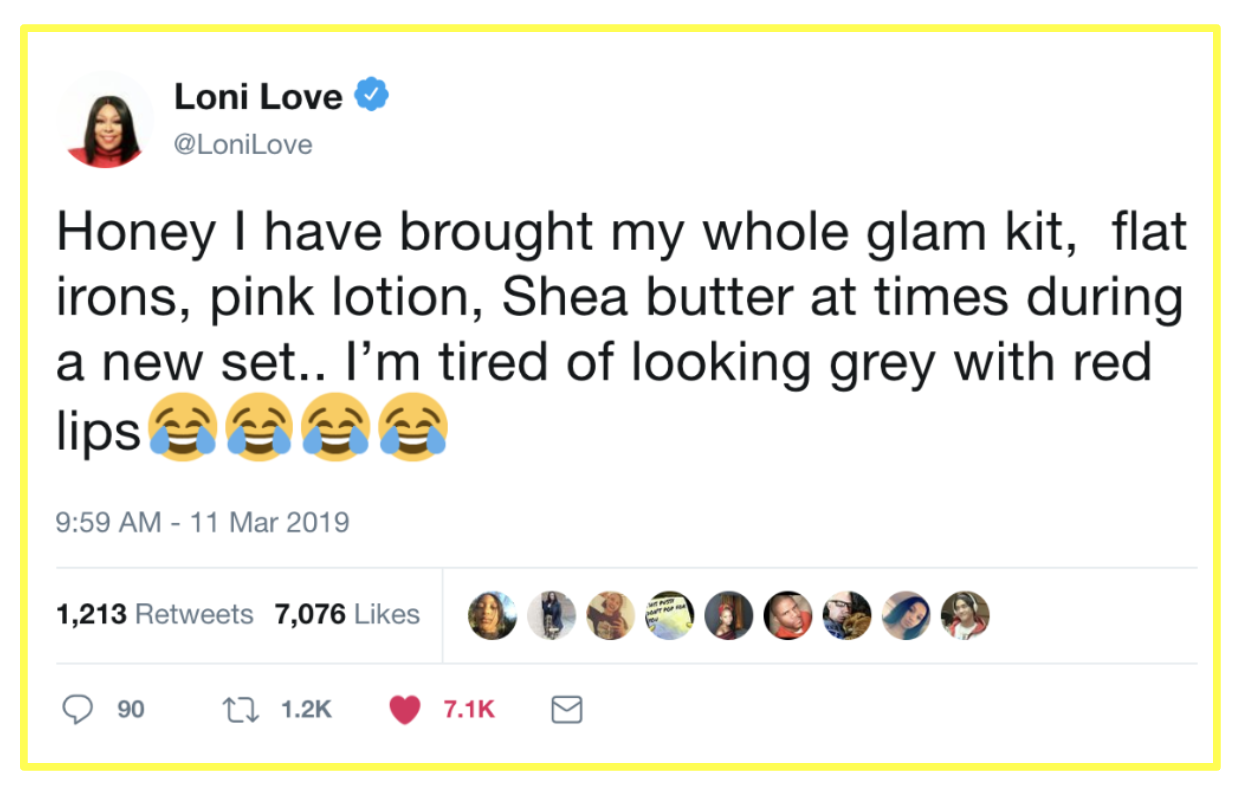 ...those carry-on glam kits can get pretty BIG.
Other actors spoke about taking the more costly and time-intensive route of getting long-term, low-maintenance protective hairstyles (like box braids, Senegalese twists, and even permanent locs), prior to shooting to sidestep the need for on-set hairstyling all together.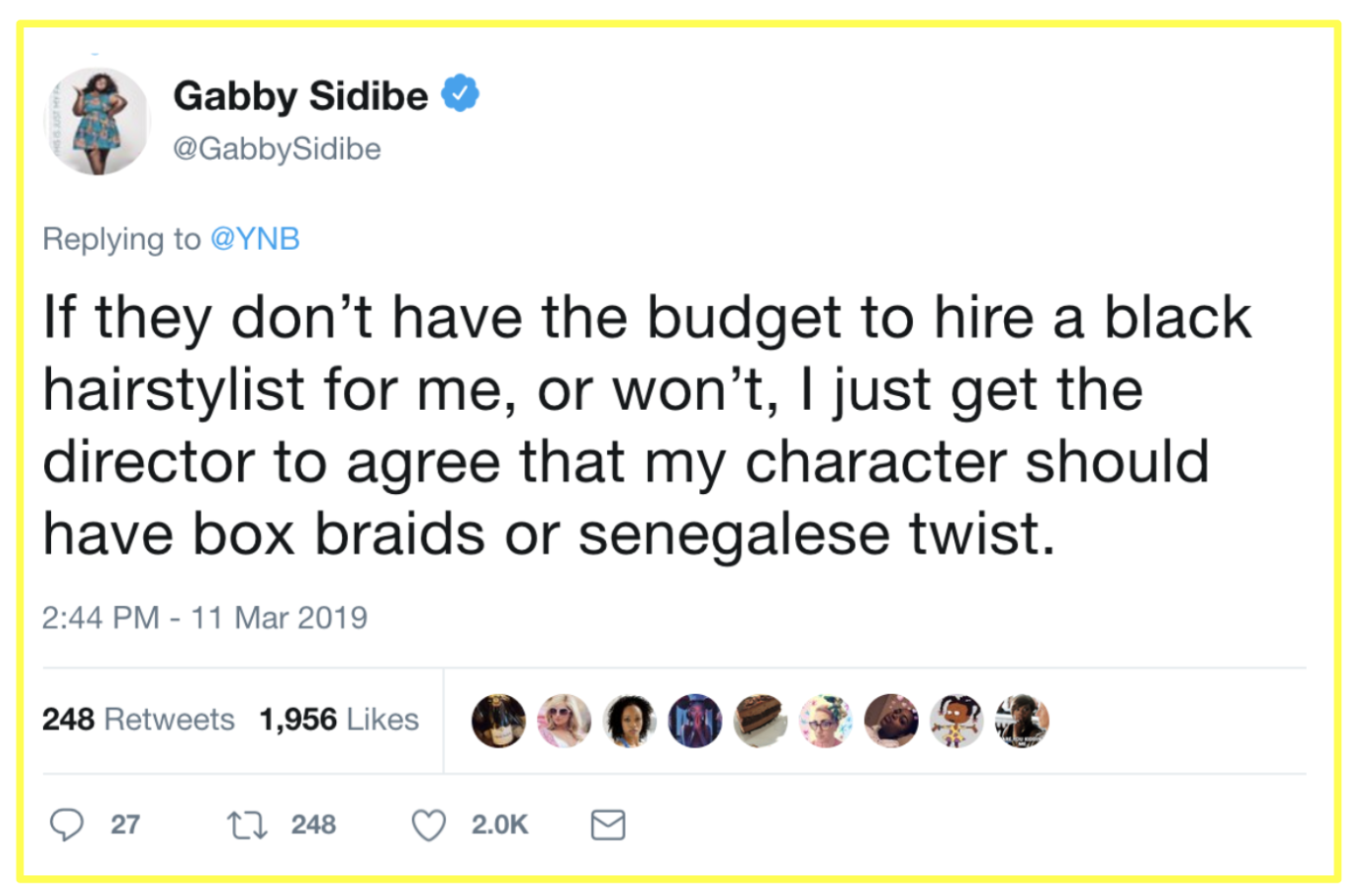 On top of everything, there's the added fear that speaking up about improperly-styled hair or makeup will make you seem ungrateful and undeserving, while keeping quiet will likely result in severe hair damage or just looking a hot mess in general.
It's a pretty frustrating and vulnerable predicament that a majority of black actors find themselves in, job after job after job.
Many actors pointed out that while they'd love to refer or hire their own trusted beauty professionals for the position, only members of the Make-Up Artists and Hair Stylists Guild are permitted to provide these services on-set — which would be fine, if getting into the union weren't so difficult in the first place.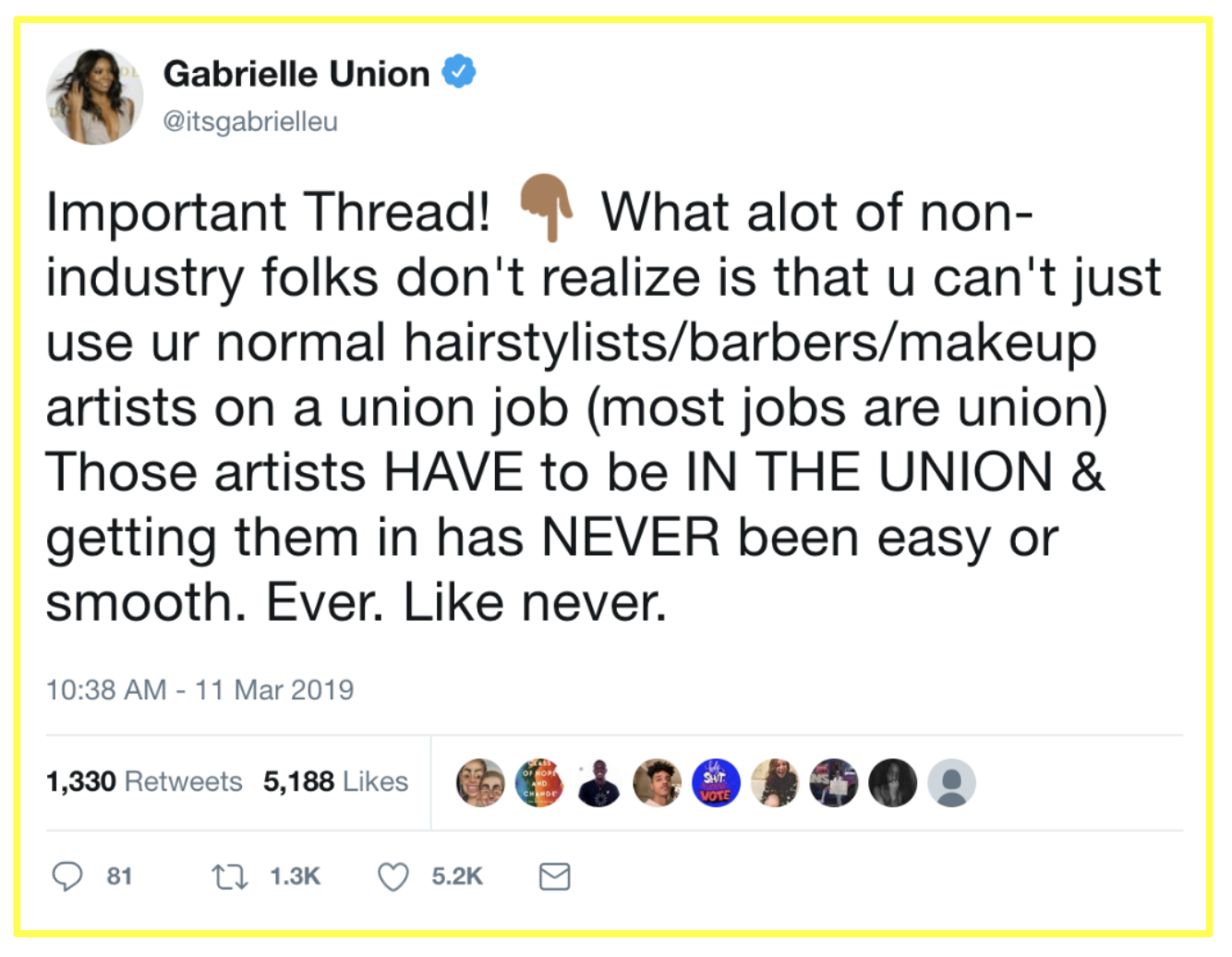 Well I'm neither a Hollywood beauty pro or a member of their union, so I reached out to some folks who are, like makeup artist Doniella Davy, who's worked with many black actors on films like If Beale Street Could Talk and Moonlight. "Gabrielle Union is right," she told BuzzFeed. "Joining the union is not an easy process, nor is it easy to become fully educated on how to join."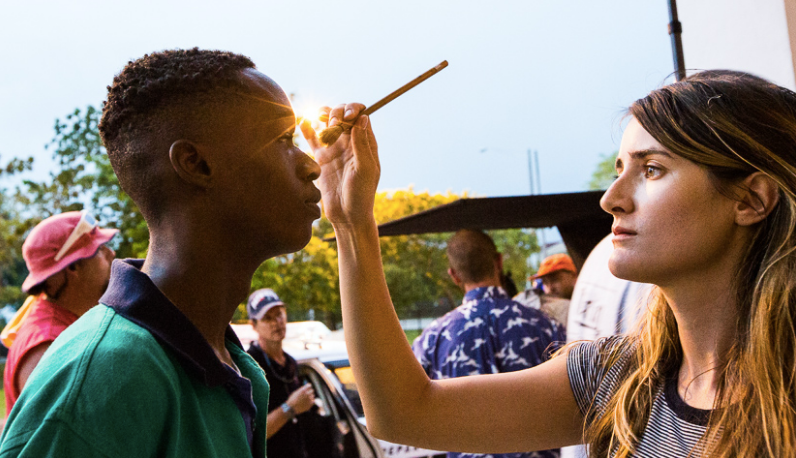 "Our Los Angeles hair and makeup artist union (IATSE Local 706) needs more diversity!" Doniella insisted. She also noted that while the union needs to provide free classes in black hairstyling, grooming, and makeup, professionals should also take the initiative to learn about all hair textures and skin tones on their own accord.
Camille Friend, head hairstylist on a ton of Marvel movies like Black Panther and Captain Marvel and founder of Hair Scholars, believes that the #ActingWhileBlack message is valid and important, but doesn't think it's an overarching problem. "There are many hairstylists in the union and also who do editorial work that are well-versed in black hair," she told BuzzFeed.
"I have assistants and mentees that have gotten into the union in the last few years and are successes because of their skill level and drive," Camille explained.
I also reached out to The Make-Up Artists & Hair Stylists Guild (IATSE Local 706) via email to find out whether they're aware of the hair and makeup issues facing black actors on-set and if they have any diversity initiatives and training workshops inclusive to black hair textures and skin tones. They confirmed the latter question, but seemed to circumvent the first. You can read the full statement below:
Regardless of where black actors and beauty professionals stand on matters of the union and its accessibility or lack thereof, one thing's for sure: the lack of proficient on-set hair styling and makeup services for black actors is a real problem that speaks to a larger issue of the micro and macro ways in which black people continue to be marginalized and demoralized throughout Hollywood, fashion, and other predominantly white American institutions.
Like model Olivia Anakwe said, "It's 2019. It's time to do better."
Feel free to continue the conversation around beauty service biases in your own workplace in the comment section below!