The "Dark Arts At Hogwarts Castle" Is Now Showing And Here's What You Can Expect
It's so dark and chilling that you might need to say, "Lumos!"
by
,
If you're a dark-hearted Potterhead, then you already know that the Wizarding World of Harry Potter has a new light show just for you. It's called "Dark Arts At Hogwarts Castle" and it's as dramatic and magical as it sounds.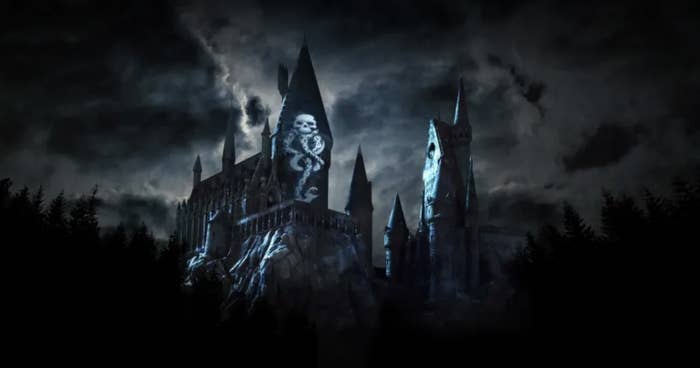 We didn't know quite what to expect going in since we only had that first image to go off of, but we can easily say that Voldemort puts on a spectacularly evil show.
Now, the whole production is about eight or so minutes long and we don't want to GIF you to death, so here are just some of the moments we loved:
1.
When the castle suddenly turned into Knockturn Alley, complete with the Borgin and Burkes storefront:
And when cryptic skulls emerged from the ground and made their wrath known in the windows:
2.
When Aragog and his army of spider friends left the Forbidden Forest and tried to take over the castle:
3.
When we got a beautifully detailed shot of the outside of Hogwarts with multiple dragons flying by (is that you, Norbert?!):
4.
When the Fiendfyre came to attack those climbing up the castle walls:
5.
When things got VERY dark and Voldemort's creepy fingers were seen damaging the castle. Oh, and dementors were flying all over the place:
6.
When we heard Voldemort's cold voice rumble his threat as his face appeared in the top tower of Hogwarts:
7.
When he avada kedavra'd the entire castle, causing it to crumble:
8.
And when a certain patronus of a stag came through to ward off evil:
9.
We don't want to spoil the grand finale for you, but let's just say, the silver stag truly takes on a colossal life of its own.
If you thought this wasn't enough, a brand new 2019 Collector's Edition interactive wand is also available for purchase at Universal theme parks in conjunction with the light show.
The "Dark Arts at Hogwarts Castle" runs nightly from April 13-28 at Universal Studios Hollywood and then returns from May 25-27. Yay magic!
The show will also debut at the Orlando, Florida park at a to be announced date later this year. To experience this new show in The Wizarding World of Harry Potter you can get tickets for Universal Studios Hollywood here and Orlando here.