1.
First, here's Millie Bobby Brown and Dacre Montgomery taking a break while filming the Season 3 finale:
3.
And here's how they filmed the scene where Eleven is falling through the void:
4.
David Harbour being adorable in between takes:
5.
Finn Wolfhard and Maya Hawke taking a much-deserved nap:
6.
The Scoops Troop being adorable behind the scenes:
7.
Joe Keery testing out a new wig for Steve:
8.
Gaten Matarazzo cramming himself into a box so production can figure out how big to make the vent from Scoops Ahoy to the secret Russian elevator:
9.
And, here's Priah Ferguson actually filming the scene where Erica crawls through the vent:
10.
Sadie Sink and Millie striking a pose while filming in the rain:
11.
The entire Stranger Things gang getting some notes while filming the finale: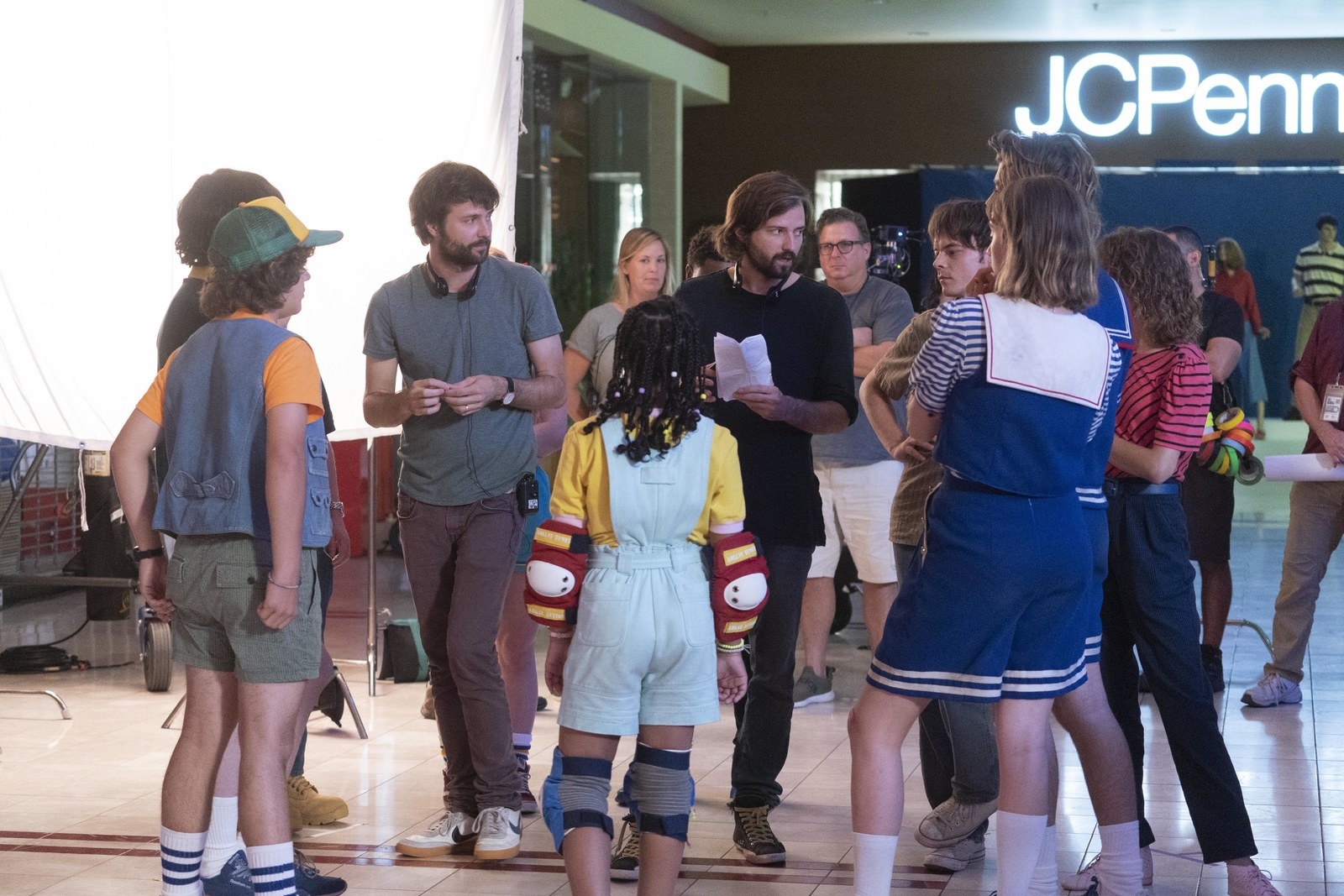 12.
Sadie and Millie trying to blend in with some mannequins inside the Starcourt Mall:
13.
Millie, Maya, and Finn adorably sharing a chair in between scenes:
14.
Millie rocking Eleven's iconic '80s look:
15.
Winona Ryder preparing to film a classic Joyce and Hopper moment in the woods: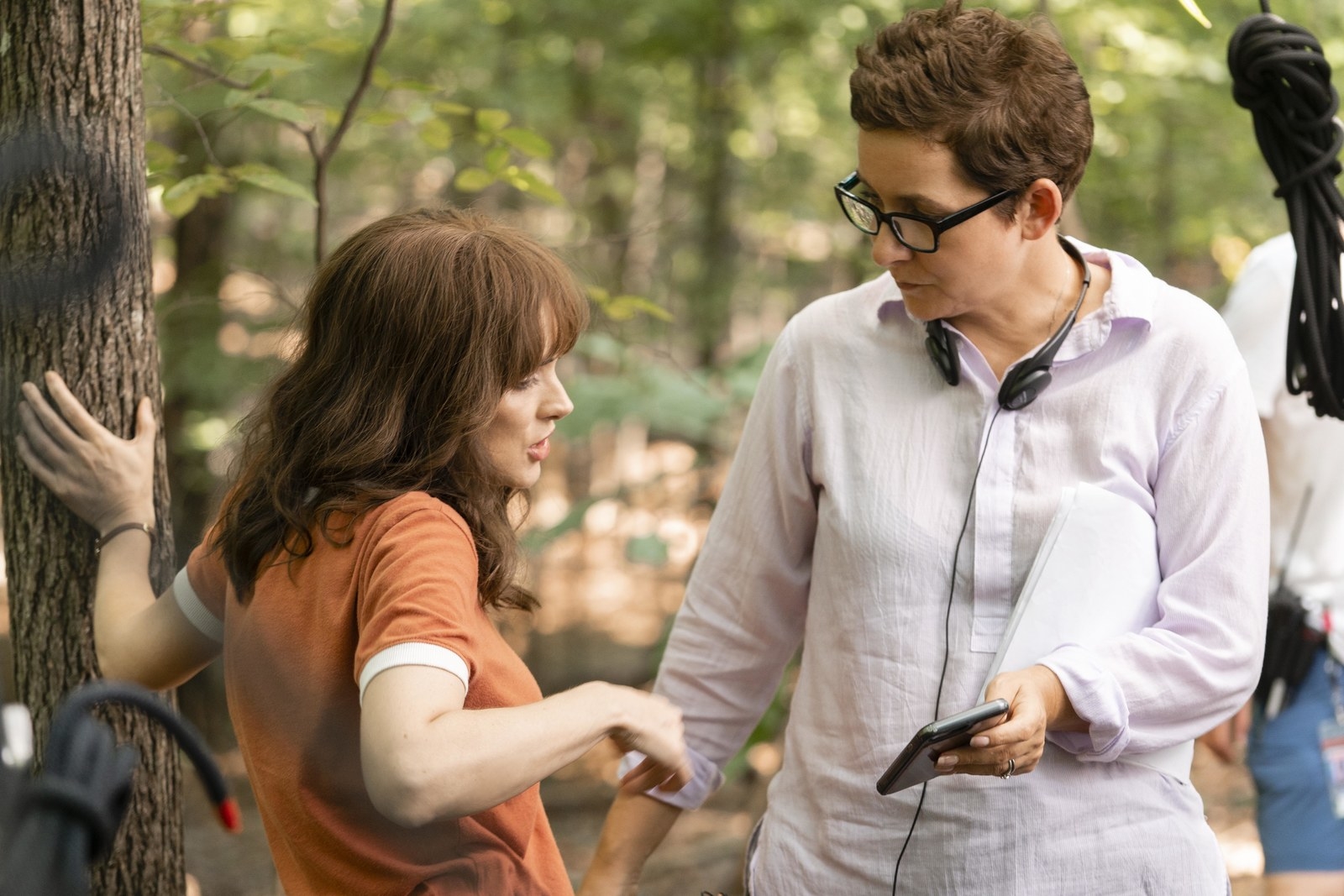 16.
Millie and Noah Schnapp sharing this sweet moment with some hot sauce:
17.
Here's David striking a pose in Hopper's amazing shirt:
18.
Natalia Dyer getting ready to play Nancy in the hair and makeup trailer:
19.
And here's a look inside the hair and makeup trailer:
20.
Noah, Sadie, and Caleb McLaughlin showing off their candy while filming the opening movie theater scene:
21.
Dacre and Cara Buono filming one of Billy and Karen's poolside chats:
22.
Dacre and Millie sharing some food after saving the world from the Mind Flayer:
23.
Maya and Joe rehearsing the scene where Robin comes out to Steve:
24.
Charlie Heaton watching one of the scenes from the hospital: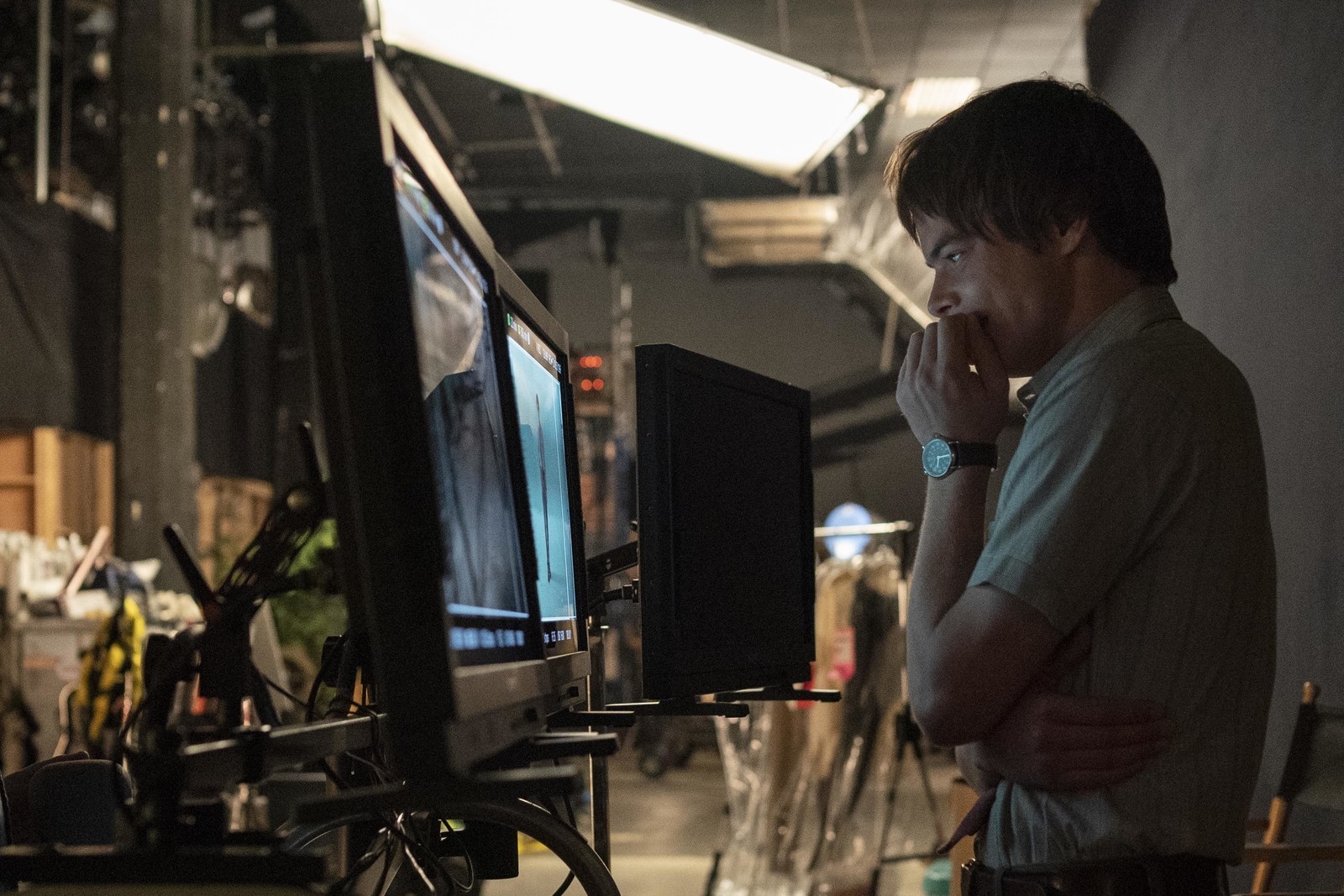 25.
Caleb giving the crew a thumbs-up: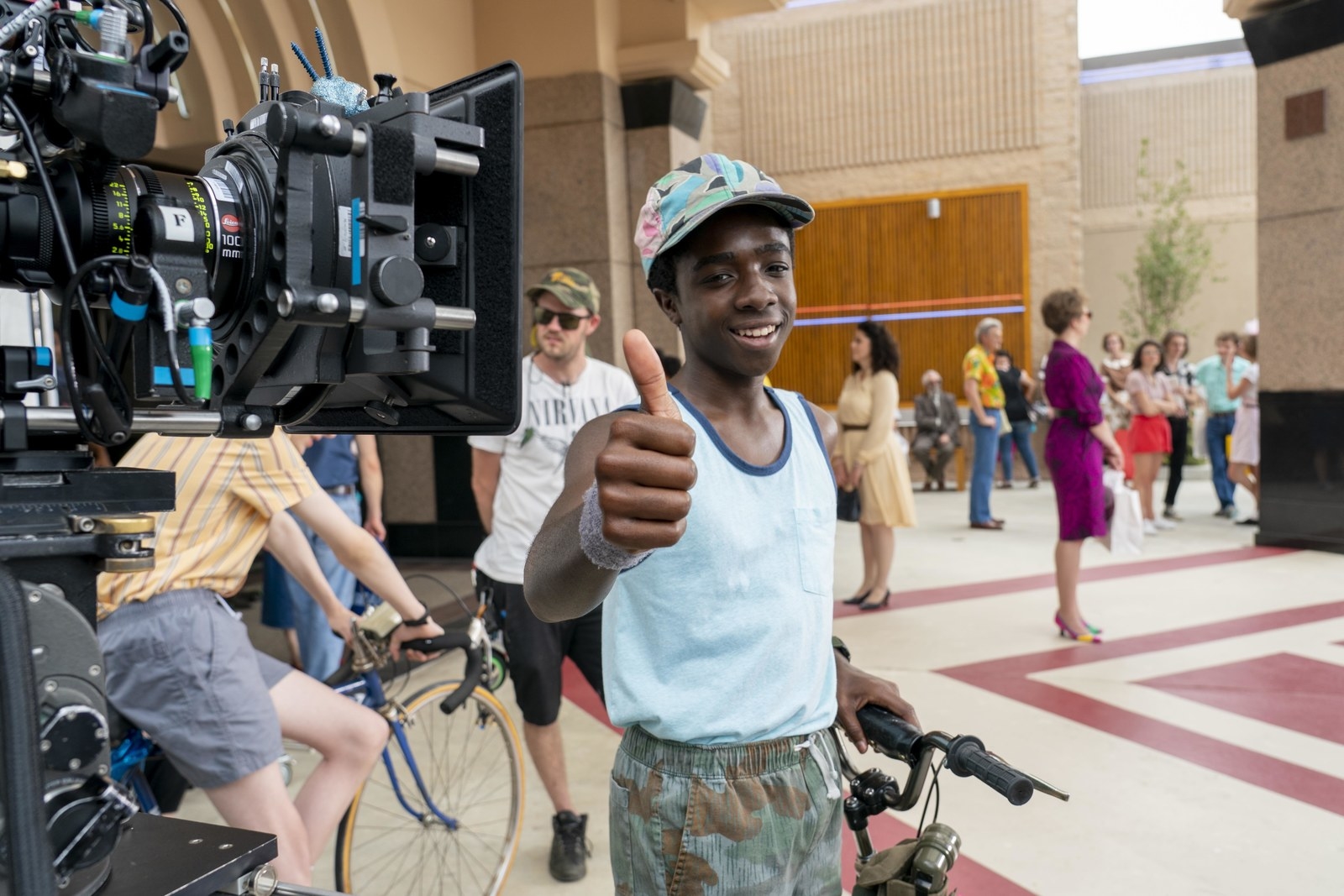 26.
Director Shawn Levy showing what it was like filming the Scoops Troop escaping the Starcourt Mall:
27.
Joe, Finn, and Gaten playing a game of catch with a roll of paper towels in between scenes:
28.
Dacre getting some notes while filming a scene:
29.
Millie and Sadie hanging out in Will's fort during some downtime:
30.
Charlie and Caleb can't stop laughing while filming together:
31.
Charlie having some fun with a dummy version of one of the Russian spies:
32.
Cara taking a much-needed break from the sun while filming poolside:
33.
Here's what it looked like filming the big carnival scenes: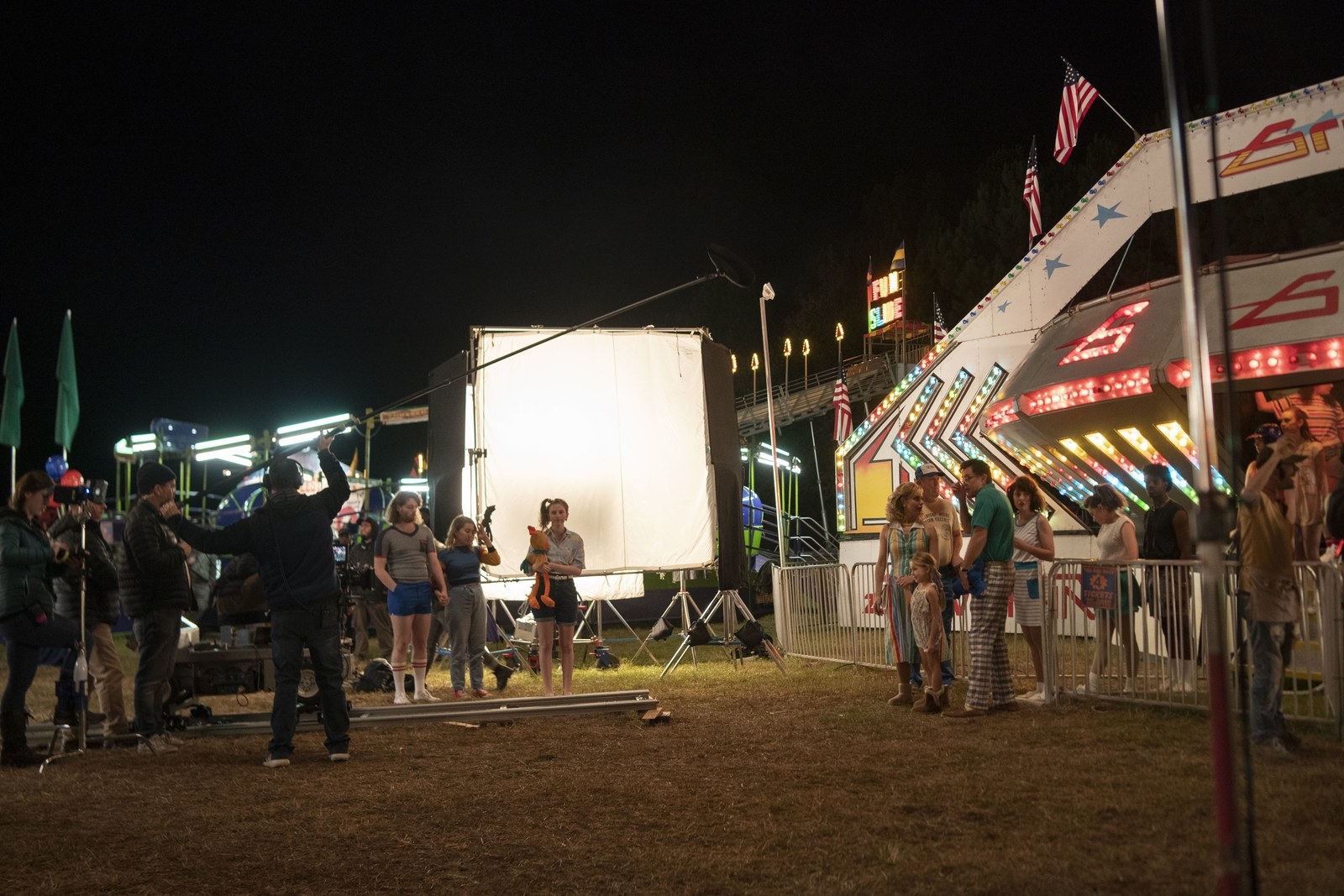 34.
Millie and Sadie behind the scenes of Eleven and Max's sleepover:
35.
Noah giving sliding in between the escalators like the Scoops Troop a try:
36.
Here's the gang discussing how to defeat the Mind Flayer or Will pleading to play D&D:
37.
And finally, Millie peacing out after filming a scene: