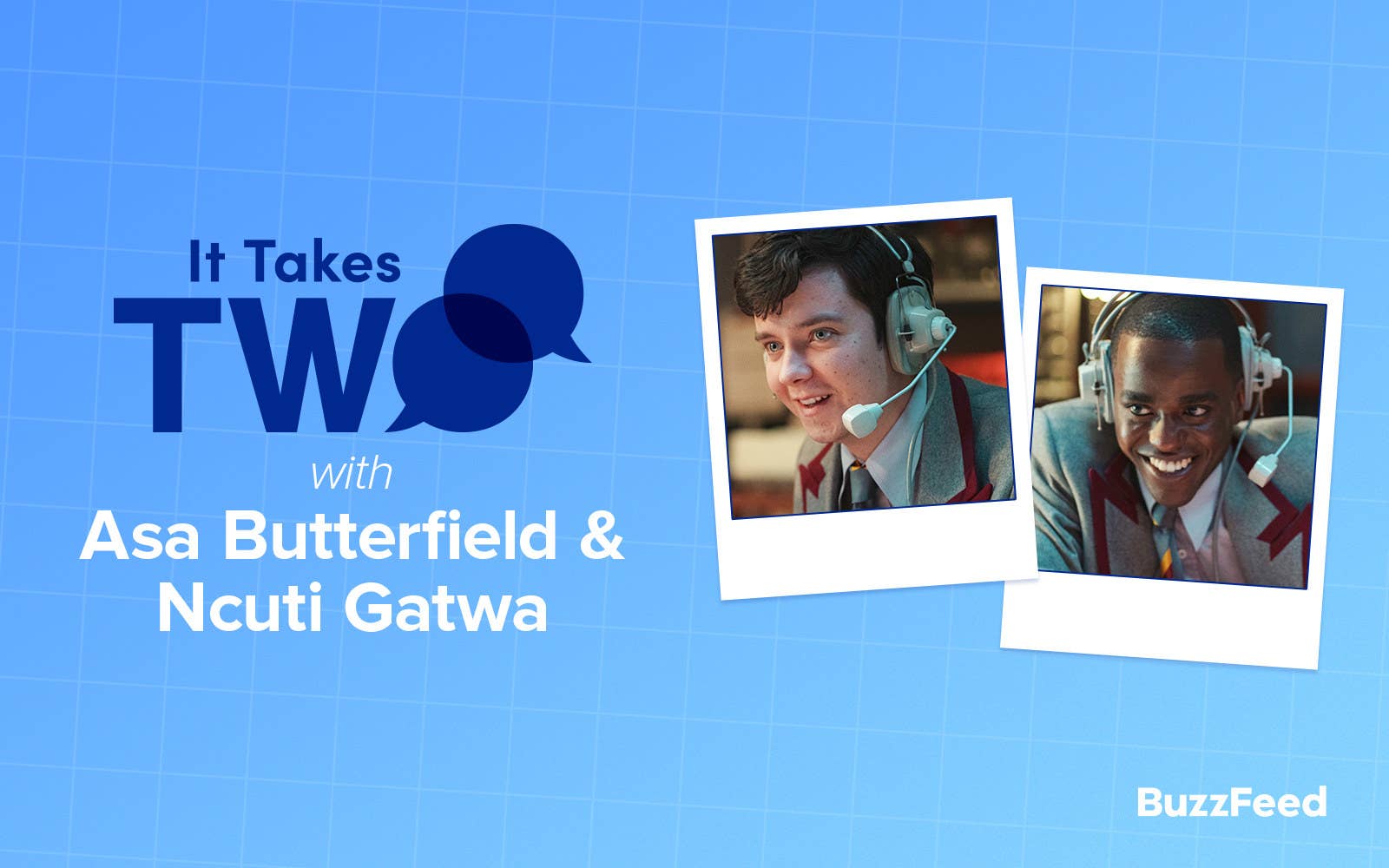 Netflix's Sex Education is honestly one of the most beloved TV shows right now. While the show has a lot of incredible romantic relationships, it's the friendships that help make this show a standout. And at the heart of it are Otis and Eric, who are beautifully played by Asa Butterfield and Ncuti Gatwa.
So, to celebrate Sex Education Season 3, Asa and Ncuti sat down with me to look back on their time crafting one of the best friendships on TV. We talk about the first scenes they filmed together, which Otis and Eric moments are their favorites, behind-the-scenes stories, and much more. Here's everything we chatted about:
1. First, do you remember your auditions for Sex Education and when you met for the first time?
Asa: I remember when we first met. I remember our first rehearsal day together. I hadn't met any of the cast and then we were trapped in a room and given the script. That was it and we never looked back.
Ncuti: I remember meeting Asa and being like, "Okay, we're ready to go. This is going to be a fun series." I read with potential Otises during my auditions and that was it. I read with Connor Swindells for Adam, but yeah, I didn't meet Asa until we were cast and met on the first day.
2. Do you remember the first Otis and Eric scene you filmed?
Ncuti: It was the party sequence, yeah?
Asa: Also it was hat man too? Right? The tangerine outfit.
Ncuti: I think hat man came a bit later. We did the party scene and that was very much Eric, Otis, and Maeve. The first scenes that we filmed of the show were like the whole party scene. Everybody was there. In the story, though, Maeve, Otis, and Eric are a little trio — sex detective trio. Those scenes were very fun obviously because we see the dynamic shift to Otis and Maeve, and Eric goes and does his own thing. It was so nice to film those scenes because it really established all the relationships. Emma [Mackey] is so much fun to work with. It's just amazing working with her.
But our first scene, which was like the first proper Otis and Eric scene, was the fight before the party. That scene felt like Otis and Eric have arrived. The vibe was being built.

3. What are your favorite Otis and Eric scenes?
Asa: There are quite a few. The toilet scene in Season 2, dancing up the stairs in Season 3. Literally any of our scenes I have so much fun with. I can't pick one. There's always a little something that we bring to the table in each.
Ncuti: I enjoy their spiky moments as well. I enjoy when they have a little tête-à-tête or if they're going through a hard time.
Asa: I don't think I do enjoy those moments. I don't think I do. I would much rather they always got on because it's so sad when they don't. It genuinely makes me upset.
Ncuti: The vibe of set changes. It's like, "Oh, there's something in the air here. They're not quite Otis and Eric-ing." I like them because I feel like that's when you see how strong their friendship is, like when they go through something tough and then they come back together. Or when they go through something and they just don't understand each other. Otis and Eric always find their way back to each other because that's true friendship.
BuzzFeed: Asa, you must've hated the Hedwig stuff in Season 1 because Otis and Eric are just fighting so much.
Ncuti: [joking] He loved it.
Asa: The best part was the wig and my eyeshadow.
BuzzFeed: I always think of the moment from Season 1 when Otis claps in the auditorium after Eric plays the tuba on stage. It's one of my favorites.
Ncuti: [laughing] I always forget that moment! It's such a good one. It's such a cute one. It's beautiful.
Asa: Otis is your cheerleader.
Ncuti: They're each other's cheerleaders.
4. How has it been building Otis and Eric's friendship over the course of these first three seasons?
Asa: We just have a great time and I think mine and Ncuti's relationship in real life is actually quite similar to Otis and Eric's. We really just riff off each other and pull the right strings to create this friendship. We'll do scenes that are written, but then we will always find somewhere, either the beginning or the end, to bring some of ourselves and our relationship into it. There's all these great shades of color, fun, and humor when we work together.
Ncuti: It's brilliant. Asa is a brilliant actor, like formidable. I think underratedly brilliant too. I think he's just an exceptional actor and so generous. It's been so fun to work with him for the past three years because it's just so creative. Like, I know that I'm gonna go into a scene and we're just gonna create. I could talk about Asa for a while, so I'm gonna stop there. But it's very good working together.
5. Asa, do you have a favorite Eric scene from Sex Education?
Asa: I've just watched the first few episodes of Season 3, and there's a scene where you get to see Eric getting ready. He's singing and dancing while collecting Rahim's poems, I don't even know what the song is, but it was cracking me up. You're doing all your moves, you're getting down and busting low. You're Voguing. I loved it. It brought a tear to my eye.
6. And Ncuti, do you have a favorite Otis scene from Sex Education?
Ncuti: Do you know what? [laughing] I think I just love watching Otis and his little quirks. Like his little screams. The screams and his little hand claps. Otis in general, as a character, makes me laugh a lot. He's so straight-laced, but he has these moments of ridiculousness and hysteria. I really love them. Also, in Season 2, the whole party scene. Watching Asa for five hours poke his belly button and scream. It's beautiful. He's such an underrated and funny character on our show. Otis and Jean are also so amazing together and make me laugh.
BuzzFeed: Asa, do you have a favorite Otis and Jean scene?
Asa: The one that sticks in my head is from Season 1, when Jean and Adam share a joint, and Otis is watching them begrudgingly. That scene cracked me up so much.
7. Do you each have a dream actor you would love to see on Sex Education?
Ncuti: I would love Lupita Nyong'o to come and be one of Eric's cool aunties. Like, the cool auntie that would come and be like, "Okay, do you know what? Don't tell your mum, but I'm taking you to the gay club and we're gonna do shots." Like, that would be so much fun with her. I love her.
Asa: I'd like to see Bill Bailey in Moordale in some shape or form. I don't know who. I don't know if he would be a teacher or whatever. Maybe Hendrick's dad or uncle. I think that'd be cool.
8. Is there one character or actor on Sex Education who you would love to share more scenes with?
Ncuti: I'm gonna say Aimee. Honestly, Aimee, Maeve, or Jackson, but definitely Aimee. I think they need to have a chat. I mean, Eric dates her ex. I think they could have quite an interesting conversation. That would be fun. I would love to get to see Eric and Aimee hang out.
Asa: I don't know. Otis does cross paths with basically everyone. I had hardly any scenes with Kedar [Williams-Stirling] in Season 3, which is a shame. Otis and Jackson had quite a few nice ones in Season 1. It's a funny relationship and they sort of fell out. So, I'd like to see that happen. I don't really have any scenes with Viv, with Chinenye [Ezeudu]. I'd like to have some more time with Mr. Groff and Mr. Hendricks too.
9. Have you ever improvised a moment that made it into the final edit on Sex Education?
Asa: Oh yeah. There's a lot of unscripted moments. Whether it's song and dance, or just noises or jumping under the table, or Ncuti jumping on my back. Ben [Taylor], the director, bless him, because he loves it. He just has us turn it up to the max and give him what we got.
Ncuti: Yeah, we would do a take towards the end, maybe the last two takes, and Ben would be like, "Okay, guys, just go for gold."
10. Do you each have a Sex Education scene that you are most proud of?
Ncuti: Otis and Eric at the dance I really love for a number of reasons. I love whenever they find each other again after a fight or something. That's beautiful. Then, just the headspace that Eric was in at the time is special. It's Eric returning to his confidence, returning to who he is and how he dresses. I love that very much. It's hard to say we're proud of something because it's Laurie [Nunn, the creator] who has written it.
I love the fact that she's incorporated Eric's culture and she celebrates that. She doesn't demonize it either or paint it as homophobic or anything like that. She's celebrating it and also showcasing the nuance of Eric's identity and culture. I think that's something I'm very proud of. In terms of the whole show, I think each character Laurie has drawn to be so nuanced and have light and dark in them. That's something I'm quite proud to be a part of.
Asa: Yeah, I think that's one of the reasons this show really stands up is because all of its characters — lead characters and secondary characters — have such a story and such depth, importance, and a message that we can learn from. Also, there's a lot of characters that are representative of someone or a community or a culture. That's really hard to do, especially without it feeling forced. I think Laurie does a great job of making it feel a real part of this world in Moordale.
Ncuti: I completely agree. One thing that stands out to me in Season 3 is how much the supporting actors make the show. I really feel like they are the heart and soul of Sex Education. From the kids to the adults. All the supporting characters add such an interesting element and add such energy.
11. How was it filming Season 3 during the COVID-19 pandemic?
Asa: It was pretty smooth. We got really lucky. We obviously took a lot of precautions and Netflix really provided us with a safety net of having tests all the time and having all sorts of things in place. It meant that our job as actors didn't change all that much. We kind of preserved the feeling of the show, which is quite an intimate, personal, and connected show. It would have been tricky to do that if we didn't have all these safety measures in place.
Ncuti: We were definitely so grateful to have a job to go into and we were so lucky that we were just kind of full steam ahead. We didn't halt production at any point, like shoutout to production and to Netflix for being able to control everything so well. We really just kept going without any breaks. One thing was, we are such a close cast and I'm just used to being able to walk into Asa's house, take food and go, or walk into Kedar's house.
We're very used to doing that kind of thing, and then you just weren't able to do that. You also had to be two meters apart at all times. It just wasn't as "fun" because we weren't able to have the vibe that we normally have. But we got through it and out of all the jobs to have during a pandemic, acting is not the hardest.
Asa: We delayed Season 3 a bit, but not quite that much. We were one of the first shows to go back during the pandemic and yeah, we've really filmed all three seasons back to back.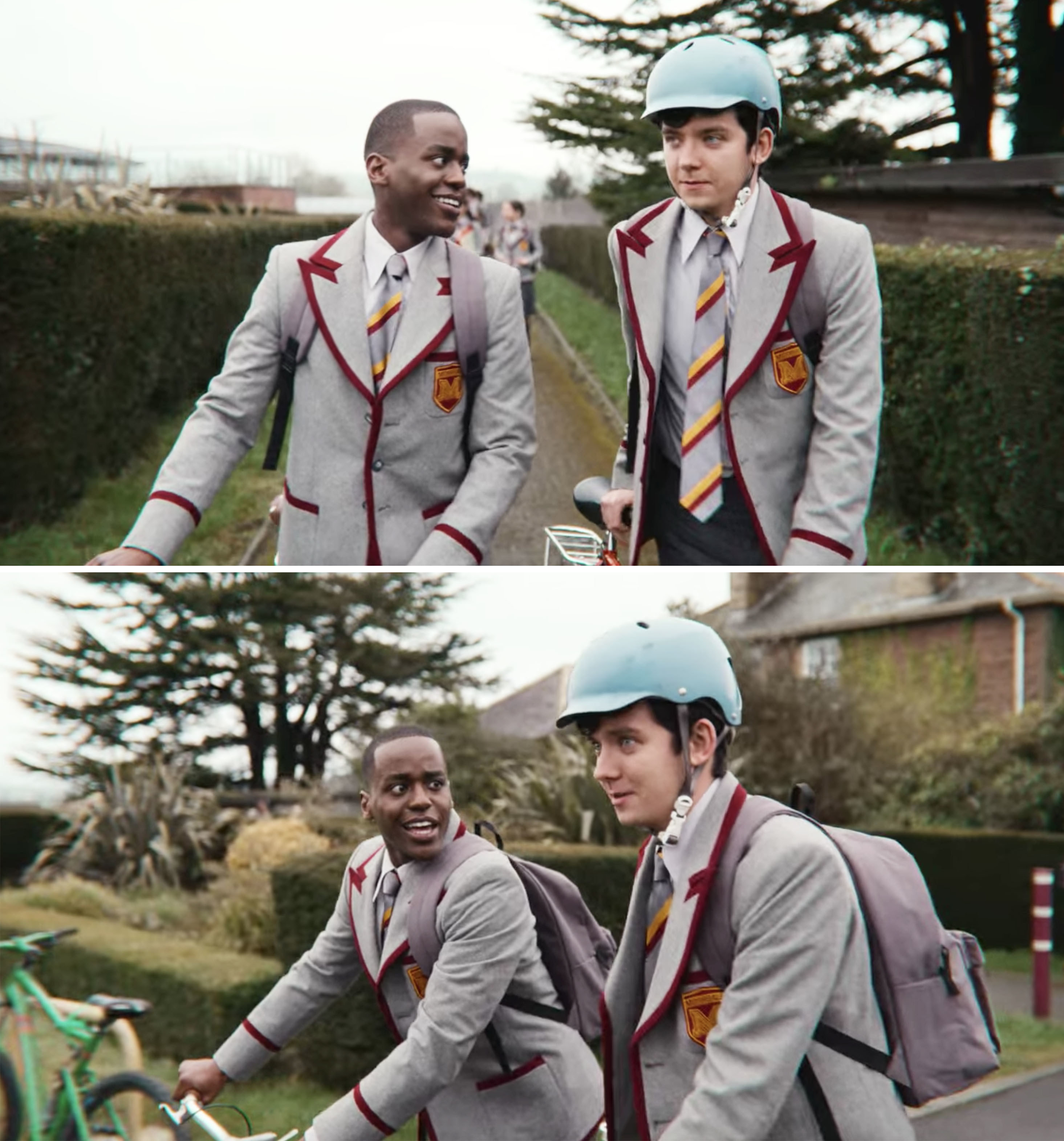 12. Do you ever go back and rewatch episodes of Sex Education?
Asa: I haven't gone back and watched. Not since I've seen it the first time. I don't really like watching myself back. I don't think most people do.
Ncuti: Especially the first time you go back. I think you need a break from it. You need a bit of time after you've done it or after it's been released, and then watch it. The first time you see yourself doing something, you're like, "I want to be sick."
BuzzFeed: It also must be wild watching a finished scene and remembering what it was like filming it.
Ncuti: Oh, recalling what you filmed is the wildest thing. I have no idea sometimes. I'll be like, "That's Eric that did that. I don't remember."
Asa: I'll watch it back and be like, "Oh! We did that scene. We did that."
13. And finally, now that you've played these roles for three seasons, are there aspects of your own personality you've gotten to bring to the characters?
Asa: I think so. I am always bringing a bit of myself into a part. I notice now when I'm reading the scripts, they bring in little things we've done or things we've said. Now they're canon and part of the character. Laurie is able to work them in and that's nice. It's always nice to see.
Ncuti: I completely agree. I've started to notice that as well. Also, we've established these characters as well, so it's fun to grow with them. When we as people started the show three years ago, we were all different. So, now we've grown a bit and the characters have grown a bit alongside us. We're growing with the characters and it's organic, cool, and creative.
Be sure to watch Sex Education Season 3, which is streaming now on Netflix.