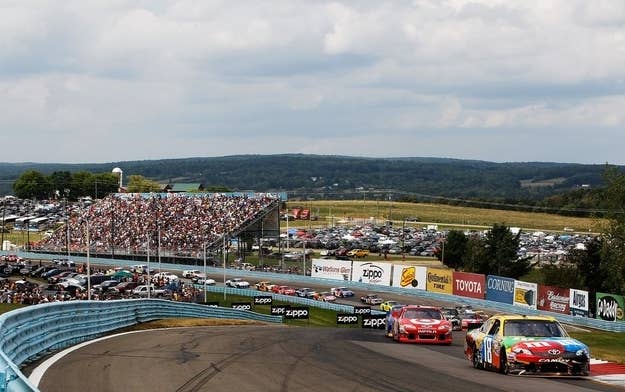 Just like June's NASCAR road course race in Sonoma, this weekend's road course event in Watkins Glen, New York generated the kind of striking images that seem made to catch the eye of sports fans who don't follow NASCAR — the ones who get bored watching drivers turn left 2,000 times.
Meanwhile, drivers are effusive when asked about trading the usual ovals for squiggly road courses. "It's exciting and fun to be able to attack the corner into the braking zones while you're down-shifting, to have to throw the car left and right and over the curves," Jeff Gordon told a reporter about the Sonoma course. NASCAR teams once brought in "ringers" for the twice-a-year road races, but the regular drivers have gotten better at handling road courses in recent years, learning to manhandle their bigger cars around tracks built for smaller, more nimble sports cars. And NASCAR fans enjoy the chance that Watkins Glen and Sonoma provide to watch their favorite racers scrum in tight turns and bump and grind through twisty corners and chutes.
So if road races are a hoot for drivers and fans alike — and aren't subject to the most common objection that NASCAR skeptics have about the sport — why are only two of NASCAR's 36 Sprint Cup contests held at road courses, while the rest are boring old ovoid races? There are a few answers, with a common theme.
The Logistics: Stock-car racing was born in the South, and the earliest races were held on oval fairgrounds tracks and horse tracks. Many early stock car racing promoters were farmers, who found that a tractor and some chicken fencing could turn a cow pasture into a race track in no time. Putting together a road course would have been a lot more difficult — as would watching a race at one.
The Economics: Related: road races and sports cars were traditionally a wealthy man's sport. NASCAR traces its roots to the post-Depression era of southern moonshining, when bootleggers made cash delivering illegal whiskey while racing their whiskey cars on Sundays. They weren't going to conduct their criminal activities in a preposterously expensive Ferrari calibrated for hairpin turns.
The Culture: Sports cars and road races were simply considered a northern thing. Meanwhile, Southerners had no big-time sports to call their own. The Braves didn't settle in Atlanta until 1965, and the Falcons came a year later. But if you were lucky enough to have a nearby fairgrounds or an enterprising farmer who'd turned his barren field into a race track, you could stand beside a chicken-wire fence and watch jacked-up Ford V-8s — many of them whiskey cars — tearing around the oval, symbols of power for the powerless.
Oval stock car racing, then, was a convenient and low-cost way of establishing a sporting culture in a place that needed one of its own. In the 1950s, co-founder Bill France did consider the potential for road races and thought about trying to lure fans to races featuring foreign cars and Indy-style "open wheel" cars. "Apparently, it never fully came to fruition," says Eddie Samples, a racing historian with GeorgiaRacingHistory.com, whose father, Ed, was a NASCAR champ in the 1940s. I'm not surprised — as a kid growing up in New Jersey, I remember my dad taking my brother and I to Watkins Glen. We'd see a flash of cars for a few seconds, then they'd disappear in the backstretch. The cars would spread out after a while and it'd be impossible to tell who was winning. My brother and I would lose interest and start wresting or eating too many grilled hotdogs. The atmosphere was one of leisurely novelty — not the rowdy communal experience that marks stock-car races. Years later, while researching the moonshine-fueled early history of NASCAR, I learned that most Southern racers and fans also disdained the northern style of sports car road racing. By God, stock cars were meant to drive in circles, son. It seems that only in recent years have the grudges begun to evaporate to the point where it doesn't seem so disloyal for a true-blue NASCAR fan or driver to accept that arcing left around an oval isn't the only way to drive a stock car.
Neal Thompson is the author of three books, including Driving with the Devil: Southern Moonshine, Detroit Wheels, and the Birth of NASCAR.