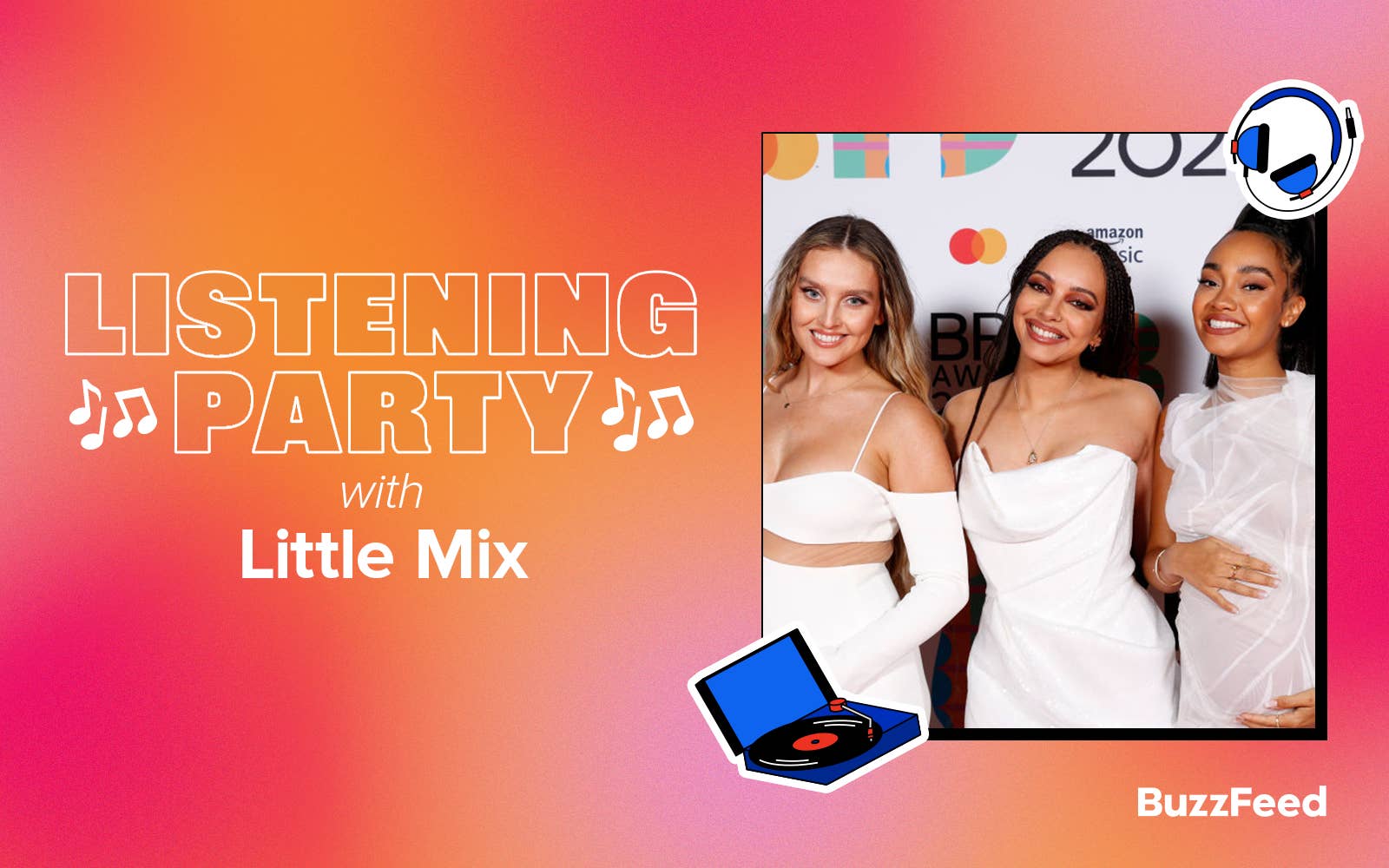 If you can believe it, it's somehow been 10 years of the British girl band Little Mix. From their X Factor days to their current iteration without former member Jesy Nelson, the gals have been on quite a journey — which is why their anniversary record, Between Us, is both bop after bop and a hint of new things to come. So, we caught up with Perrie Edwards, Leigh-Anne Pinnock, and Jade Thirlwall over Zoom to talk about the new compilation album, their fave throwback collabs, and how they once got bribed with free chicken into releasing a certain single.
Who have you been listening to recently?

Perrie: Britney [Spears] — because of the whole #FreeBritney movement — Mariah [Carey], Celine [Dion]. All the pop icons, really.

Leigh-Anne: All the classics. I've been listening to lovers rock reggae — like old-school reggae. Sometimes you just go through phases, and that's my phase right now.
Jade: I've been falling into YouTube music video black holes at the minute, so I'm just letting them tell me what I'm going to watch. We always usually start with Tinashe's "Bouncin'" at the minute, and then it leads to Normani's "Wild Side," and then it eventually always ends at Beyoncé's "Get Me Bodied." Do you feel like YouTube always circulates the same songs to you?
Leigh-Anne: Yes, yours is Beyoncé, mine is "The Farm Had a Dog Called Bingo, B-I-N-G-O."
Describe this compilation in three words.
Leigh-Anne: Iconic.

Jade: Celebration.
Perrie: Oh, celebration's a good one! Maybe journey, because it's literally the Little Mix back catalog. The journey of our careers.
What was the inspiration behind the new tracks?
Perrie: "Between Us" — I like how Jade describes it, as a love song to each other. It's about our friendship, our sisterhood, about the love we have for each other, how in sync we are, how much we have been through. It's got a lot of other songs referenced in there as well, which I think is really smart. It's one of those songs that we're not going to be able to perform without crying, and the fans also will probably cry every time we perform it.
"Trash" is a very sassy song. It's a very strong, empowering song that it's like, "If you're not doing it, and you've been a bit of a dick, get in the bin."
"No" — basically, we are very strong-minded, business-savvy women. But a lot of the time, in the past and in the industry, we have been yes people. It's shit to admit, but there are times where people have walked over us, have us backed into a corner, and we've had to go with whatever they say. We've been pussies, to an extent! And we decided to write a song about saying no for a change.
"Cut You Off" is about someone who's really toxic in your life and you don't want anymore. We actually went to therapy as a group, which we think is really, really helpful. We got told to envision the people that are negative in our lives and the people who don't make us feel very good about ourselves. And we imagined big scissors to cut people off — and then Jade came up with the concept to make it into a song, which I thought was really freaking cool.

Then we've got "Love Sweet Love," which everyone's heard and is a bop!
BuzzFeed: I love that it came through therapy, that's so cool.
Perrie: We actually love therapy — because we really needed it. We had it individually, we have it as a group as well, which is amazing. So we can all be there together and cry together. It's really nice.
This record is to mark the 10-year anniversary of Little Mix — what are some of the biggest things you've learned from your time together?
Jade: One of the main things I've learned is that this industry is very fickle. It's very difficult to maneuver your way around it as women, and as a part of a girl band. But throughout that whole experience, we've had each other and helped each other through that. So, I've learned that no matter what happens now, and along the way in the future, I'm always going to have this unit to fall back on whenever I'm struggling with anything. And that's really beautiful. I'm very proud that the three of us have managed to establish that bond together. Yeah, there's a bit of cheese for you.
Perrie: I've learned that Jade has great taste in cups [gestures at Jade's mug]. I think I agree with what Jade said.
The album opens with "Shout Out to My Ex" — I'm always curious about how the songwriting/recording/music video process evolves things. What were some of the main changes that happened from the first time you played it to the final product?
Jade: We were on the road when that was written. What we did at that time, because we were so busy, was we would send our own experiences and concepts to our favorite writers and then they would do a writing camp off the back of what we wanted to be written about. Then we got a "Shout Out" in from KAMILLE, and remember, we changed the lyrics' second verse to be more like us and more relatable. That was the biggest change, but the minute we heard it, we were like, "This is a smash." It was a no-brainer.
Looking back, are there any tracks you would have done differently now?
Jade: I honestly don't regret any of our singles. Do you?
Leigh-Anne: I don't regret them, because they all served their purpose. But I wouldn't have gone for "Change Your Life," personally.
Perrie: I knew you were going to say that.
Leigh-Anne: But I do love how it had a positive impact on a lot of people.
Jade: I don't remember if it was Nando's, but we were in a restaurant and we basically got bribed with a free meal into [releasing] "Change Your Life" as a single.
Perrie: I bet they thought, "I know how to announce the news to them: Let's feed them loads of chicken and then it will go down well."
What was your favorite memory from working with Machine Gun Kelly?
Jade: The minute we got on set, he was like, "Here's a round of shots!" By the end of the shoot, I was quite tipsy. Then we went for a drink after, which was nice — a friendly drink. He's a huge Oasis fan, which I thought was quite interesting, which is why "Wonderwall" is referenced in the rap for "No More Sad Songs."
Perrie: He's such a nice person. He's really cool.
Leigh-Anne: Actually, one of our fave collabs that we've done. We've collabed with amazing people, but we were just obsessed with his rap from the first time we listened to it. It just took the song to another level.

Similarly, can you share a memory from working with Jason Derulo?
Leigh-Anne: He's such a sweetheart. My nephew was obsessed with him when he was little, and he was just so lovely with him and took a picture of him. He met his idol, and he was just really nice about it!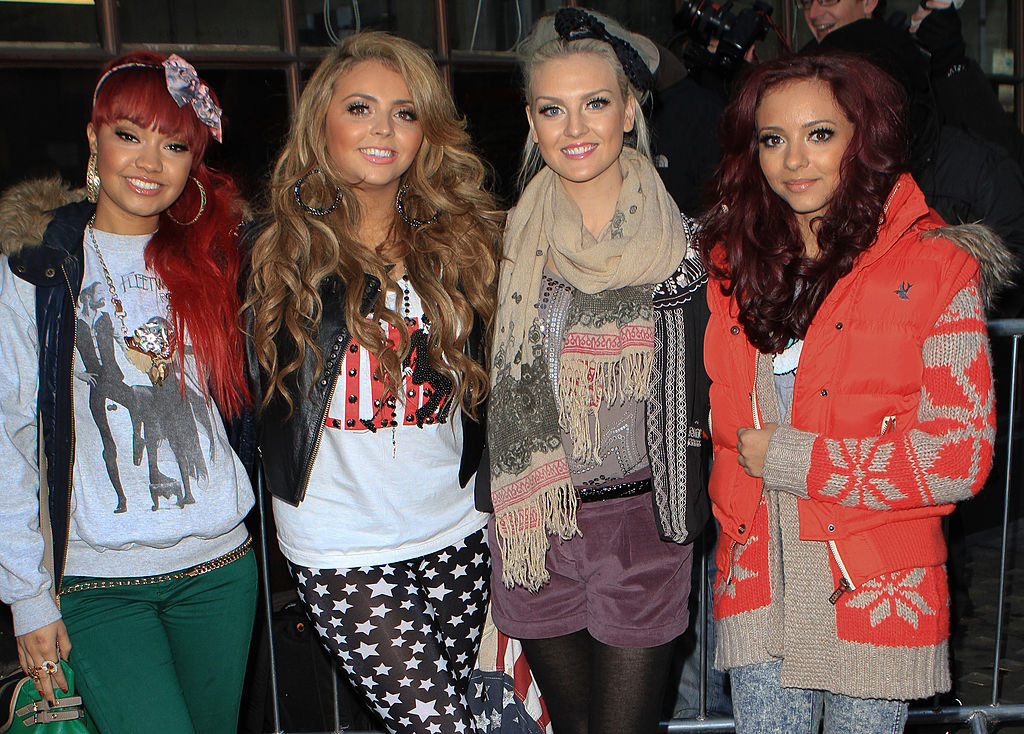 I have to give a shoutout to your X Factor days — how have your thoughts on reality competition shows evolved, if at all, since then?
Jade: I think the shows like that, and how they were run, probably couldn't exist anymore. It's a hard balance, because obviously we knew what that experience was, but at the same time, we'll always be grateful to that show because it did literally give us the platform and it was on the show [that we] formed together. So, we do hold a lot of pride and a lot of gratitude for that experience.
When we created The Search, our own reality TV show, we kind of used that as our way of doing it. In terms of having a bit more support, because back then, those shows were very much entertainment shows.
BuzzFeed: I turned 25 this year, and I saw a tweet that was like "You'd be in the older people category in The X Factor" and nothing has humbled me faster.
Perrie: That's weird, because when I used to watch it, I used to think "Oh, god, they're old!"
Jade: That is absolutely wild, that we're all part of the overs category right now.
Leigh-Anne: Oh my god [laughs]. Yeah, that's mad.
Leigh-Anne and Perrie, how has becoming parents affected your approach to music, if at all?
Leigh-Anne: I can't wait to get back in the studio and write about them.
Perrie: They've put things in perspective, and you listen to music differently — which is weird.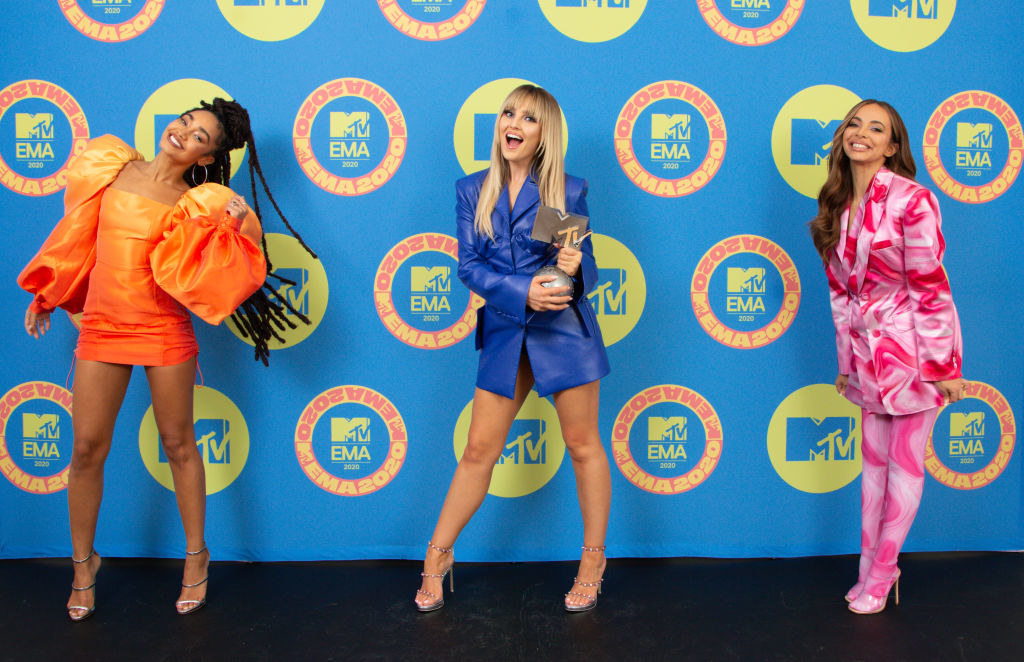 What do you hope for from the next year? What will this iteration of Little Mix look like?
Perrie: I just can't wait to get on tour: seeing all the fans, performing, I miss it so much. I just want to sing, dance, be around everybody, and have the team back together.
Thanks for talking to us, Little Mix! Between Us is out now.