Earlier today, the "Bodak Yellow" rapper stepped out of the Schiaparelli store at the Place Vendôme in France in an all-green ensemble.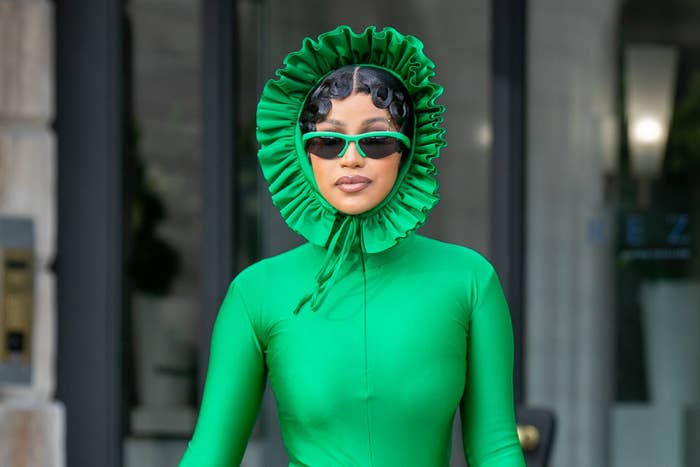 The emerald-toned outfit included a matching pleated bonnet and funky matching glasses with rimless bottoms.
And, if you look closely, you can see that her pleated high-waisted pants also double as heels.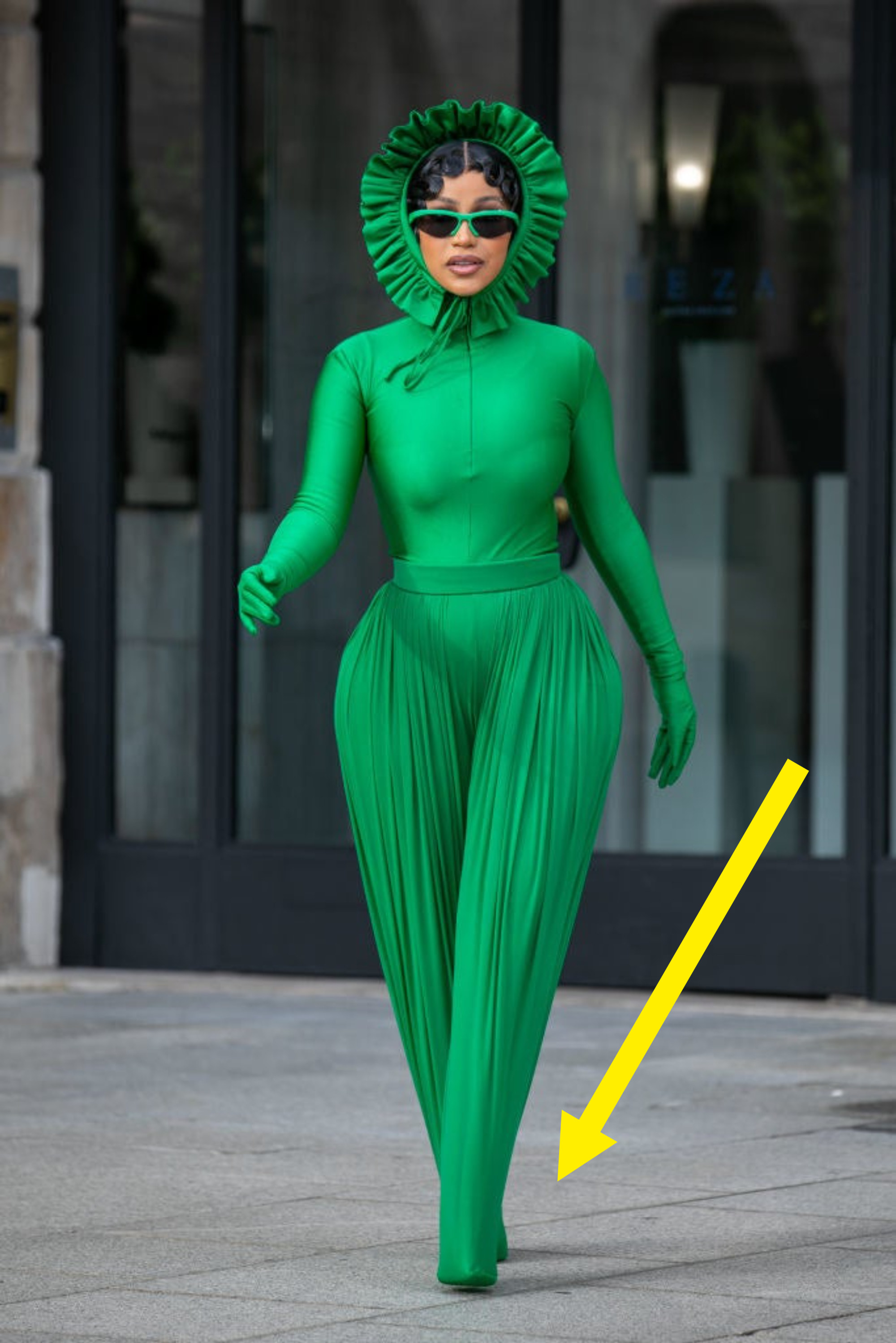 As you can see, it's giving nature, blossoming, flower stems, and an anachronistic spring.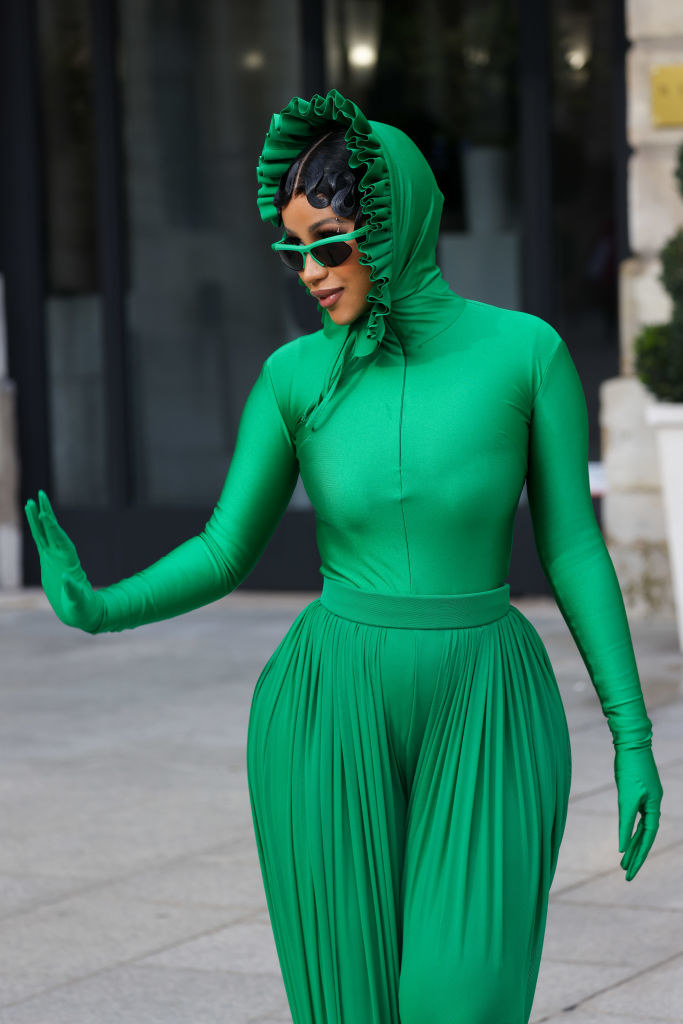 All in all, it's definitely a look for the books!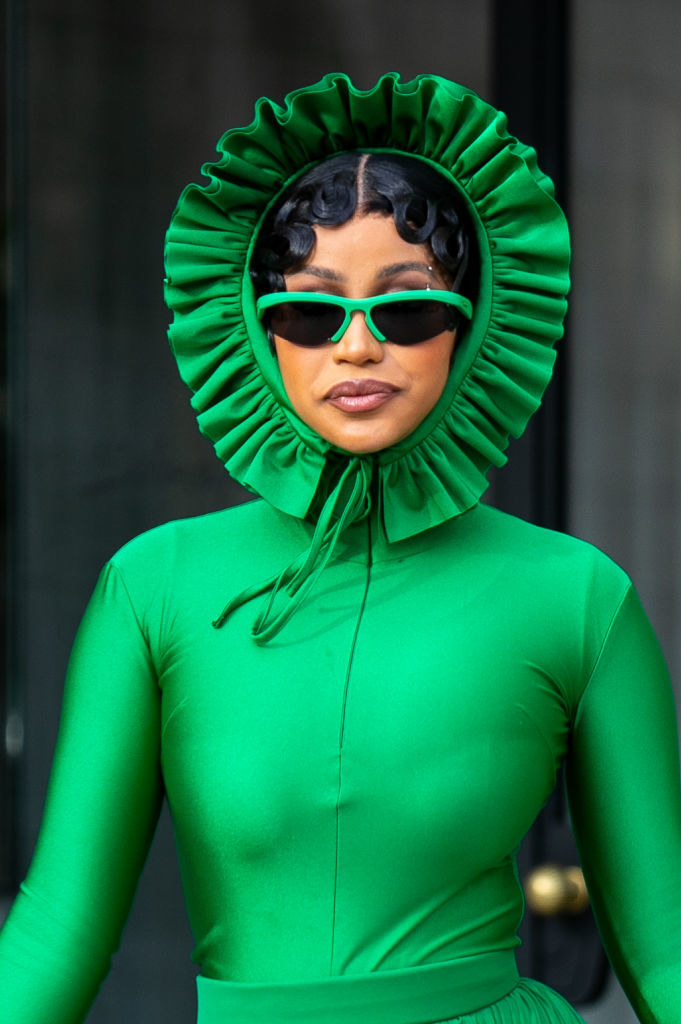 The 28-year-old made her debut at Paris Fashion Week several days ago, with a stunning ruby-red haute couture piece from Mugler's 1995 collection — complete with feathers and sequins galore.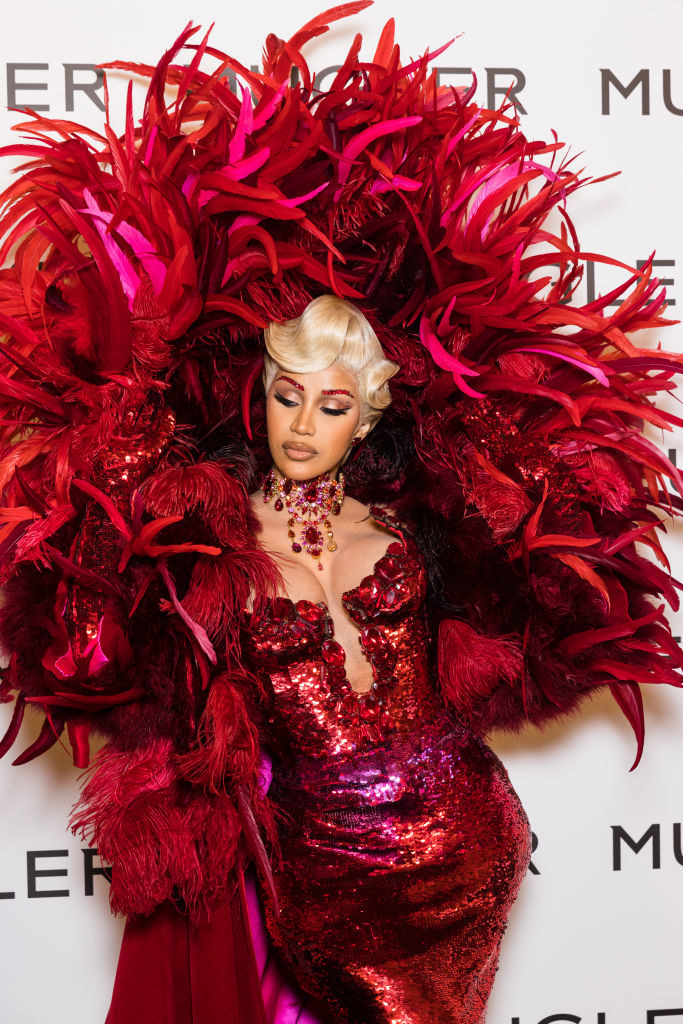 Later on, Cardi stepped out in a Schiaparelli plaid jacket and jeans while she and Offset were en route to Chanel. Oh, did I fail to mention her ensemble included gold-plated breastplates and a warped headpiece-glasses combination that looks like it came straight out of a sci-fi flick and/or modern art museum?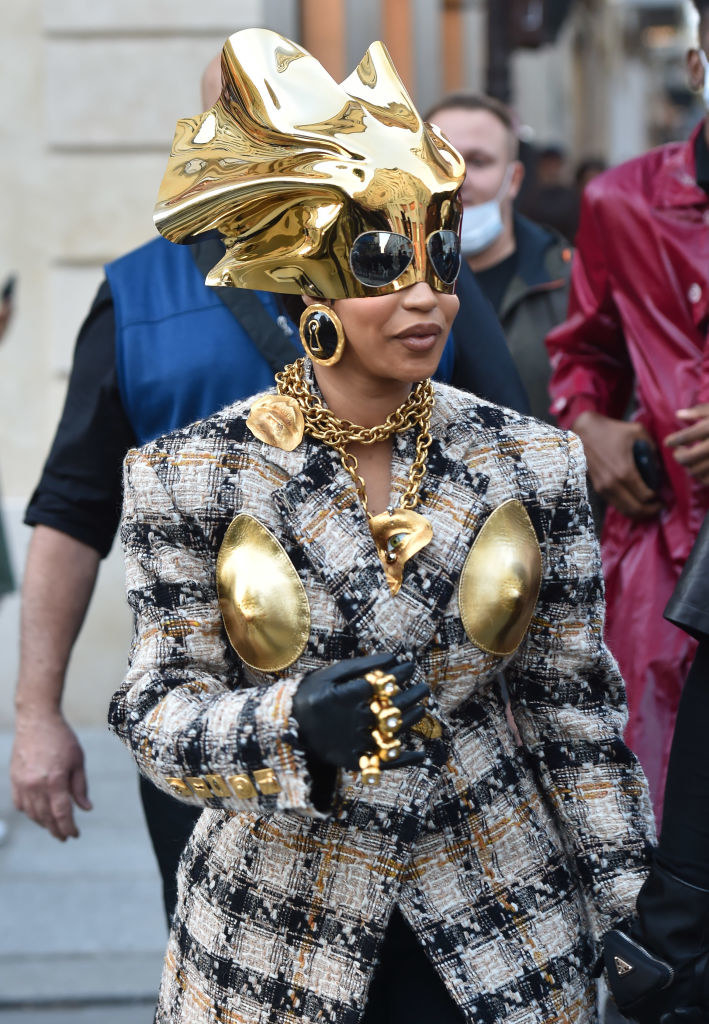 Also, on Friday, she was seen outside of the Balenciaga office in a rocker-metal-chic look. Explaining further, she wore an all-black-leather trench coat, complete with combat boots and a matching military-style cap. It had — in technical, fashion-specific terms — very ouch-looking spikes, y'all.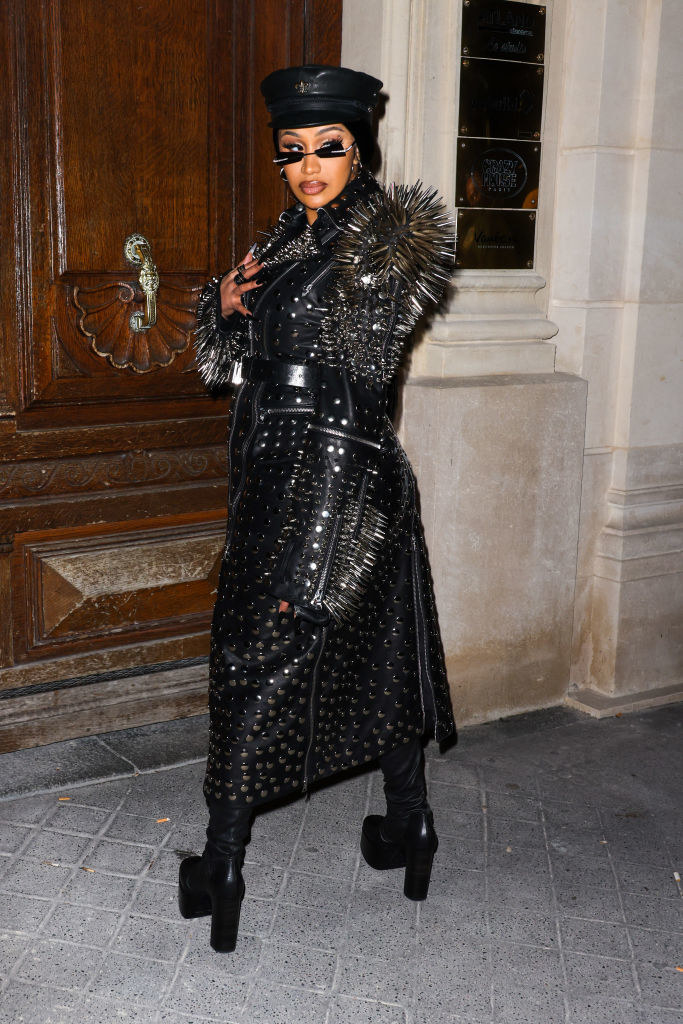 AND, last night, she attended the Balenciaga show wearing an enormous statement hat and magazine-printed trench coat. It was definitely iconic, and her Balenciaga boots showcase that she just likes it like that.
OH, and as I was writing this post, she was seen in an all-lavender look, with a similar pants-as-shoes situation. It was giving Daphne from Scooby-Doo, as she wore a headband and styled her hair with a bump and side bangs.
Keep in mind, there are still two more days of Paris Fashion Week left, and we can't wait to see what other looks the Bronx-hailing rapper has in store!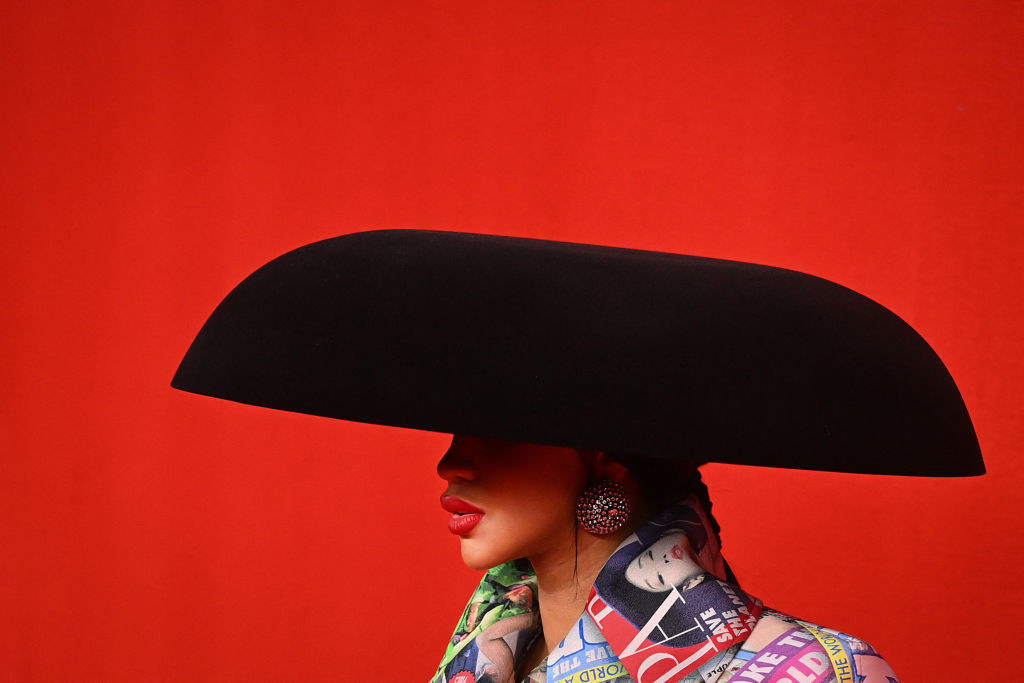 Which of her looks was your favorite so far? LMK in the comments below!