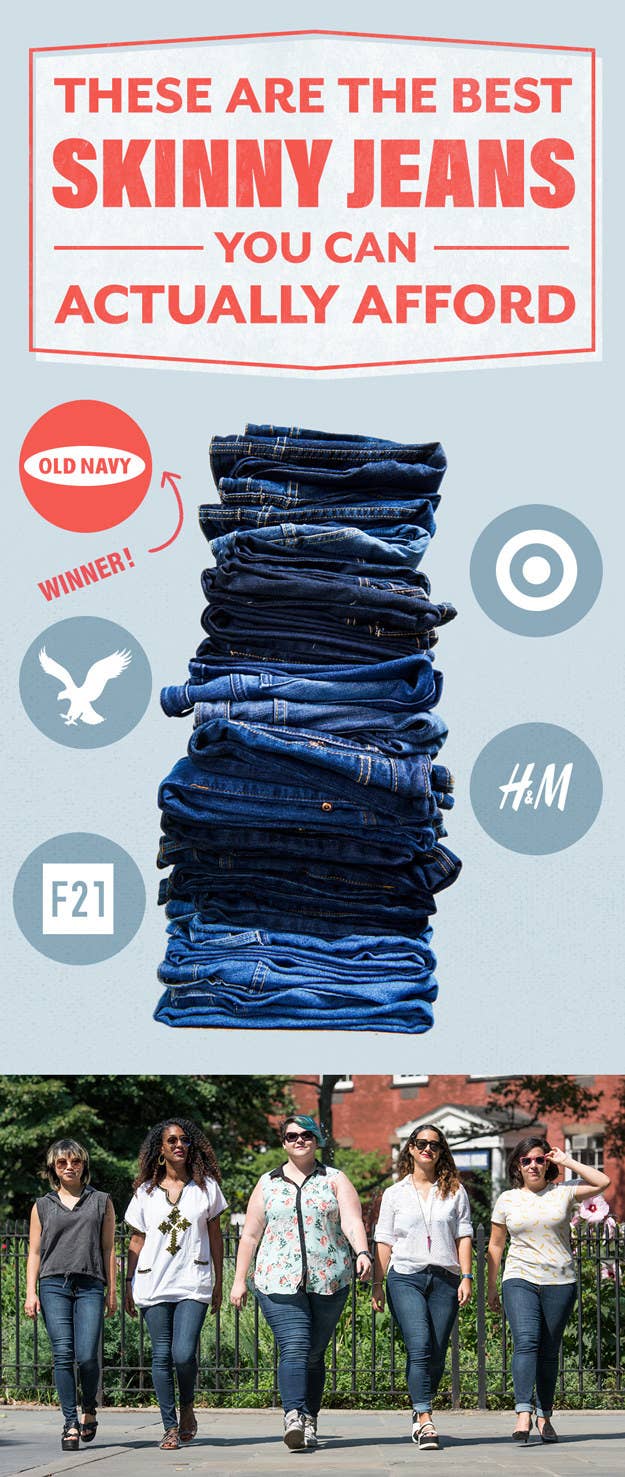 The lure of great, affordable jeans is real: They're such an essential part of almost any person's casual wardrobe.
But finding the right pair of jeans can sometimes feel like hunting for a diamond earring in a pile of old denim castoffs. You try a pair on in the store, and they seem perfect! Except once you get them home, they stretch, and when you wash them, they shrink, and by the time you've worn them for a full week, they don't look anything like the pair you tried on in the dressing room.
So we decided to solve the mystery once and for all: we each spent a week in five pairs of skinny jeans from Forever 21, H&M, Old Navy, American Eagle, and Target, and figured out which pairs were going to actually last.
1. Each of us wore each pair of jeans for five days, for a total of five weeks of jeans-testing (and 24 pairs of jeans).
2. If that week's pair of jeans became unbearable (incredibly uncomfortable, begin to fall apart, etc), we could change into other clothing, but we had to be very specific about what made us hate them.
3. Every Wednesday night (after three days of wearing them), we washed and dried the jeans according to the instructions on the tag.

* For this experiment, we chose to focus on a skinny cut because that's what stores sell the most of and one style almost every store carries, but mostly because they're just what we wear the most.
* Whenever we list a size in this post, that's the size that the person tested from that brand. Some people are different sizes in different brands, and sometimes the gaps in sizing are pretty astounding.
* There are lots of other brands out there that would have been great candidates for this test. We just chose the ones that we felt were most available to most people in the US.
* Because we found people around the office and jeans from some of the most prevalent companies in the US, this pseudo-study definitely won't represent everyone who wears jeans.
* Have a different jean you love, or do you swear by one of our picks? Tell us why in the comments!
So many things put this pair in the lead.
Christina: I LOOOOOOVE THESE. They're snug just the way I like them and they're SHORT! And the fabric is the comfiest.
Hannah: If I'm being 100% honest, I checked myself out in the mirror every time I went to the bathroom. I'm going to swing by Old Navy the next time I need a new pair of jeans to try on the other styles, too. I feel like I could take over the world in these.
Conz: I'm so happy these have REAL pockets. And, shockingly, I like how they look the most. They feel like real denim, and look like real denim, and have pockets like real denim.
Kaye: Honestly, I frequently have bad experiences shopping at Old Navy in the store — nothing fits right, and they don't often carry my size — so I was pretty surprised to find that I really like these jeans. (Ed.: We had to order Kaye's pair of Old Navy jeans online, because the stores around us in NYC didn't have anything larger than a size 18 in stock.)
Click or tap to learn more about what fit well:
Conz: I wore them while doing some barn work, so there was a lot of kneeling down, walking around, and going up and down stairs, and they were perfect. They did not rip or get damaged while I was carrying huge metal things so…good quality! I don't think any other pair would've passed the barn test, tbh.
Kaye: I wore them while walking around Washington, DC, which used to be a goddamn swamp, in 100-degree weather with 90% humidity. They didn't chafe! It's a miracle!
But no pair of jeans is perfect. There were a few things we didn't love:
Rachel: They started off being kinda tight and the crotch is looong. The material feels like tree bark. After we washed them, the waist gave me a slight muffin top.
Kaye: I really hated where they fell at my ankle and didn't feel like they cuffed in a very stylish way. The only reason they're not my favorite pair is that I had to alter them to make them work the way I wanted them to — I turned them into below-the-knee crops.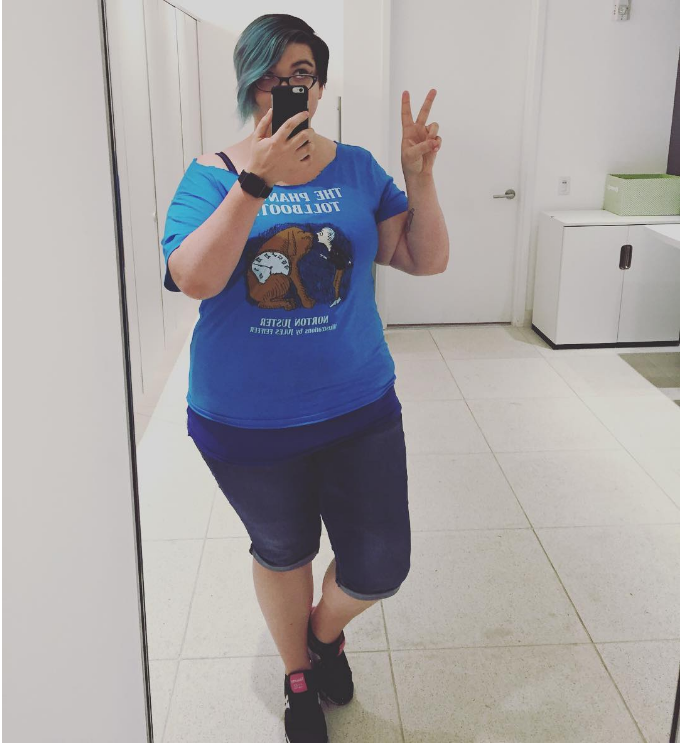 Target's jeans came in a close second: Kaye picked them as her favorite, and most of us rated them highly.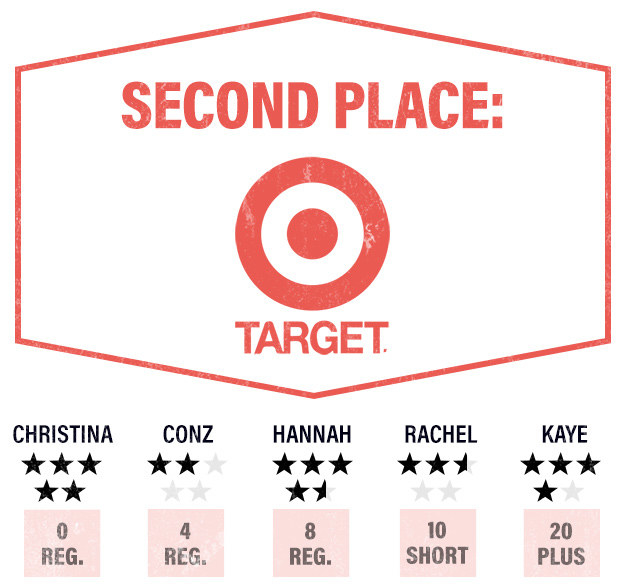 Click or tap to learn more about what fit well (and what could have worked better):
Everybody liked how comfortable they were on the first day.
Kaye: I liked these a LOT. They fit well and are comfortable.
Rachel: I was dreading putting these on and facing another week of shitty
uncomfortable jeans, but these are almost definitely just pajamas in disguise. I legit was loungin', y'all.
Christina: I already liked these a lot from trying them on initially, and the color's great, too.
But their downfall began on day two, when they started loosening up...significantly.
Rachel: I could do that thing that they do in weight-loss ads to show how loose their jeans are.
Kaye: By the second day I was hauling them up often, and they don't stay the same size for more than a day after washing.
Hannah: They almost looked like harem pants. WHY ARE THESE PANTS FALLING OFF MY BODY.
Even after a wash, they didn't hold their tighter shape for long, or they tightened up too much.
Christina: A day after washing, they felt pretty loose around the hips.
Conz: After washing, they were waaay tighter. I wore them on my plane ride back to NY and this time around these were not comfy at all. I wanted to unbutton the top button buuuuuut my shirt wasn't long enough to cover it, so I just sat there, trapped in my own jeans.
Only one of us said she would buy and wear H&M's jeans again, and there were many issues with the size 20 pair.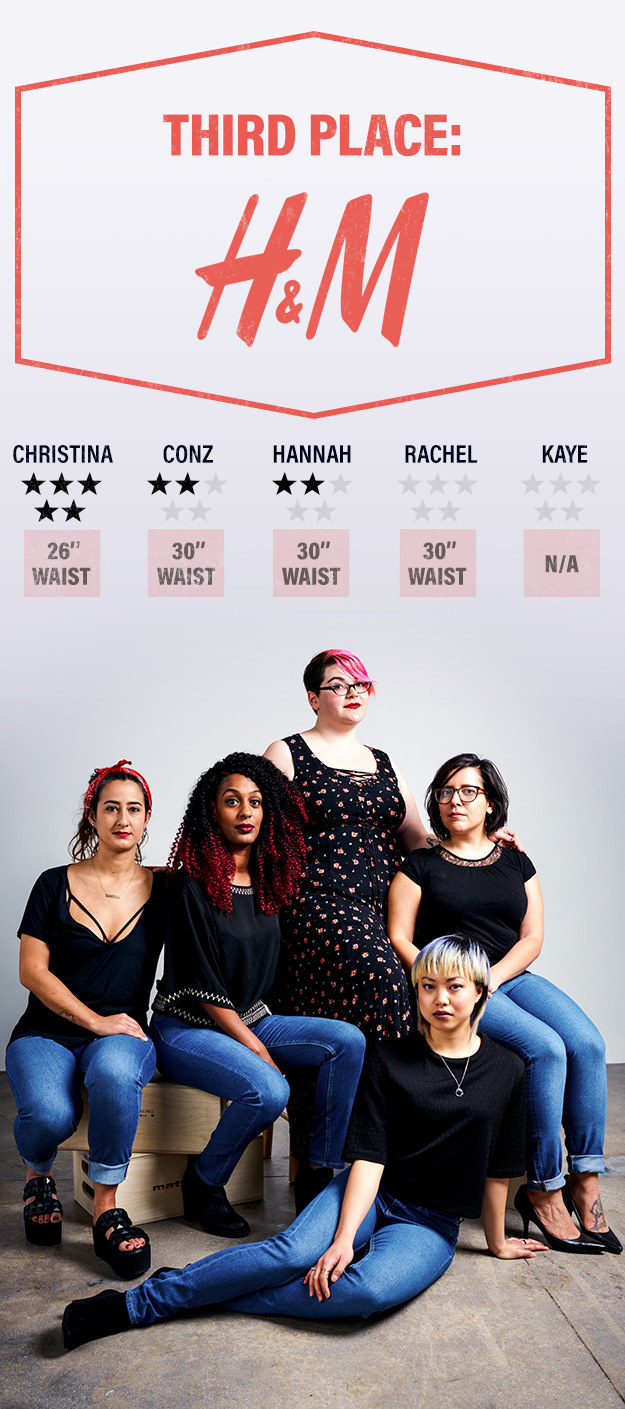 We bought H&M's plus-size jeans even though they cost seven times as much as the straight-size jeans we tried. And once we had them in the office, they STILL didn't fit.
Kaye: We ordered the plus-size H&M jeans in a 20, a size bigger than I usually wear. And they did not even fit over my thighs. The sizing is laughable, and frankly, so is the $70 price tag, because the fabric on these jeans is definitely not soft or durable-feeling enough to justify that much goddamn money.
Since she couldn't try them, we decided to compare the size 20 H&M jeans (on top) with Kaye's own favorite size 18 pair from Torrid, a plus-size brand (beneath):
The rest of us found pairs that fit, but mostly didn't like them overall.
Rachel: This is not what wearing clothes should feel like. They were not designed with the human body in mind. They are just, like, jean-shaped evil fabric swatches.
Conz: The fake pockets are just ridiculous. It makes the jeans feel so so cheap (which I know they are but, like, at least try?) and made it very easy to see where my undies ended.
Hannah: By the end of the third day, I could put my whole hand down the side of the jeans and have room between my hand and my hip. They do my butt zero favors, and the leg area (especially my thigh) was so loose.
Although a couple of us thought they were pretty cozy.
Conz: I really like the material. On the second day, I took several naps in them; that's how comfortable they were.
Christina: They don't loosen up too much (so I still didn't have quite enough butt room after a couple days of wear), but they're pretty snug and nice. I liked them more as the week went on.
Forever 21's jean fabric was uncomfortable, and after a few hours of wear, their fit didn't feel anything like it did in the dressing room.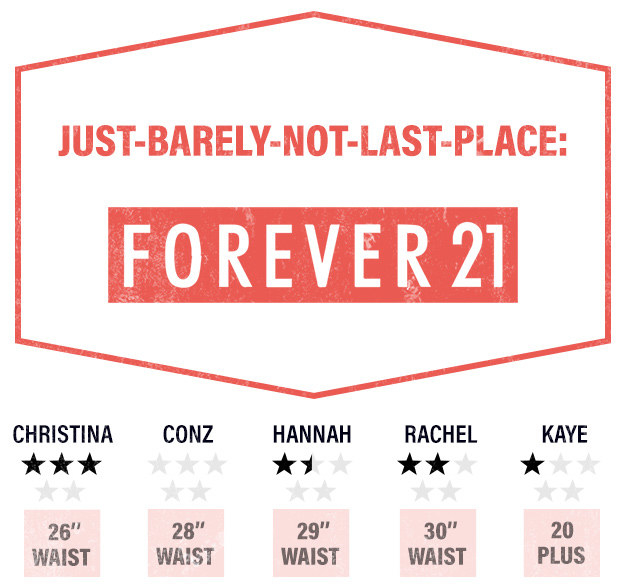 Click or tap to learn more about what really wasn't working:
Conz's jeans started falling apart, Hannah's zipper wouldn't stay up, and Kaye's stretched to the point of sliding off.
Conz: One wash and there were little strings coming from the stitches.
Hannah: By the second day, the zipper slid down without notice.
Kaye: As they stretched out, they began to slide down my body — at which point the seam in the crotch started rubbing on my thighs. Is this what wearing a burlap sack as penance for your sins is like? Or is that more comfortable?
Rachel: I only know these jeans suck because I've worn other jeans that don't suck. I'd hate to think someone would buy these and accept their suckiness because they didn't know other jeans exist.
There were a few good things about these, aside from the v. low price:
Christina: I went out in them the first night and they felt fine. They'd be good for summer because they're thin.
Rachel: I immediately got complimented when I walked around in them the first day, and when I told the person they were from Forever 21, she was super surprised.
American Eagle's jeans only go up to a small-fitting size 18. Their fabric wasn't as comfortable, and their styling felt too young for us.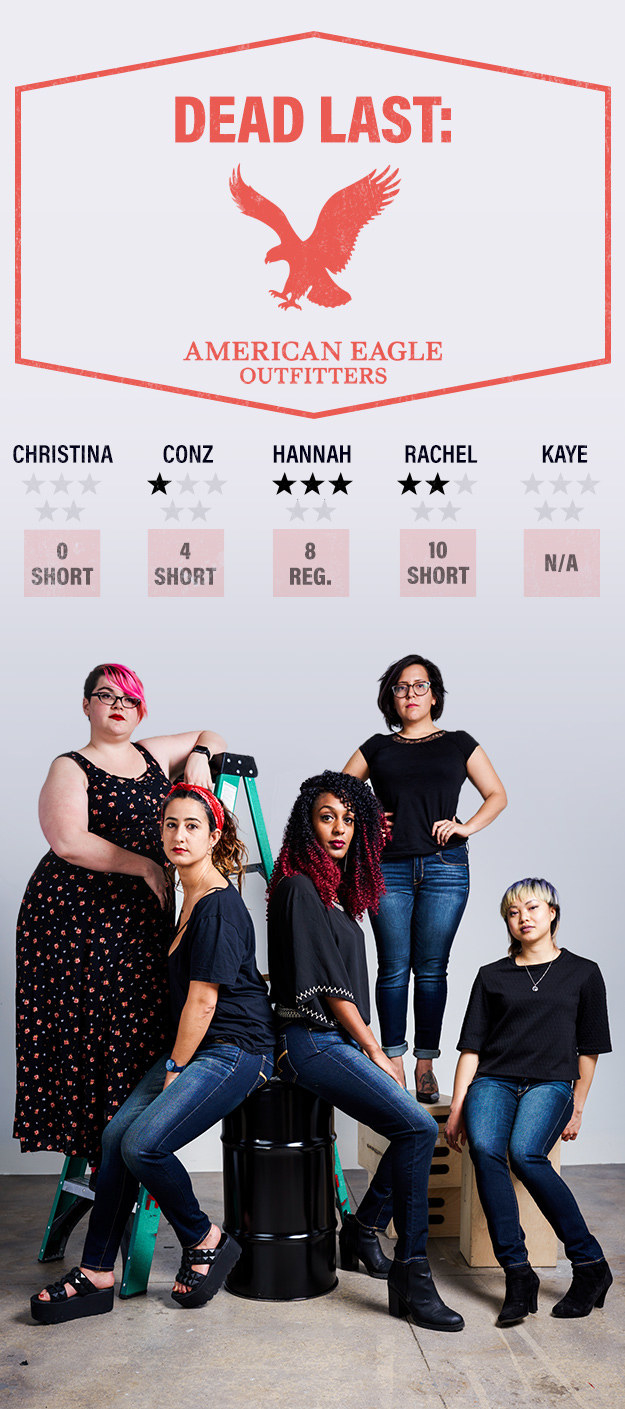 Kaye couldn't test these jeans.
Kaye: American Eagle jeans stop at a size 18 that is too small to fit over my butt, so, uh, I didn't test them. They also didn't carry 18 in the store by our office. It was a little embarrassing to ask, and if I were a teen at whom this brand is actually aimed, it would be very embarrassing. Nothing says "you're not welcome" like "stay home and order online."
And Christina and Conz were just not into the fit or fabric at all.
Christina: They're very boxy and thick, sort of restraining. I felt like I was wearing a tight cardboard box. These are the only pair that I never want to put on again.
Conz: THE CROTCH IS TOO LOW. My legs are rubbing because the jeans won't pull all the way up. All I could think of was my muffin top.
Rachel's jeans had a strange streak on one leg that was extra noticeable after they were washed once.
And Rachel and Hannah liked the fit, but not the wash and styling.
Hannah: These are not inspiring jeans. They didn't make me want to look in my closet for things to jazz them up with. But they're a solid 3, if only for the mostly-great fit.
Rachel: If I didn't hate the pattern/decoration/fake folding marks on these jeans, I'd buy them forever. The fit was on POINT.
In the end, here's how we thought all of the jeans stacked up:
Note: Some of these jeans were provided to us for review at no cost from the brands; others we purchased.