The proud parents named him Ace Flores. On Monday, Malika shared a sneak peek of their son on her Instagram, showing his tiny hand being held by his parents' hands.
But it was O.T. Genasis who gave the world its very first look at Ace. And who can blame him? They're basically twins!
This is Malika's first child, while her ex O.T. Genasis (whose real name is Odis Flores) has a 9-year-old son named Genasis from a previous relationship.
Despite their relationship status, she assured fans that they've been experiencing this pregnancy journey together.
Relationships don't always work out the way we would hope but between love & friendship we have created a baby boy ... I've been single the last 8months but I am in no way alone. OT and I have attended every doctors apt and over all loved on our son together while anticipating his arrival. ... Our baby would not be who he is without his father and I thank God for the spirit that grows inside of me. Only thing that matters, we are Baby Flores parents.
And his parents' love isn't the only adoration Ace can expect. Friends and family are already gushing over him, like Malika's twin sister, Khadijah...
...as well as those who have yet to meet him, like Malika's best friend, Khloé Kardashian...

...and the rest of the Kardashian-Jenner clan.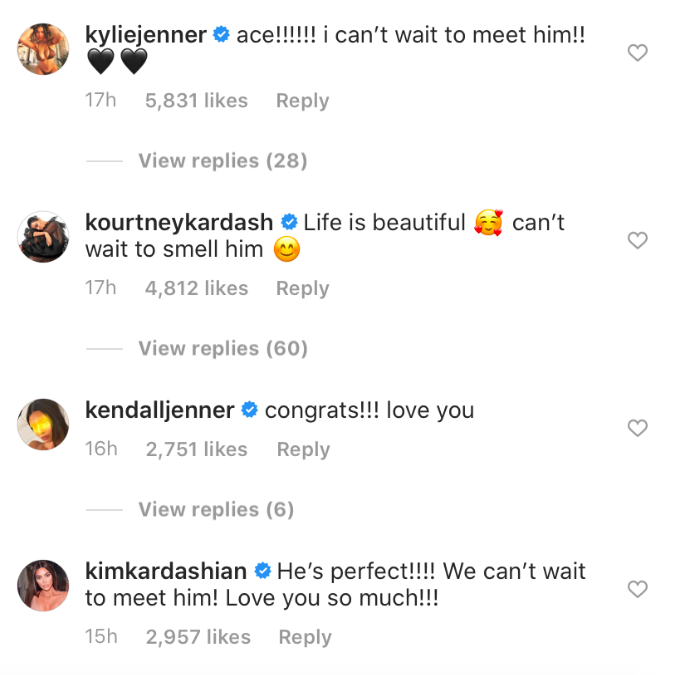 Now, that's a warm welcome!