With photos like this....
...and this on Constance Wu's Instagram, I've only been able to imagine all the amazing gems hidden in her phone's photo gallery.
Well, my wondering is now over because the Crazy Rich Asians star recently gave fans another taste of all the hilarious stuff on her phone when she uploaded an old drunk video in celebration of the news that John Cho has been cast as Spike in Netflix's Cowboy Bepop series.
On Thursday, she shared the throwback video she sent to John Cho after the Critic's Choice Awards, which features Sandra Oh, Ken Jeong, Harry Shum Jr., Chris Pang, and CRA's director Jon M. Chu all saying hi to John.
Constance initially thought she was "too drunky to post" it, but then she said whatever, because John's news deserved a celebration...and John was all for it.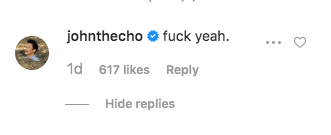 The CRA cast won Best Comedy the night the video was made, while Sandra Oh won Best TV Actress, so it's no wonder they got together to party the night away.
All this love and support has me smiling at my computer like a fool...but I'm not complaining!