1.
The "Good One, Aunt Terri"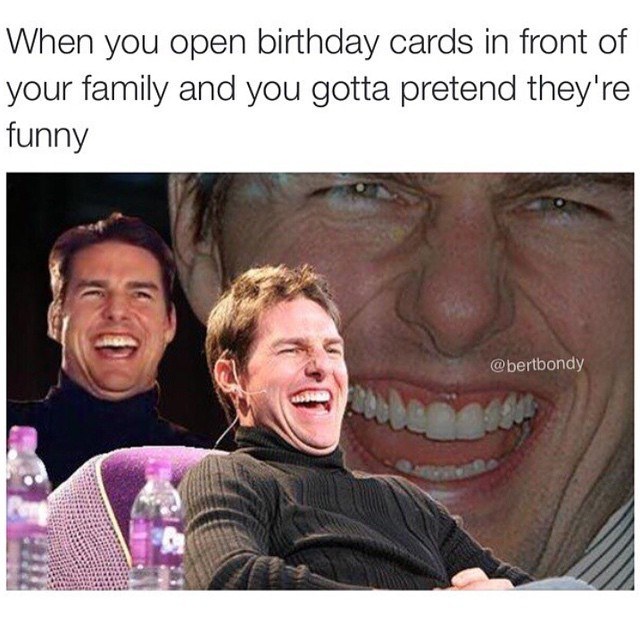 2.
The "She's Cool..."
3.
The "Please Stop Talking to Me So I Can Eat"
4.
The "This Is Fun, but I Really Need to Poop"
5.
The "I Didn't Know You'd Still Be Up, Mom"
6.
The "I Wasn't Cheating, I'm Just Thinking Real Hard"
7.
The "I Think You Forgot the Check"
8.
The "This Is Delicious, Mrs. Peterson!"
9.
The "I Hope My Mom Got You Something Good, It Wasn't Really From Me"
10.
The "I'm Pretending to Talk to Someone to Avoid Talking to You"
11.
The "We Had Homework?!"
12.
The "I Had No Idea I Had an Aunt Debbie?"
13.
The "I Wish I Never Heard That"
14.
The "I Meant to Do That"
15.
The "My Grandma Is Insane"
16.
The "I ALMOST Avoided You But Made Eye Contact at the Last Second and Now We Have to Talk"
17.
The "If I Pretend to Sleep Maybe I Won't Have to Help Mom Bring in the Groceries"
18.
The "You Woke Up Before Your Friend While Sleeping Over at Their House"
19.
The "I'm Going to Pretend to Buy This for a Few Minutes So the Salesperson Doesn't Think I'm Cheap"
20.
The "Tell Me More"
21.
The "I Already Know Everything About You"
22.
The "I Can't Wait for This Part to Be Over With"
23.
The "I'm So Far Inside My Head I Have No Idea What You're Talking About"
24.
The "Slowly Dying Inside"