Jennifer Garner Shared A Mind-Blowing Video Of A Pregnant Ballerina
"I'm in total awe of this. At this point in my pregnancy my husband had to help me groom in the shower."
Last week Jennifer Garner posted this amazing video of a pregnant ballerina with some SERIOUS skills and hashtagged it #WomenAreWonders.
The video has racked up 2.7+ million views and counting on Garner's page, and inspired a LOT of conversation. Some people were really impressed:



While others were not here for it: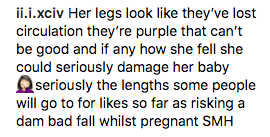 And some were just plain confused and thought it was a video of Jennifer, lol:


In reality, the amazing ballerina is Georgian-born Maia Makhateli, who dances with Amsterdam's famous Het Nationale Ballet company.
During her pregnancy in 2017, Maia posted a number of very cool videos, like this one that saw her "balancing" healthy nutrition at 36 weeks:
And this one where she was still dancing at nine months pregnant:
Not long after that last video was filmed, Maia gave birth to her cutie-pie son, Luka:
And she, of course, had to make another one of her incredible balance videos: