UPDATE — Aug. 12, 9:15 p.m. ET: German artists took credit Tuesday for switching American flags for white ones atop the Brooklyn Bridge last month, CNN reported.
Cops told CNN they are taking the claims seriously, as the artists video appears legitimate.
The police were stumped on who had placed the flags atop the bridge, but after looking into the possibility of terrorism, had decided it was possibly an "art project or a statement."
The artists called the project "White American Flags" and said in a statement:
White flags were spotted flying atop the Brooklyn Bridge on Tuesday morning, Gothamist reported. It's pretty bizarre. Normally, a couple of American flags are perched on the Brooklyn Bridge. Upon closer inspection, the flags appear to be American flags that were painted or dyed white. NYPD removed the flags Tuesday morning and found that the two American flags had been apparently bleached and large aluminum tins had been placed over the lights that illuminate the flags. NYPD officials did not reveal any suspects or leads in the case of the white flags on Tuesday.
Police investigators said that video shows four or five people walking on the bridge just after 3:00 a.m. on Tuesday morning.
"I'm not particularly happy about the event," NYPD Commissioner Bill Bratton said.
"At this time there is no sign of any particular nexus to terrorism or even politics," said NYPD Deputy Commissioner John Miller, who also oversees intelligence and counter terrorism. "It could be someone's art project or a statement, but it's not clear what that statement is."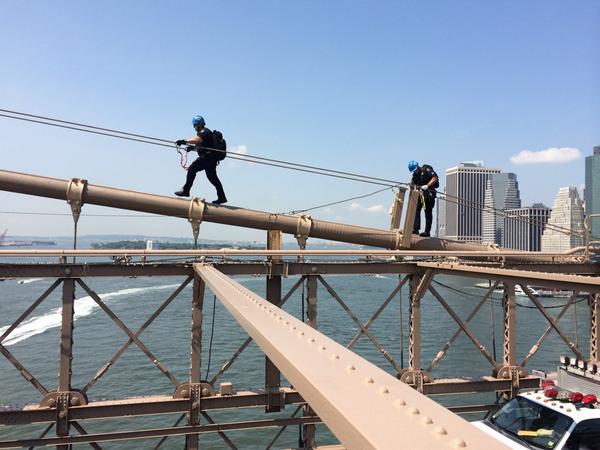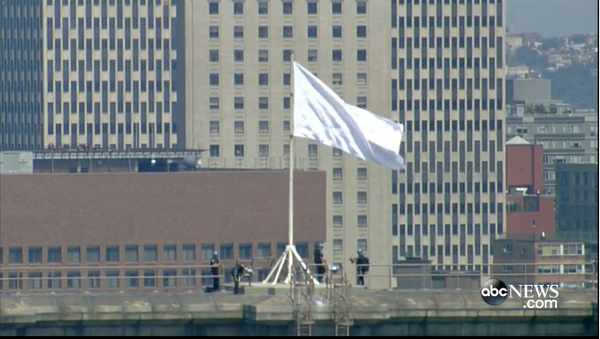 Parody Twitter account @BicycleLobby joked earlier that they were responsible for the white flags.
The New York Daily News didn't get the joke. A pair of high-flying American flags was swiped from atop the Brooklyn Bridge and replaced Tuesday with two white flags — with a pro-bicycling group taking responsibility.

The substitute banners were flying by sunrise from atop the 273-foot towers on the venerable bridge despite the round-the-clock NYPD security on the span.

"Earlier today we hoisted two white flags to signal our complete surrender of the Brooklyn Bridge bicycle path to pedestrians," said a tweet from the Bicycle Lobby.