The Big Mouth crew has all gathered for their annual Secret Santa party. The cotton candy brandy is flowing, Coach Steve is four Go-Gurts deep, and it's time for the Secret Santa gift exchange. Pick the correct gifts for each character and you can join the gang, otherwise you and the Shame Wizard will be spending the next holiday season ALONE.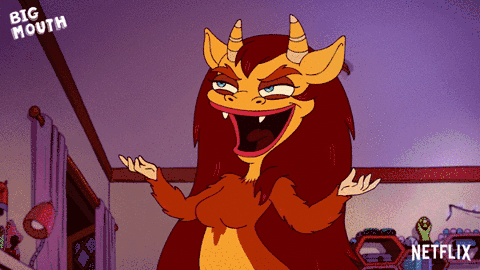 What would you get Nick for Christmas?

Netflix

Some "special" pills from the doctor

A bountiful bush of pubes

Via Netflix

A smooch from Mr. Glouberman

Via Netflix

All Andrew wants from his Secret Santa is __________ ?

Netflix

To "rub fronts" with Lola

A fresh bathing suit from Leah Birch

A brand new pair of Costco jeans

Jay's parents told him Santa died in a sleighing accident and wont be giving out gifts this year. What are you going to get him to bring back his Christmas spirit?

Netflix

A big bottle of Cotton Candy Brandy

The plushest, softest, sexiest, motel pillow in the world

The new Criss Angel Magic Set

Via Netflix

For Coach Steve to be his "Gary"

Via Netflix

Jessi's mom is too busy hitting the spa with Cantor Dina to worry about Christmas. What are you going to get her for Secret Santa?

Netflix

A red "Mega Volumizer" bra

Some more of her dad's gummy bears

An oversized towel from the Statue of Liberty

Via Netflix

For her parents to get back together

Via Netflix

Coach Steve is going to the first Secret Santa party of his life. What gift does he want this year (besides human interaction)?

Netflix

To "make thick in the warm"

A lifetime supply of dairy products

A certificate inducting him into the Fab Five

Via Netflix

Via Netflix

Missy needs a gift this year, too. What would you get her to make sure Christmas goes "swimmingly!"?

Netflix

A signed copy of The Rock of Gibraltar

The destruction of the Patriarchy!

Mr. Wiggles to come to life

Via Netflix

A life-size cardboard cutout of Nathan Fillion

Via Netflix
This post was created by a member of BuzzFeed Community, where anyone can post awesome lists and creations.
Learn more
or
post your buzz!