1.
An airplane seat back organizer because air travel can actually be pleasant when all your in-flight essentials are within reach. Thanks to the four roomy pockets, this organizer can hold your snacks, drinks, electronics, books, toys, etc. so you may not need to squeeze past your seat neighbor 10 times in the same flight because you need to grab something else from your carry-on.

2.
A travel cupholder that'll keep your coffee and water bottle contained so your hands are free to show your ticket to the gate agent.
Promising review: "This cup holder is perfect! It helps me a lot! Last time I took a plane with a suitcase and a cup of coffee, when it was my turn to check my passport and ticket, the coffee cup fell to the ground and coffee spilled. It was a nightmare! This time I bought this cup holder! I don't have to worry about where my cup and phone are! I can free my hands to do other things. I love it so much! Hope you love it too." —Philip
Get it from Amazon for $10.99+ (available in 12 colors).
3.
A waterproof trash can so the inevitable garbage you collect during long drives and road trips doesn't litter the floor.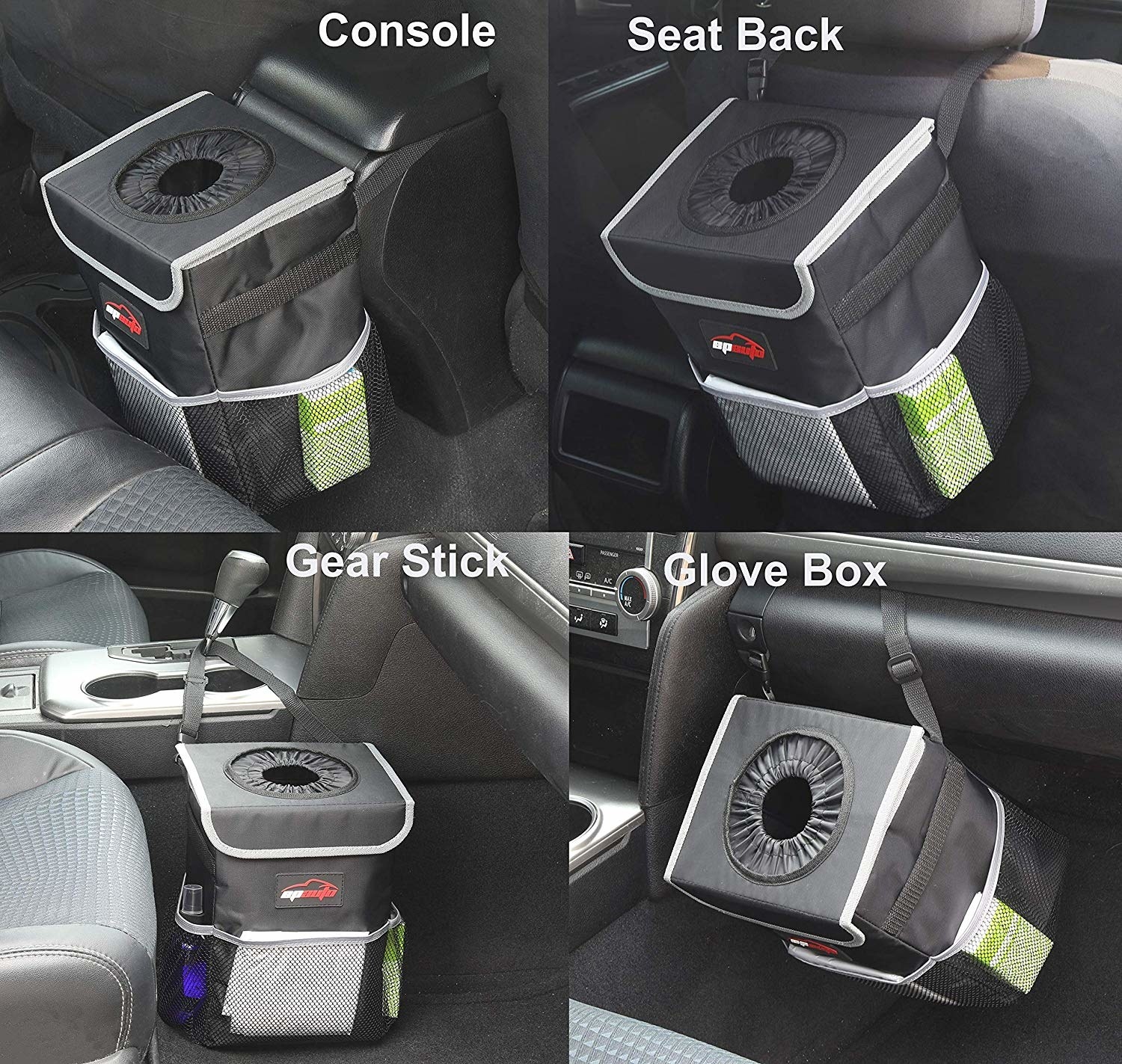 It comes with 10 trash bags.
Promising review: "I have a SUV and it works great! I travel a lot and am always on the road. It is a good size. I have it attached to the center console and it sits in the back. It gives plenty of leg room for backseat passengers. I use the side pockets to hold my car needs: flashlights, books, etc. I use a regular plastic bag to line the can so I do not have to clean the cloth as much. I like this better than a regular small car trash can because it does not spill or tip over. The top keeps everything in and there is a small strip of Velcro on the bottom of the bag to keep it in place." —Debra Henegar
Get it from Amazon for $9.47+ (available in eight colors).
4.
A digital luggage scale to save your wallet from any overweight baggage fees. You'll also be spared the embarrassment of having to repack your bag in the middle of the airport.

You can switch between pound and kilogram measurements. 
Promising review: "Works great, a must-have when flying. Very accurate scale. Easy to read with the light on it. It's a must if you have a wife like mine who loves to shop for clothes and fill up her suitcase along with mine, or if you want to stay under that 40 pounds and avoid paying the extra for overweight baggage fees. Easy to use, very accurate, well made, and a nice design. Very pleased. Saved me money." —Amazon Customer
Get it from Amazon for $9.39 (available in four colors).
5.
A travel-friendly mini steam iron if you refuse to wear a wrinkly shirt. This is great for throwing in your travel bag so you can feel more put together in all your vacation photos for Instagram. 
Promising review: "This is really a very good little steam iron. I have been using this in my sewing room when quilting and absolutely am very satisfied. Good price for a great little iron." —Rosmary Nuss

Get it from Amazon for $19.99. 
6.
A wrinkle-resistant top for wearing to the airport in the morning and then to a business dinner in the evening.

Promising reviews: "Great for travel. Lightweight and doesn't wrinkle. Can be worn casually or more dressy." —anonymous

"LOVE this blouse — comfortable, stylish, washes like a dream. Looks great with tights or Brooklyn pants but works great as a swimsuit cover-up too, so it's fabulous for travel — versatile and does not wrinkle." —Jude B
Get it from Athleta for $79.99+ (available in women's regular sizes XXS–3X, tall sizes S–XL, petite sizes XS–L, and in five colors — not all colors available in all sizes). 
7.
A set of portable soap paper sheets because we've all had to use shady public restrooms and cringed when we press the soap dispenser only to find that it's empty. Not anymore!
Promising review: "I first saw these on TikTok and I LOVED the idea of carrying around sheet-like soap with me! Fulfills my dreams of becoming Monica Geller. 💜" —Erica
Get a four-pack (200 sheets total) from Amazon for $8.99 (also available in packs with 50, 150, 300, and 450 sheets, and several colors) — don't forget to apply the coupon to save $1!
8.
And a pack of laundry soap sheets that'll clean your socks, undies, T-shirts, bathing suits, you name it so you don't need to pack one pair for every single day of your trip.

Promising review: "This came SO in handy during my vacation to Europe! I was making lots of different stops to places with different types of weather. With these laundry soap sheets I was able to wash my clothes in the sink — letting me pack just the right amount of clothes for all the different places I went." —Katie Fujarski

Get 50 sheets from Amazon for $9.02.
9.
Or some Tide sink packets so you can enjoy the same scent you use at home.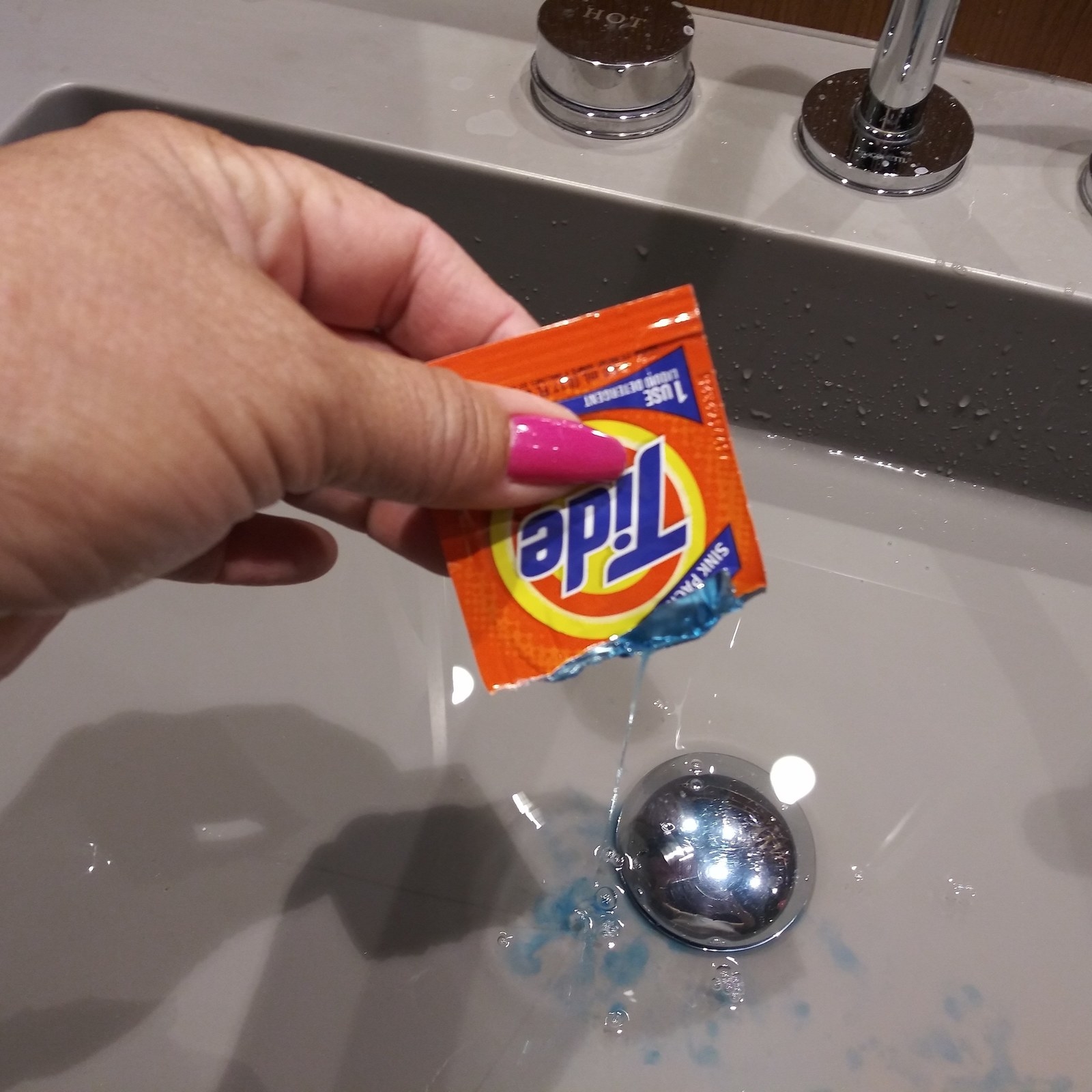 Each pack comes with three packets. And, because they *are* liquid, they'll easily slide into the side of your toiletries bag. I've packed these on international trips to much success!
Promising review: "I have taken these packets on travels throughout the world. They are small and fit in my bag. They are good for a wash in a sink or wash bag. I use tide at home donut is my wash if choose. Glad to have them. They don't leak either." —Barbara Jefferson
Get nine packs from Amazon for $6.89.
10.
A pocket-sized, refillable travel perfume atomizer to bring your signature scent with you. That bulky (albeit beautiful) glass bottle is def not TSA compliant and will take up valuable space in your toiletry bag.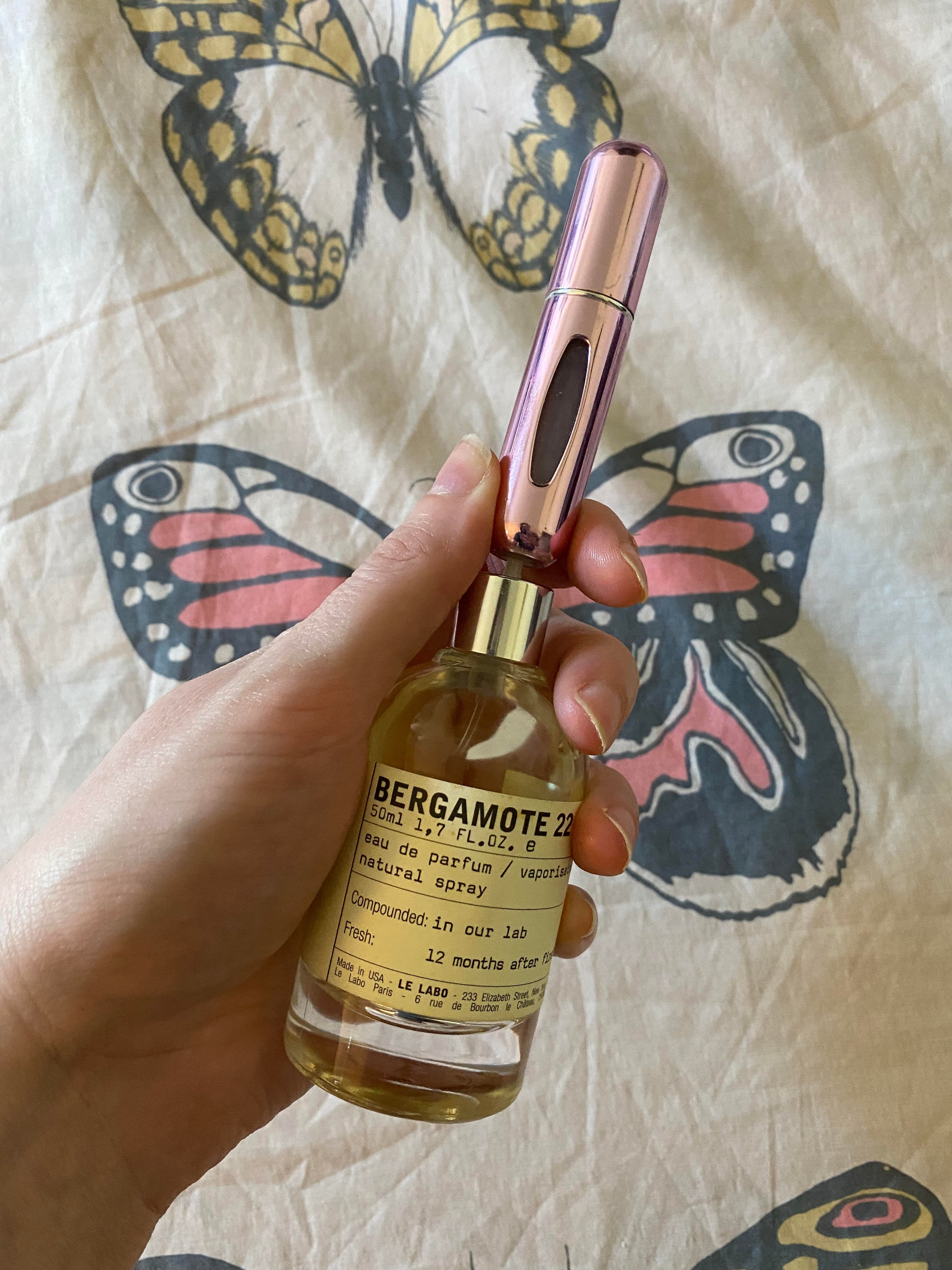 Elizabeth Lilly / BuzzFeed
BuzzFeed editor Elizabeth Lilly loves hers. In her own words: "I've been using for about a year. As the reviewer down below mentions, it's great to just throw in your purse on the reg for a fragrance re-up throughout the day. As you can see, it's about the size of my thumb and therefore takes up very little room. Plus! It's smaller than most rollerball travel fragrances you can pick up. This first one is working so well, that I just have the other three in storage. But if this one bites the dust this summer during travels, I'll be OK about digging into my stores to use one of the remaining three...especially at this price point."
Promising review: "I bought these due to traveling a lot for work and needing to cut down on the size of things in my carry-on bag for flying. I can bring four different perfumes now instead of one big one. They're super easy to fill, haven't leaked so far but I keep them in a sandwich baggie while traveling just in case. I would 100% buy them again." —Emily
Get a four-pack from Amazon for $8.99.
11.
A Kindle Paperwhite with an adjustable backlight if your favorite part of vacation is many uninterrupted hours of reading but you can't sacrifice space in your weekend bag for half a dozen hardbacks. This e-reader is waterproof so you can sit on the beach or by the pool without worrying that someone's kid cannonballing into the water will decommission your e-reader.

Promising review: "I love my Paperwhite. I used to read through the Kindle app on my iPad, but the bright light was hard on my eyes. The backlight and ability to change the brightness makes this a perfect e-reader to use when your partner is sleeping. And because it is for reading only, I don't get distracted from reading by social media or the internet browsing." —Rhonda

Get it from Amazon for $139.99+ (available with 8 GB or 16 GB of storage and in four colors).
12.
A stroller gate check bag for protecting your umbrella-style stroller from scratches and dings caused by rough handling, dirt (and who knows what else) lurking in the cargo hold.

This bag is for single umbrella-style strollers. There is also a bag for standard/double strollers and car seats.
Promising review: "We never put our stroller in a bag when we gate checked, but we have a friend that works for Delta that loads planes and he said they are disgusting underneath and you should always cover baby stuff. We bought this and it's lightweight to store in your bag until needed and covers the stroller really well." —Kelsey

Get it from Amazon for $17.99.
13.
A versatile ballet flat because they make the always difficult task of selecting what shoes you're going to pack oh so easy. These check all the boxes: they won't take up a ton of space in your suitcase, they're appropriate for a variety of occasions (you might not need to pack other shoes!), they're really heckin' comfortable, and they're easy to slip on and off (no one wants to untie and wiggle out of chunky boots while a hundred people give you dirty looks because you're taking so long to get through security).
FYI, these are included in Prime Try Before You Buy so you can test them out before committing if you're a Prime member!
Promising review: "I normally cannot wear flats because they give me terrible blisters on the back of my feet. These didn't! Bought these in nude for a city vacation with a lot of walking, but where sandals aren't necessarily worn and these were perfect! They obviously don't have the support of sneakers, but I am so happy to finally have a cheap pair of flats that don't give me blisters. I did break them in with thin socks on around my house before wearing them out and when possible, I wear them with little sock liners. Also — I was able to fold these in half like Tieks and fit them in a semi-small purse to change into to dance at a wedding! Score!" —Kate

Get it from Amazon for $14.93+ (available in women's sizes 5–15, including wide sizes, and 35 styles). 
14.
A set of earplugs that'll help you deal with two very stressful experiences that are oh so common (and so annoying!) when flying: harsh noises and your ears popping. Inside these funny-shaped blue earplugs is a small ceramic filter designed to slow the shift in air pressure so there's less stress on the eardrum. They'll also help drown out the sounds of loud talkers, babies crying, and your seat neighbor refusing to wear headphones while they watch a TV show on their phone.

Promising review: "Never fly without these! Before I found these, I endured excruciating pain in my ears upon descent and landing. Felt like a hot poker being driven into each ear. My ears would also be plugged up, and it would often take two to three days for them to resume their normal state of being. I insert them about an hour before landing, as the plane is making its slow descent. I'm comfortable, and the most discomfort I experience is a slight adjustment of pressure feeling in my sinus. NO PAIN. NO TEARS." —K. Tombrella
Get a pack with three pairs from Amazon for $18.49 (also available in packs of five or 10 pairs).