1.
A lawn repair formula that'll regrow the grass so you have something to mow! It's designed for reversing scorch marks from your pet's urine, damage from their digging, and wear in high traffic areas.

Promising review: "I have lacrosse players and dogs and this stuff is amazing. My yard looked like an abandoned lot before this and it literally 'grew anywhere' just like it said. The bag I planted last year actually came back strong this year so I put more down and it is working like a dream!" —chchmom
Get it from Amazon for $16.97+ (available in five sizes and three styles).
2.
The Clean Ball, a genius German invention to get rid of purse sand — y'know, the fine layer of dirt, dust, crumbs, grit, and who knows what else that you scrape your hand against whenever you're rooting around your bag and you brush the bottom of your tote. Inside the honeycomb pink ball is a smaller sticky ball that picks up debris and washes clean so you can reuse it.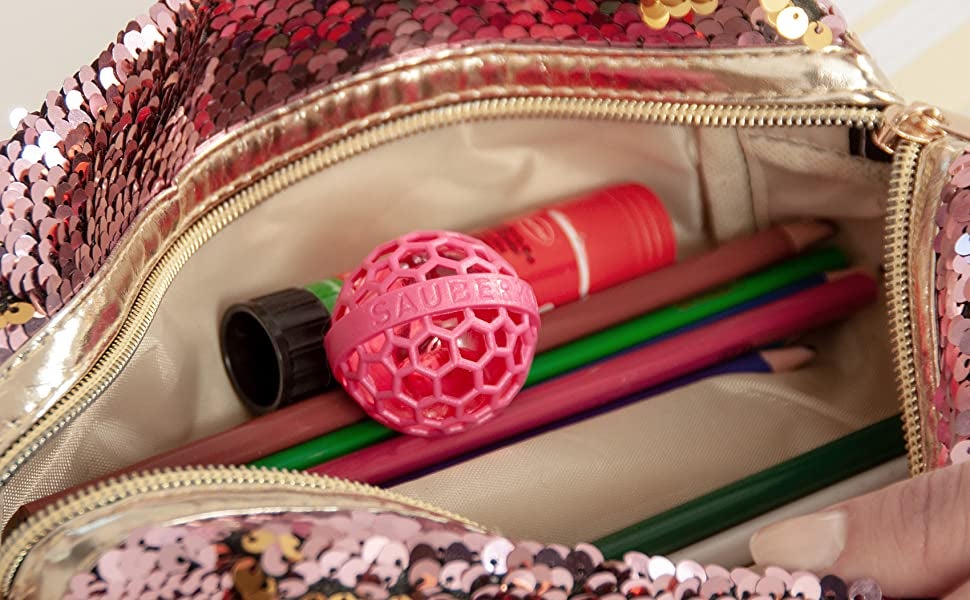 Promising review: "This little ball is genius! It rolls around in my purse, which I live out of. It picks up a lot lint, debris, or even crumbs. It's easy to find with the bright pink. Just remove and wash and it's ready to go again. The price was great and something I can use for years. If you live out of your purse this a must have!!" — dj3biggs
Get it from Amazon for $12.99 (available in pink and gray).
3.
A teeth-whitening pen because it's a heck of a lot quicker (and tastes a lot better) than those irritating whitening strips that slip and slide all over your teeth. You can use each pen ~20 times and should expect your teeth to lighten four to eight shades.
Promising review: "I was hesitant to try a new teeth-whitening product after using harsh whitening strips that caused pain and lingering sensitivity. But, as a coffee and red wine drinker, I wanted to find a solution. This teeth whitening pen is terrific. Easy to use, works well and does not have the downside of either the strips or the $450 option at the dentist. I also really love this product since whitening my front teeth is the objective. It is a great value as I anticipate the two pens that are included will last one year. I will definitely buy this again and am very happy to recommend it." —Rebecca Shehee
Get a two-pack from Amazon for $19.99.
4.
The cutest pair of open-toed handmade braided huaraches for anyone who wants a comfy pair of sandals that look nice and will last longer than one season. And for all you folks with wider feet, listen up: reviewers say they're surprisingly accommodating; just be sure to size up since these babies run small.
Artesanías Camila is a Carthage, Texas-based shop from Blanca Olivera. All of their Mexican-inspired huaraches, bags, hats, and apparel are handmade.
Promising review: "These shoes are so beautiful! I can't wait to start wearing them in the warmer weather. Also, I have very wide and big feet and have trouble finding cute shoes like these. But, these bad boys fit me perfectly and I love them! Thank you for my beautiful sandals!" —Amanda Long
Get them from Artesanías Camila on Etsy for $43.20 (available in women's sizes 5–10 and four colors).
5.
An inflatable pool so you can make your sunny dreams of relaxing in a pool with a glass of sweet tea a reality — even if you have a small backyard.
Promising review: "Good size. I'm 5'4 and I bought it for my 3-year-old and 2-year-old for the spring and summer. I didn't need anything huge; I have a nice size deck and we spend a lot of time on the deck so I wanted something big enough for them to have some wiggle room to keep cool but not too big so it wouldn't take up to much room. I also purchased an outdoor grass rug to put it on to protect the bottom of it and keep it from getting splinters (just a suggestion if you plan on using on the deck). It has a drain plug so cleaning and getting fresh water is not hard at all." —Majestic 0220
Get it from Amazon for $53.99.
6.
And speaking of pools, a stunning ruffle V-neck one-piece if you're still on the hunt for this season's swimsuit. I'll be taking all meetings poolside in this bathing suit. Sorry not sorry!
Promising review: "This swimsuit is sexy, comfortable, and affordable. Love it. Would give it 10 stars. Bought it in red and olive." —Holly
Get it from Amazon for $29.99+ (available in sizes XS–XXL and 20 colors; this is a super cute plus-size option as well).
And here are some other unique bathing suits you may want to check out!
7.
A grout paint pen that'll cover up years of residue from dirty feet, uncleaned spills, and mysterious stains that bother you every time you look down at your floors. It works like a regular marker, so even people who failed art can use it.
Promising review: "This stuff is amazing! After over 10 years of the grout not being cleaned, and a botched repair job, the bathroom floor in this house looked horrendous. Two pens covered the entire bathroom floor, with plenty left over in the second pen, even with applying two to three layers (which you will definitely need as the paint is a bit thin and also absorbs into the grout). Super easy to apply, works exactly like a regular paint marker. Be sure to press the pen tip on a separate (thick) cloth to activate it before actually using on the grout so you don't end up with a huge mess on the tile when the paint floods out at first. If you see the first side of the tip is getting frayed, just pull it out and turn it around to the other side." —regalle
Get a white pen from Amazon for $8.99+ (available in two widths and in other colors).
Not to worry – we've got you covered with some more home makeover products so you can ~skip to the good part~.
8.
A headrest hook to keep your purse nearby so you're not the driver who turns around to dig through their purse in the backseat and misses the green light. It'll also help prevent the contents of your purse spilling all over the car floor if you take a turn too fast or have to slam on the brakes.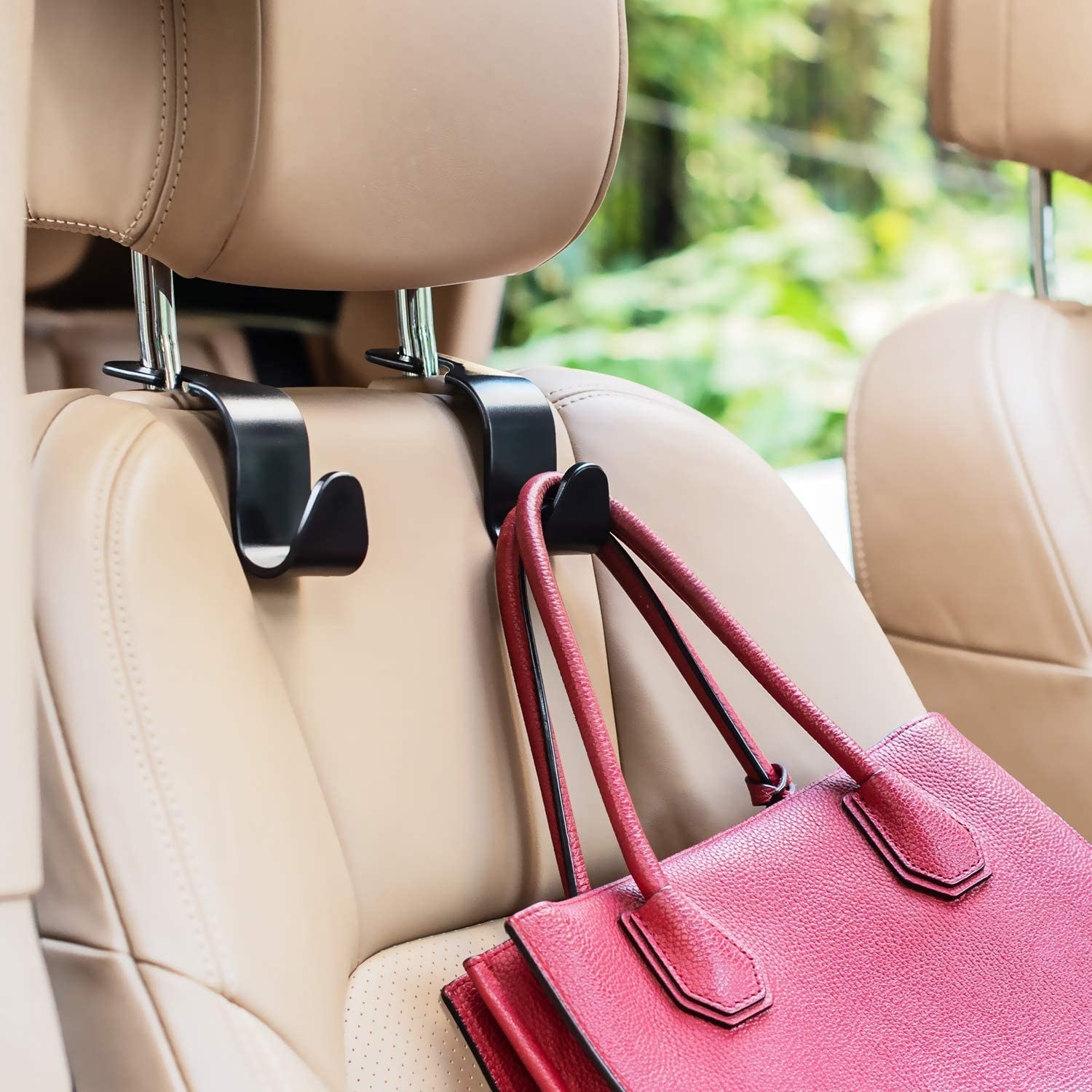 Promising review: "These hooks work great and function exactly the way I had hoped for! I actually turned them around and use them for the front of the seat, rather than the back. These hooks have solved the dreaded 'bag dump' when you have to break suddenly. No more lunch spilling all over the inside of my work bag!!" —KLGS
Get a four-pack from Amazon for $8.99.
9.
A mold and mildew remover because you can set it, forget it, and come back in a few hours to see grout that looks like new. I'm talking basically every speck of black mold is gone! *Cues up "Do You Believe in Magic"*
Promising review: "This stuff is amazing. I live in an older apartment complex and even though I scrub and clean my bathtub every week, the caulk around the edge still managed to grow mold and turn brown/ black. I scrubbed with many different products and it didn't seem to make a difference. I found this product and the transformation is huge. First, it's easy to apply because of the squeeze top. I was able to just really focus on the caulk. Then, because it's a gel, it stayed put and didn't ooze everywhere. It really surprised me on those vertical sides. In the first picture, I already scrubbed my tub and even used some sturdy brushes attached to my power drill. The second half of the picture is after five hours of letting this mold remover soak and just wiping it off." —Rochelle
Get it from Amazon for $13.99.
10.
A bottle of professional grade callus-removing gel for dissolving hard dead skin in literal minutes. (Seriously, reviewers say you should only let it sit for two to three minutes!) Then, give it a good scrub with a foot file and your heels will be baby bottom smooth.
Promising review: "This is a Hail Mary! This is hands down the best product ever!!!! I have been using this product on my clients and it has made my job so much easier and less time consuming." —Diamante Valentine
Get it from Amazon for $13.87.
11.
A heavy-duty oven scrub so it's like the years of baked-on dinner explosions and drippings that coat the inside of your oven — poof! — never happened. It'll clean stains right before your eyes; no need to let it sit overnight!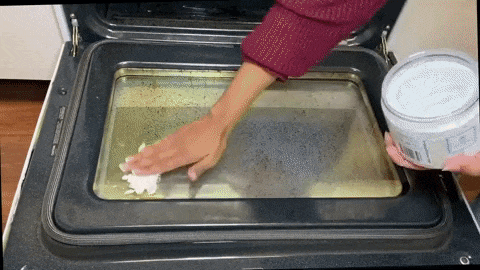 Everneat is a small business based in Fairfield, Connecticut, that specializes in natural cleaning products.
Promising review: "This product is amazing! It works fast with pretty minimal elbow grease. The stainless-steel sponge that comes with it makes it easier. And it smells great!" —Melissa C.
Get it from Everneat on Etsy for $19.99+ (available in a plastic or glass container).
12.
A microwave veggie steamer if you can't be bothered to boil a large pot of water just for your single serving of veggies. This steamer has a 2-cup capacity, so it's great for anyone who's cooking (or steaming) for one.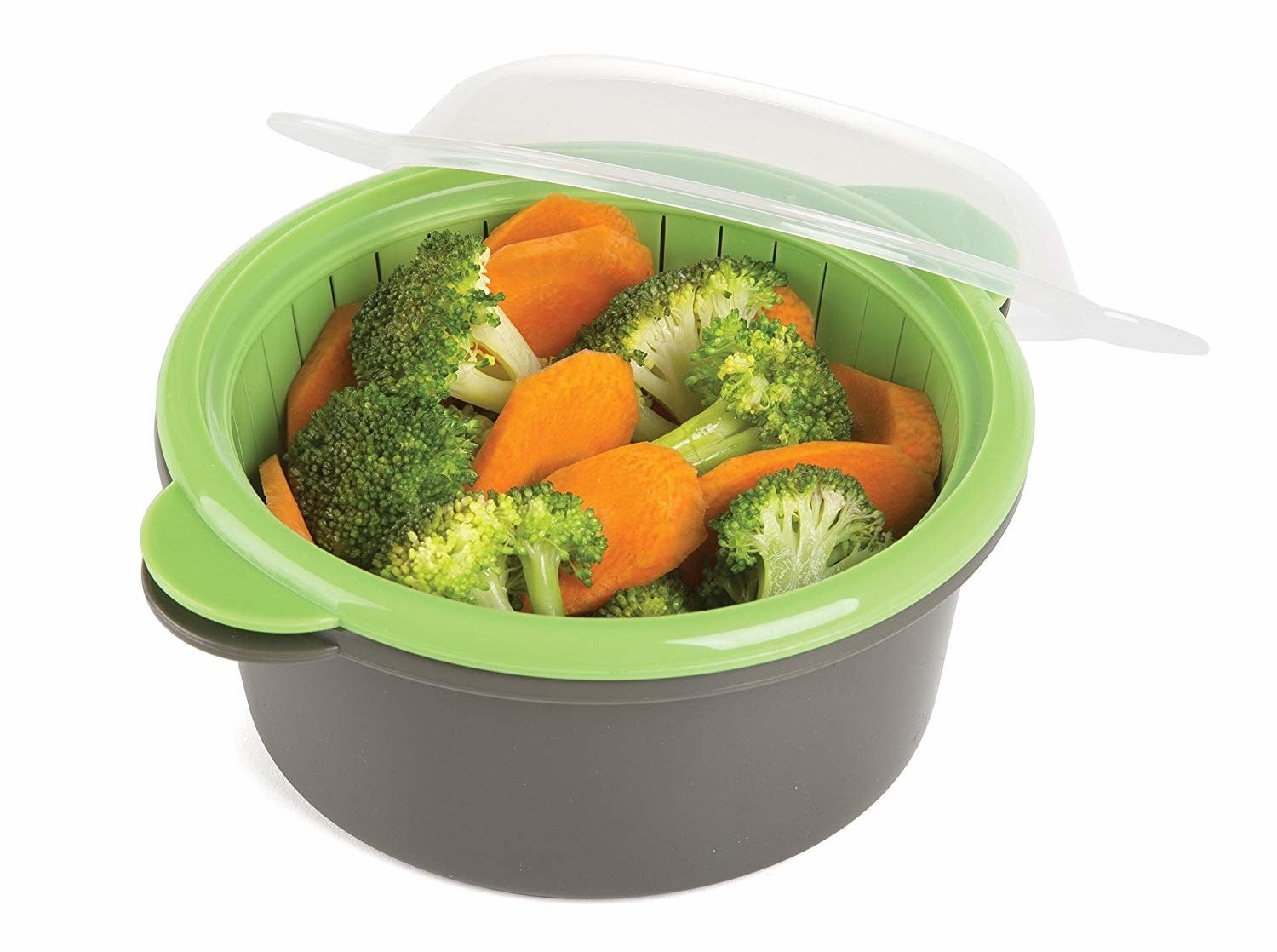 Promising review: "I love fresh vegetables but hate having to cook up the whole batch and store. This little microwave steamer worked out even BETTER than I could have imagined! I use it almost every day now. I can break off a few stalks of broccoli, cut up a some asparagus, carrots, steam it in the microwave for 3–3.5 minutes and I have a wonderful serving of mixed fresh veggies anytime I want. I love it! It is small, so if you're feeding a family, look for something bigger along the same lines. It's easy to clean, and it seems sturdy enough for the dishwasher, but I hand wash it because I had a microwave steamer that got warped after a few runs through the dishwasher. Would definitely buy again." —terifrancis
Get it from Amazon for $7.99.
And if you're looking for some other useful kitchen gadgets or upgrades for meals, we've got you covered.
13.
A high-voltage bug zapper that'll help you say goodbye to not only mosquitoes, but also gnats, flies, moths, and other insects within a 1,500-square-foot area.
Promising review: "You will not be disappointed. I just moved out to the country and have been working out in the garage late at night. With the weather getting warmer, I've had the garage doors opened and mosquitos, gnats, and everything else have been finding there way into my garage, so I had to do something about it. I bought this and hung it next to my garage door opener because there's an outlet there and it is way better than expected. I have dead bees, stink bugs, gnats, mosquitoes, and other bugs that I do not know what they are. My 8-year-old son keeps asking me to remove the bottom tray so he can see all of the dead bugs that got zapped. Again, you will not be disappointed, I'm extremely happy I bought this!" —Chris & Jenny
Get it from Amazon for $36.99.
14.
An immunity-boosting allergy supplement to help your poor pup find relief from itchy skin and seasonal allergies. These soft chews deliver a dose of probiotics and other nutrients to help improve immune function, aid digestion, promote healthy skin, and add shine to a dog's coat.
Promising review: "My dog loves these. We live in the south so allergies are pretty serious here. When spring came around I noticed he was constantly gnawing at his paw and wasn't eating as much as he used to. I did some research and found this product. I was skeptical, as he's kind of picky, but he is obsessed with them. He waits at the pantry door every morning for them. He thinks they are treats. I noticed — within hours — that he was no longer gnawing at his paw and his appetite was also back to normal. When he finished his first tube of these, I decided to wait to order more and see if they really worked or if his allergies just wore off. A few weeks went by and I noticed him gnawing at his paw again and not eating. I ordered them Sunday and he's back on them again. He was so excited to see them again and is no longer gnawing at his paw :)" —Alyssa
Get them from Amazon for $19.97.
15.
A pack of AirPod cleaners because the last time you offered your buddy an earbud to listen along with you, they actually recoiled in disgust when they saw how gunked up your AirPods were. Squish the flexible square into your AirPod speaker, peel it off, and gasp in horror at the ear goop that's been dulling the sound quality.
Promising review: "I bought this after seeing it on some BuzzFeed list and thinking about how gross my AirPods probably were. When they came in the mail, I used them immediately. They got all the gunk out that was in the little holes. THEN my husband comes in and sees and wants to use them for his. I learned he has never even tried to clean his own AirPods (?!) DISGUSTING and amazing. It got everything out of his." —Amazon Customer
Get 24 from Amazon for $15.99.