1.
A pack of dishwasher cleaning tablets to clean your machine as it runs. No need to sigh in frustration every time you open your dirty dishwasher to remove your "clean" dishes.
Promising review: "I rarely post reviews, but this stuff has completely changed our lives. Our dishwasher, utensils, plates, and glasses were covered with dry scale and nothing we tried came close to helping. After using the tablets three times our dishwasher looks like new; our glasses are sparkling like fine china and everything else looks fabulous. Highly recommend, worth every penny, best product BY FAR!!! One great advantage is you can use it with your dishes. Some other products are used to clean the dishwasher but not to clean dishes and glasses. Buy this, you will be blown away!!! It is astounding!" —Jenny
Get a pack of six tablets from Amazon for $8.99.
2.
An immunity-boosting allergy supplement so your poor pup can find relief from itchy skin and allergies. These soft chews deliver a dose of probiotics and other nutrients to help improve immune function, aid digestion, promote healthy skin, and add shine to a dog's coat.
Promising review: "Absolutely the best product. It saved my itchy goldendoodle! We tried changing food, Benadryl, medicated shampoo, fish oil, everything you can imagine...nothing worked long-term. He was itching his face so badly he would make himself bleed. Had sores and scabs all over his face and neck. I bought these because they had good reviews and I was desperate. It changed his life! He no longer scratches AT ALL! His coat looks great and all of his sores are healed. He's the happiest he's been which makes me a very happy momma. He is also very picky and never eats treats... he eats these every time so that's an added bonus!" —Darcie Nation
Get them from Amazon for $28.97.
3.
K18, a leave-in reparative treatment that's fan-flipping-tastic at restoring moisture and softness in your strands if you frequently bleach or chemically treat your hair, or if you use heat-styling tools often.
I was immediately intrigued when I first heard some stylists at my salon raving about K18. And it turns out the rest of the world loves it too, because it was sold out at Sephora the first time I tried to buy it. I was gobsmacked at how much softer my hair was. Seriously. I spent the whole day touching my hair, and even my boyfriend agreed that my mane was noticeably silkier. 

I still have a jar of Olaplex in my shower and I still stand by it as a product, but I really love that K18 is a leave-in treatment rather than an in-shower mask. Olaplex needs to sit for 10 minutes so I use it on days that I take an everything shower (you know, the ones where you exfoliate, shave, hair mask, etc). With K18, you let it sit in your hair for four minutes post shower to activate and then you can style your hair (or just let it air dry like I do). 
I've found that my hair is softest the next day, so don't be discouraged if your hair looks or feels the same the day you use it. One last thing: it is pretty pricey but a little goes a long way. The 15 mL tube I bought has lasted ~five washes, and eventually K18 can become a maintenance product so you won't need to use it every time you wash your hair."
Get it from Sephora for $75.
4.
A cruelty-free lengthening mascara if your dream is that your lashes would one day hold a voluminous curl. It's lightweight, won't transfer, doesn't smudge, and lasts all day — what more could you ask for?
Promising review: "One of the few products that actually performs as advertised. I was so impressed by the waterproof version that I also got the regular — both are fantastic (and I have tried A LOT of mascaras). Best value ever!" —Candace70
Get it from Amazon for $4.99.
5.
A stainless-steel tongue scraper for banishing bad bacteria your toothbrush can't lift. It should help improve stinky breath so you won't suffer the embarrassment of someone offering you a breath mint.
Promising review: "I was a little unsure what to expect. I had never used something like this before, but my girlfriend says my breath stinks and she deserves better than that. I brush and floss, but there is still that 'thing'...that stank under the normal mouth breath. Using this has removed that. Not really sure how it works or why that layer of spit and stuff on your tongue has to smell so bad, but this removes it well and also feels kinda nice. Thank you!" —nick
Get two from Amazon for $9.99.
6.
An iPhone port cleaner because your phone won't charge without you having to contort the cord into a very specific angle. This six-sided cleaning device will clean lint and debris from the port itself, as well as the cable connector so you don't have to play a game of "will it charge or will it not charge" every time you plug in your phone.
PurePort is a family-owned small business founded by a husband and wife in Massachusetts who were tired of their iPhones and their kids' iPads not charging because the ports were dirty.
This kit also comes with AirSquares, cleaning putty squares you can use for cleaning earbuds and AirPods.
Promising review: "You know the deal: You've got that one cable that works better than the others. Or the white one with the braiding that if you insert just right it usually works. But the cable in the car needs to be inserted with the phone upside down and shoving it in. This kit fixed my 'broken' iPhone 8 charge port, which required all the above superstitious routines to make charge. I've tried every cable I have in every problematic scenario and they all just plug in perfectly fine and the phone starts charging immediately." —AK
Get it from Amazon for $29.99.
7.
A speedy oven cleaner to de-gunk drippings from your last five years' worth of meals. It can power through baked-on crud, so all you have to do is wipe it clean.
If your oven is in need of a deep, deep clean, you may need to let this cleaner sit longer, but it'll do a heck of a job lifting all the barnacles of food bits that are crusted on your oven.
Promising review: "So I usually don't write reviews too often but OMG. My oven had SO MUCH BUILDUP on it and almost everywhere: burnt on oil, foods, dust was sitting for nearly 15 years!! After seeing so many reviews of this product and seeing the product in almost every BuzzFeed post, I knew this was the product to buy. I love that it smells like lemon cause it masks the harsh chemicals! Which by the way, are really harsh. Please be careful using this around kids and animals and carefully follow the instructions! But after liberally spraying this ALL OVER my oven (door, bottom, top, sides, even the hefty, blackened oven rack) I let it sit overnight like the instructions said and the next day, when I wiped EVERYTHING CAME OFF SO EASILY!! It was so so satisfying and you can see it working as soon as you spray it on. I got so excited and showed everyone our new, sparkling oven! Must buy!" —Mariam
Get it from Amazon for $11.31.
8.
A heavy-duty oven scrub so you can get your hands dirty to get the oven clean. You're not about to be bested by years of baked-on dinner explosions and drippings that coat the inside of your oven.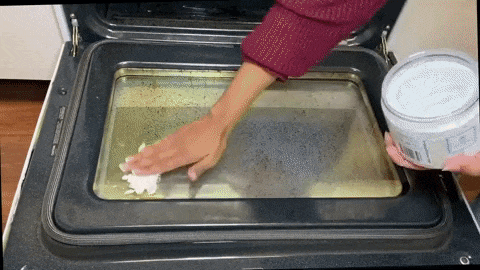 Everneat is a family-run small business based in Fairfield, Connecticut, that specializes in natural cleaning products.
Promising review: "This product is amazing! It works fast with pretty minimal elbow grease. The stainless-steel sponge that comes with it makes it easier. And it smells great!" —Melissa C.
Get it from Everneat on Etsy for $19.99 (available in three scents).
9.
A Paula's Choice liquid exfoliant that'll resurface the skin, brighten hyperpigmentation and acne scars, clear pores, and improve skin texture. If you're just dipping your toes in the chemical exfoliant pool (first of all, welcome!!), start by applying this every other day or a few times a week to build up a tolerance and not irritate your skin.
Promising review: "Love this product. Have already purchased it twice. I could actually see improvement in the size of my pores, redness around my nose and dullness. Mind you, I do follow a very strict skincare routine, but I think that I will stick to this product for a while. I use a cleaner, toner, then this Paula product, followed by my nighttime serum and my vitamin A (retinol) cream for face and the neck, and décolletage cream as well. My husband has noticed the improvement as well. If you are hesitant, you can always try buying the traveling size bottle as well. That's what I did and then I got hooked. Get it! It won't disappoint!" —Felicitas Martinez

Get it from Amazon for $13+ (available in two sizes).
10.
A denture cleaner if your aligners are coated in some weird white film. These fizzing tablets will blast away odor-causing bacteria, discoloration, and plaque from Invisalign, retainers, dentures, night guards, and more.
Promising review: "We brought this product for our teenager who has been complaining about the taste and smell of his retainer after a day of wearing it. This product is easy for him to use, disinfects, and makes it smell and taste better." —Ambera L. Robinson
Get 120 tablets from Amazon for $18.81.
11.
An air purifier for anyone who's felt personally victimized by seasonal allergies. This bad boy removes dander, mold, dust, and pollen in the air to help you breathe better.
Promising review: "For several years I've been troubled with snoring. I've done sleep studies and have purchased prescription mouth pieces and have not really had that much of a change. I've downloaded Snore Lab to my cellphone as recommended by dental mouth piece provider. I had some improvement, but still had EPIC snoring ratings. I spent $2,500 on fitted mouth pieces from my snoring dentist expert. I had some improvement, but nothing to my satisfaction. Snore Lab recommended this so I purchased one from Amazon. The next day it showed up and I used it that night when I went to sleep. WOW what a difference, NO loud snoring and each night it keeps getting better. I recommend this highly to anyone that has a snoring problem." —Drew Piraino
Get it from Amazon for $74.96+ (also available in white).
12.
A teeth-whitening pen because it's a heck of a lot quicker (and tastes a lot better) than those irritating whitening strips that slip and slide all over your teeth. You can use each pen ~20 times and should expect your teeth to lighten four to eight shades.
Promising review: "I have only used the two original pens that I purchased and can already see an improvement. I am older than 60 and drink coffee daily and red wine weekly." —vicki houska
Get a two-pack from Amazon for $19.99.