Rihanna, Kanye West, Madonna Change Avatars For Jay Z's Music Streaming Service
On Sunday night, several music superstars showed support for Jay Z's new music streaming service by changing their profile pictures to cyan blue.
Update — March 30, 10:56 a.m. ET
Jay Z will announce details of the new Tidal in a press conference at 5:00 p.m. ET today, according to a press release. A live stream will be available at Tidal.com. The Roc Nation founder and hip-hop star will reportedly reveal "a commitment to a new direction for the music industry from both a creative and business perspective."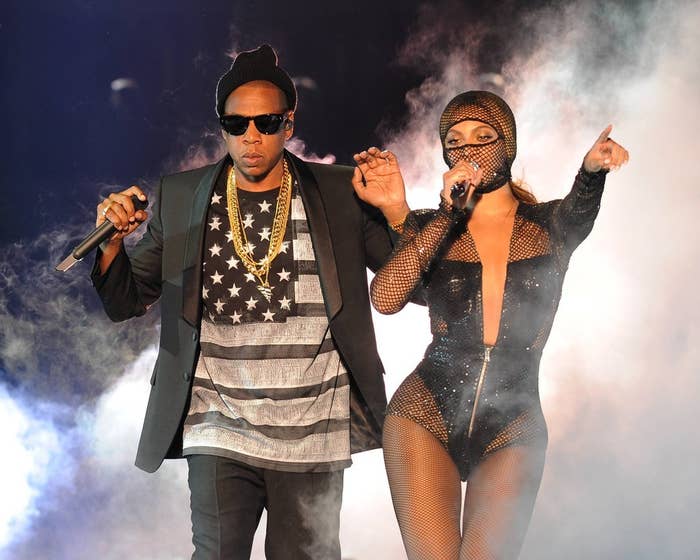 Artists changed their avatar to cyan blue over the weekend to match the color of the company logo of Tidal, Jay Z's new music streaming service, which is expected to launch Monday.
Last month, Jay Z purchased the Swedish technology company Aspiro, which operates the service, for $56 million and is expected to launch at a Monday afternoon event in New York City.
The website for Tidal describes itself as: "The first music streaming service that combines the best High Fidelity sound quality, High Definition music videos and expertly Curated Editorial."
Many see Tidal as Jay Z's attempt to take on other streaming services such as Spotify, Pandora, and YouTube, which all offer free options for listening to music.
Apple is also entering the crowded streaming market and developing a service with the assistance of Nine Inch Nails frontman Trent Reznor, Rolling Stone reported.
Tidal offers high-quality streaming for $19.99. People were quick to criticize the price, which is twice that of Spotify.
There is also a standard quality audio price offered by Tidal for $9.99.
Jay Z reportedly first began lining up the support of his celebrity pals before this year's Grammy's.
He hosted a meeting in Los Angeles before last month's Grammy Awards to discuss his purchase, which was reportedly attended by Kanye West, Rihanna, Madonna, Coldplay's Chris Martin, Jack White, Daft Punk, Nicki Minaj, and Beyoncé, according to Showbiz 411.
At the meeting the artists discussed ways to profit from distributing their own work and focused on "videos, artists' rights and how music has been diminished by crass commercialism."
On Sunday night, many of those artists who attended the meeting with Jay Z tweeted their support and changed their avatars to match Tidal's cyan blue logo.
Others, like Deadmau5 and Usher also tweeted in favor of the service:
Full details of the service will be announced during a press conference on Monday, Roc Nation said in a press release.