On the eve of my 24th birthday, I was feeling pretty damn alone.
In my final year of college, my parents left the United States. They moved back to the Philippines where I was born. I chose to stay in New York for school, for work, for friends — a life I was beginning to build.
But after graduation, my closest circle had to break up. Some of us moved to San Francisco, some to Boston, and some more than nine stops into Brooklyn. And I've had few long-term boyfriends. Well, not even "long-term." Let's say "mid-term." So as I approached 24, I realized I'd been living much of my adult life alone.
Despite the immigrant specificities, my story is not a novel one. Many of my friends, in their sophomore year of adulthood, feel lonely and adrift, and so they take every chance they get to ground and anchor themselves in other human beings. I, Mr. Hey What Are You Doing Tonight 💃, was no different.
However, I've been feeling not like myself lately. I used to gain all my energy from connecting with people, both familiar and new. Now it would only exhaust me. One of my friends recommended I go see a therapist; this sounded exhausting and expensive.
(Me, at 23, at a particularly low moment.)
I like to think this is not without reason.
I recently moved to Brooklyn with two of my best friends, and cohabitation has changed our dynamic. When you live with someone, you never actively plan on being together, so you take togetherness for granted. Plus, both of my roommates have adoring boyfriends. I, insecure and jealous by nature, often feel left out.
My career has been going smoothly. And yet, whenever I'm not being praised, by some oppositional logic, my brain processes that blank space as silent critique. "No one's complimenting you," it tells me, "therefore you are literally the worst." This is what happens when you work on the internet and you place your self-worth in the palms of those who have so many other things in their hands.
And my family, well, they're not doing so great.
My mother and stepfather were both recently diagnosed with cancer. Their his-and-hers maladies were caught early, localized, in early stages. It's in our blood to get it, they told me, and it's in our blood to beat it.
My grandparents survived for a good while after their own cancer diagnoses. But I wasn't there when they died. My grandmother was in Las Vegas; I was away at college. And my grandfather was in Manila; I was waking up in Harlem. Now I had to consider the idea I might not be there again.
When my mother called from Manila to break the news to me, she asked, "Anyway, enough of that. Excited for your birthday?"
My family was sick and far away, my friends felt distant, and I was as single as ever.
The thought of spending my 24th birthday alone terrified me. Which is exactly why I had to do it.
On my birthday, I tried not to look at any birthday greetings on Facebook or Twitter. Well, I did for a bit and retweeted some when I woke up. But then I deleted the apps on my phone and put it on Airplane Mode. I showered, put on my walking shoes, and shrugged on my backpack.
I challenged myself to be on my own on Sept. 27, for a minimum of 10 hours, cell phone on silent, and actually leave the house.
The leaving the house part was key. I'm used to the intentional solitude of being alone at home. But to go it alone at brunch, at a bar, at dinner — on my birthday, no less — was a personal hurdle I wanted to jump.
So from 11 a.m. to around 9 p.m., I walked and subwayed and smiled through the city, not telling anyone it was my "special day," as I tried to make it special for myself. I had a pretty great time. Here are some reasons you should try the same.
1. When you spend your birthday alone, you don't have to stress out about planning anything big with loads of people.
There's something taboo about being alone on your birthday, much like New Year's Eve. A day that's meant to celebrate new beginnings, it seems, must be spent in the company of others doing the same.
But the pressure of putting a get-together can be exhausting. Think of the energy spent arranging a time and place, or sending and receiving invites — not to mention thinking about which people to invite or who is speaking to whom.
So I stepped out of the house with no concrete plans: no restaurant reservations, no Facebook invitations, and no bill-splitting (THANK GOD). I had the luxury of enjoying a full day where I didn't have to concern myself with the problems of others and the problems others may have caused me to have.
My first stop, by instinct, was a Starbucks for breakfast. I was pleasantly surprised to get a free drink offer on my Starbucks app because it knew it was my birthday. Since the day was about indulging in ~me~, I fueled up on caffeine and excitement with a venti latte, eager to see where the day would take me.
2. You're free to do literally whatever you want, to follow whatever strange impulse comes over you.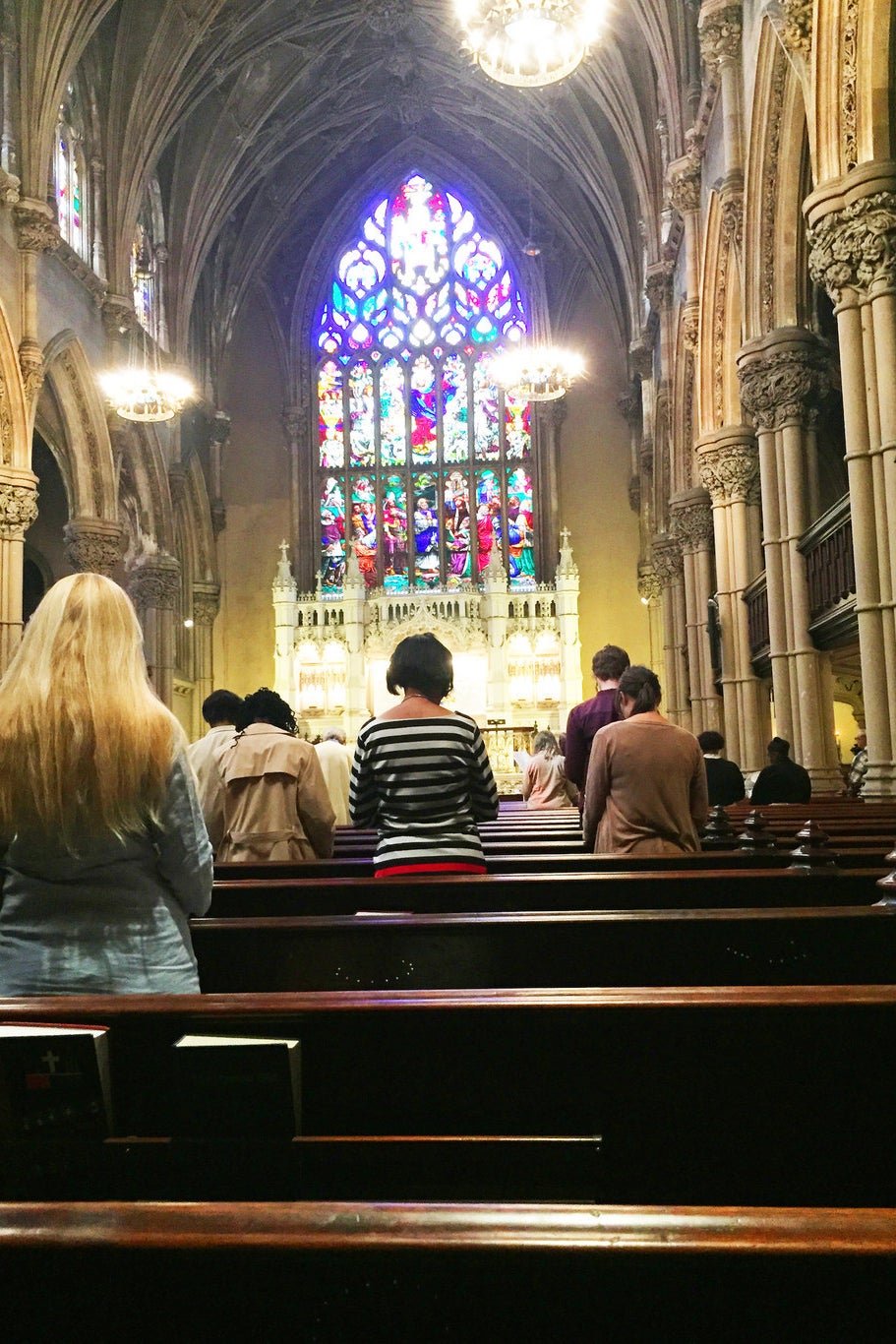 As I walked around the neighborhood, I passed by St. Ann's, a church in Brooklyn Heights. Bells rang inside. I realized it was Sunday.
My mother would drag me to church every Sunday when I was growing up in both Manila and Las Vegas. Between the uncomfortable wooden pews, I'd nod off and snore, or discreetly play video games on my GameBoy Advance. I couldn't wait to live on my own, to not have to go to church, to actually do something productive with my Sundays.
But there were just 20 minutes left of the service at St. Ann's. I stepped inside and picked a pew in the back row. There were 50-some people in attendance, hands clasped, with a priest at the front, arms stretched upward. I put my finger to my forehead, then to my sternum, to a shoulder, then another. Everyone recited words I still knew by heart, on how and to whom I must lift up my own.
The last time I was at church, I cried.
I'd just heard about my mother's cancer diagnosis, which came two months after my stepfather's. She'd implored that I get myself to the house of God. I found one and lit a candle. In between sobs, I prayed for my parents' health, my begging amplified by the marble of an empty church.
I took a sip of my venti latte and a picture of the service at St. Ann's. Then I snapped a selfie (gospelfie?), for good measure, to send my mother. I wanted to impress her, to prove to her, "Look, Ma! I'm here for you! I'm with you!" However, I'd sworn not to use my phone all day.
I wanted to share with her the strange feeling going to church offered me: a transcendent closeness to my mother. Being here evoked a familiarity so ingrained in me that it bordered on Pavlovian, that I felt as though she were beside me in the velvet-cushioned pew.
So I sent a silent thank-you into the ether — to my mother, to whomever wanted to take it. This was a nice birthday gift, I thought, one that I might be tapping more often in the future.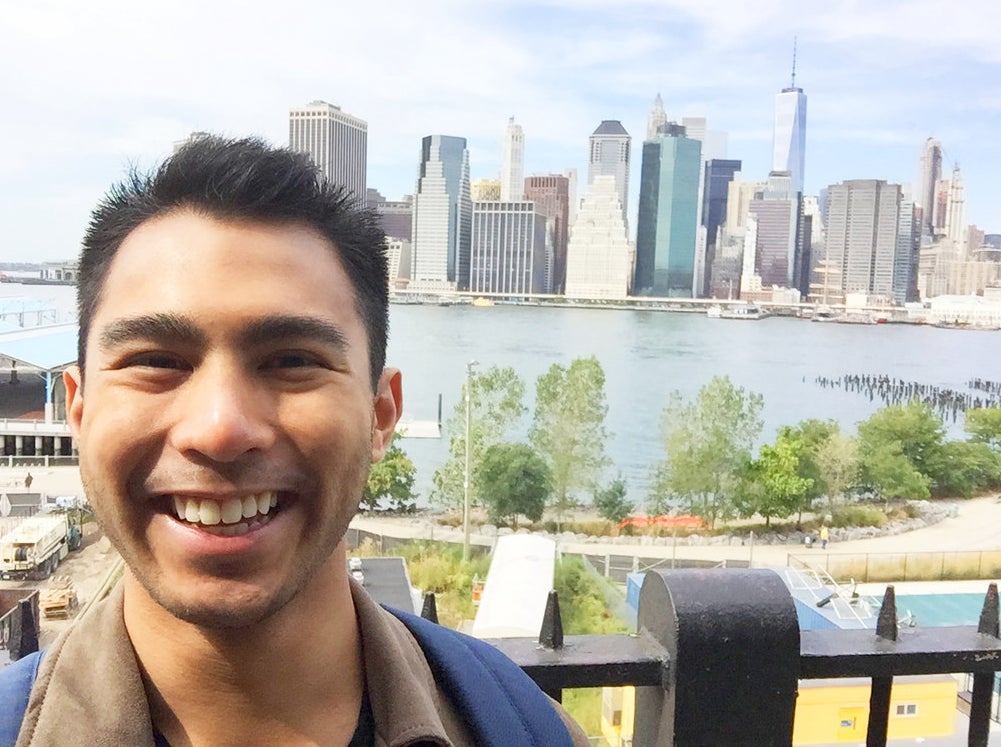 I left St. Ann's feeling light and supported. Still, I was surprised to discover that much joy in a church. I felt connected to my mother just by being there, even when I was so far from her.
But when I took a long walk along the Brooklyn Heights Promenade, I found a bouquet of flowers with a card dated "September 11." The Manhattan skyline was in the distance, and, from where I stood, you could see One World Trade. It was not a strange thing after all, to connect with loved ones far away by being in a particular spot.
3. No one will be there to judge you for doing the things that are important to you.
Following the Brooklyn Bridge Promenade led me to Brooklyn Bridge Park. And walking around Brooklyn Bridge Park (and its adjacent green spaces) led me to one of my favorite spots in the city.
It's right by the water, on one side of a tiny bay. Across from it is the carousel by the bridge. My ex got us tickets to go on it for our first date. He'd picked a white plastic horse for himself, fitting for the prince I thought he was.
Then, after a long while, I could no longer wait for him to become the prince I needed him to be. I took him to this little beach on the East River, and there — here — I ended our seemingly fine relationship.
I didn't plan on visiting my relationship's gravesite on my birthday. Had I, I'd've brought flowers. But since we broke up a year ago, I sat there for a good while, thinking about how I'd spent the year since then.
For much of my life, I've placed my self-worth in the hands of other people.
I'd measure bylines and follower counts, texts sent and texts returned. Every day, I'd attempt to quantify the respect and love I thought I had. But when I broke up with my ex, I knew both he and I needed much more than what we gave each other.
The year that followed, me at 23, had its peaks. Then I found myself in that emotional valley my ex and I knew well. And this time, I was alone. My attempts to please everyone else in my life, hoping they might please me in return, grew circuitous. I grew tired of running in circles, seeking happiness in others.
This was why, I realized, I needed to be alone on my 24th birthday. I needed to do whatever it was that pleased me, reclaim the freedom of doing whatever the fuck I wanted. A year ago, it took a decaying relationship for me to remind myself of the love I knew I deserved. This year, I didn't want to let my relationship with myself meet the same fate.
So I took a ride on the carousel. I picked a white horse, fancied myself my own prince.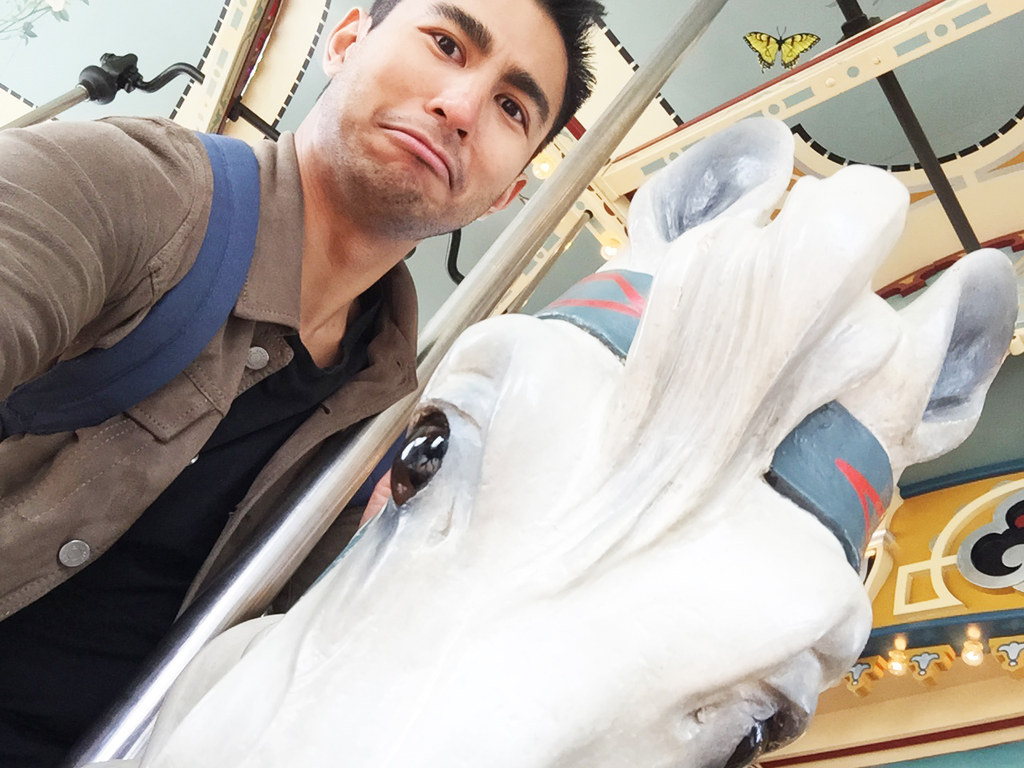 It was the most awkward and rewarding $2 I'd ever spent.
4. You're free to stop and appreciate all the little things you come across on your solo adventure.
Once I wore out my valiant steed, I got on the nearest subway and wound up in the West Village. In search of a place to eat, I came across some chalk art on the sidewalk. Some friends of mine would've called it hokey and I would've been embarrassed to take a picture. But since I was alone, I did.
I believe everything in the universe happens for a reason — in theory. In practice, I find myself demanding from the universe an eight-page report on why it made everything happen by end of day. Or, in Carrie Bradshaw terms: I need lessons to lessen the pain.
So, on my amble alone, what I needed to see were these words. I physically ran into the lesson I learned at the little bay today, my epiphany-made-mantra. It was the universe, perhaps, telling me to "let go" and to "have faith." Though instead of an eight-page report, it gave me an Instagrammable piece of pop cheer.
After I took the photo, I looked up from the sidewalk. I saw the restaurant where I celebrated my 23rd birthday with my best friends. I walked in to have lunch. But this time, rather than attempting a table of nine, I was happy to tell the hostess, "Just me."
(And I didn't have to split the bill!)
5. You don't have to keep anyone waiting, so you can take as little or as long as you like doing the things you enjoy.
I continued my flânerie through the West Village after lunch. Somewhere along Hudson Street, I passed by an arch in a tall brick wall. It led into a lush secret garden that was bigger on the inside. And I walked through all of it, I think. On a handful of benches, I found other New Yorkers, book or a coffee in hand, on their own solo adventures.
Even when you're alone in New York, you're never entirely alone. Here, as you walk the town alone, you intensely feel the solitude of others rubbing up against your own. Every subway ride is like a gathering for a game night of solitaire.
To cope, we've found ways of entertaining ourselves. Take as long or as little as you want reading on that bench or sitting by that little bay. Just revel in the fact that you're here, that we all are, that there's a solace in being alone together.
Then I went to a Starbucks. I got an iced tea and finished the book I'd been toting around. Since I was taking my time at a big table, charging my phone by an outlet, a woman asked if she could sit with me and have a charge as well.
Sure, I said, and we gamely watched each other's stuff while we went to the bathroom.
6. Being alone leaves you with no option other than to be brave.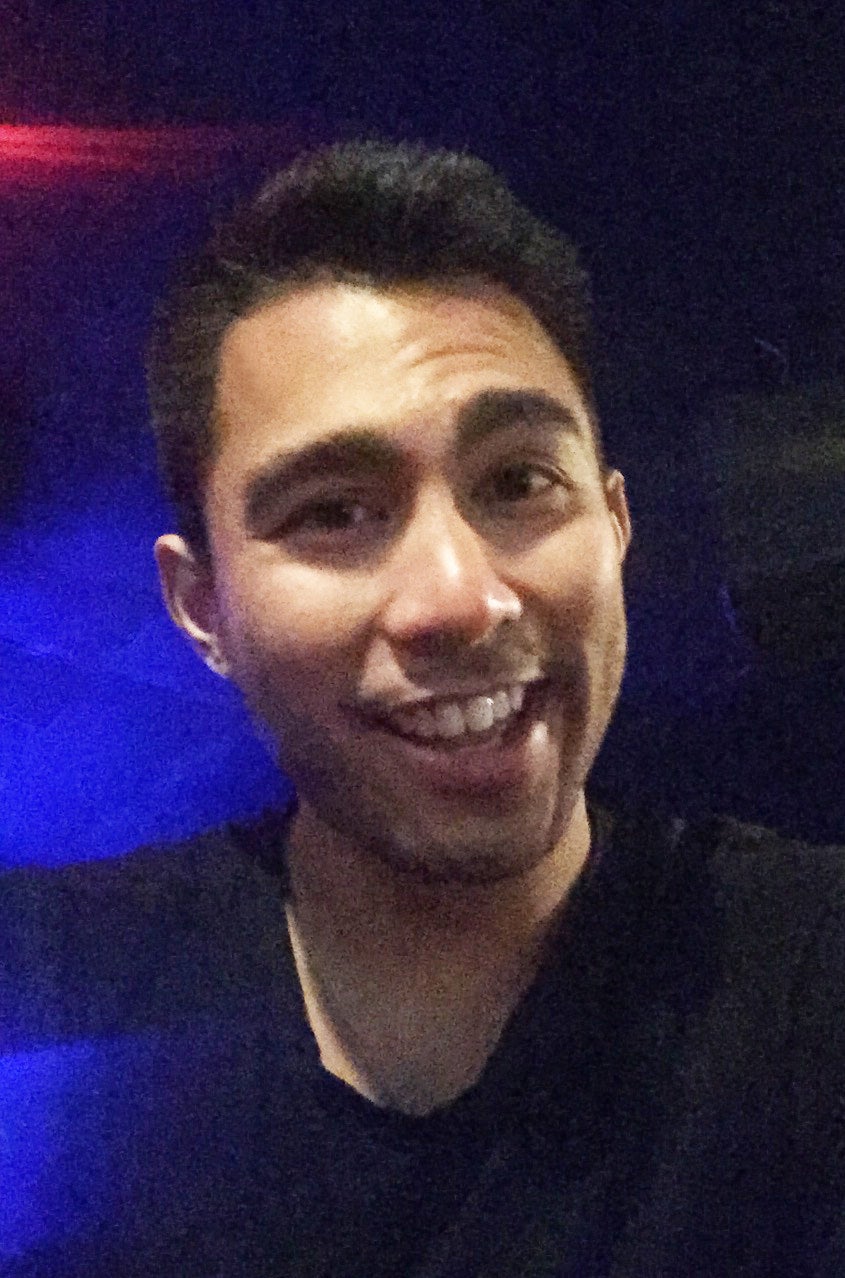 As night began to fall, I thought about what I would've done for my birthday had I been with my friends. I could pretty much hear one of them in my head say, without a trace of irony, "Let's go to The Boiler Room!" But going to a divey and crowded gay bar alone wouldn't have been enough. So I went to get props.
I found myself at a Ricky's Beauty Shop in the East Village, asking one of the salesgirls if they had any party supplies. She gave me a very long, "Ummm..." before leading me to a cornered-off room the size of a walk-in closet.
Past the hot pink curtain of beads were all the Bedazzled and be-penis-ed supplies for a bachelorette party.
"Does this work?" she asked me and laughed.
I did the same. "I mean, I'm definitely a bachelorette."
I picked a bag of paper tiaras and toot things decorated with cute cartoon dicks. The salesgirl and the woman at register asked me what they were for. Because I didn't quite want to say that it was my birthday yet, I told them I was celebrating being single. This was met with cheering, so we took a selfie.
The ease of this fun reminded me of what a naturally social person I am. Like, I can talk to people! I can make friends, really! This isn't difficult at all! Of course, friendships are much harder to execute over longer periods of time.
But even moments with the girls at Ricky's, the most ephemeral and fleeting of connections between people, I think, should be appreciated and remembered.
That in mind, I made the few blocks over to the busy Boiler Room, tiara and noisemaker at the ready.
Since it was 7 o'clock on a Sunday, The Boiler Room was pretty empty.
There was only one group at the bar and a couple more standing around tables. Whenever I'd visit The Boiler Room with my friends, we'd have to part the sea of men to get drinks, then we'd have no place to sit but on the pool table. Today, however, early on a Sunday, I easily took a stool at the bar. I wasn't sure if I was disappointed or happy.
"It's two-for-one happy hour until 8," said the bartender. "What'll it be?"
I went with happy (and two large helpings of pinot grigio). The music was great (Beyoncé and Fleetwood Mac with a dash of Carly Rae), the bartender was charming (he did not, for a moment, question my be-dicked tiara), and the general vibe was relaxed. At last, I thought, I'd acquired some chill — alone at a gay bar, no less.
The best part was that not once did I itch to look at my phone. When alone, my 21st-century human instinct insists I must look busy, urgent. This is to give the impression that I'm connected to something else, that I'm just waiting for something better, that aloneness is only temporary.
But more and more, today especially, I've come to appreciate aloneness.
It's OK to put my phone on Airplane Mode, in a backpack, to liberate myself from something else, the fantasy of something better. Aloneness doesn't mean a lack of love. It's OK to surrender to what is, to let go of what was, to have faith in what will be.
A group of three handsome gay men raucously stumbled out of The Boiler Room's photo booth. I watched them laugh at their pictures, poke fun at each other, and leave the bar. I checked my wallet. I asked the bartender to break my 10 into fives.
He handed me the bills and smiled. "Have fun."
It was nice, my 30-second photo shoot. Put it on the cover of Paper magazine. Let it slightly dent the internet.
7. And, when you go with the flow, no matter where your journey takes you, you're always allowed to come home again.
After The Boiler Room, I knew exactly where I wanted to have dinner: the Philippines. Given that I couldn't just hop on a flight to Manila, I had to find something close to it. Next to family, food is the most important thing to Filipinos, and so the Filipino restaurant Jeepney is one of my favorite approximations of home.
I ordered a San Miguel beer at the bar. Now talk about Pavlovian. I was instantly transported to my grandmother's house on Lapu-Lapu Street, at 10 years old, sneaking sips with my cousins. The beef bone marrow took me back to Iloilo, at 8, in noisy canteens with my mother and her family. And the talangka rice had me relive the pleasure it gave me some months ago, when I trudged to Jeepney after a bad hookup somewhere along Avenue A.
I couldn't suppress my moaning. Sorry, I told the couple beside me, it's just so goddamn good. The couple was a gay Filipino guy and his taller white boyfriend, both looking miffed with one another. Or maybe just me. Either way, I didn't let their vibe ruin mine. The rice was too perfect.
As I slurped the last of the marrow off the bone, the Filipino bartender asked me, "Partying?" He pointed at my paper tiara with his lips.
I'd forgotten I still had it on. "Sort of," I told him. I looked at my watch: It was past 9 p.m.
My silent solo birthday contract had expired. And my really successful day was my gift to myself.
Speaking of gifts — and I didn't know this at dinner — when I would get home to my apartment, I would be surprised by my roommates and friends with some gifts and drinks, and a call from my mother in the Philippines, saying she was feeling good and strong. I would feel loved by others, icing on the cake of the self-love I rediscovered on my 24th birthday, living a day that was mine alone.
At Jeepney, I took off my paper tiara. "It's my birthday," I told the bartender, "and this was the only party thing I could find."
When he asked what I did today, I told him I spent the day by myself. I braced myself for the "awww," for the pity, for the "you should be with your family" — all of which didn't come.
"Fuck yeah," said the bartender. "Good for you."
I raised my beer. Fuck yeah, good for me.