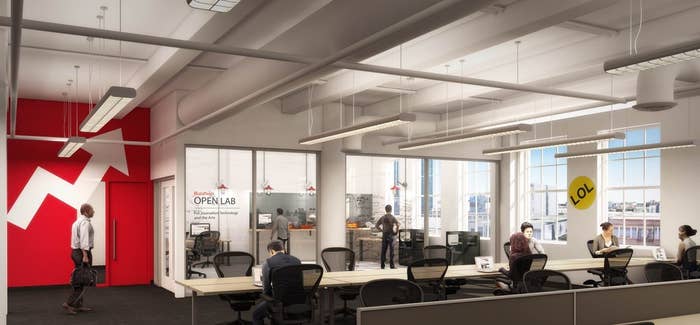 For the past six months, while we've been building out BuzzFeed's new bureau in San Francisco, I've had to keep one of its most exciting aspects secret. It's been killing me. So it's fantastic to finally be able to talk about what we've got coming. Late this summer, BuzzFeed is launching a new lab in its San Francisco office, dedicated to coming up with new tools and technologies — hardware and software — that benefit reporting and journalism, and releasing those as open source. We're calling it the BuzzFeed Open Lab for Journalism, Technology, and the Arts, and it's going to be a mindblower.
When you think about media experiments, you probably think about advertising models or paywalls or, more recently, partnerships with companies like Facebook or Snapchat. But those kind of media experiments are deeply boring to pretty much everyone who doesn't depend on ads for a paycheck. The logic of this new lab is: Screw it, let's fly drones. Drones with lasers. And more to the point: Let's build drones with lasers and show everyone how to make them too. We want to push the envelope. We want to get just on the edge of what's possible and what's permissible. We want to break shit, and build it back better than it was before. And then we want to show you how to follow along, using the very same tech we developed. Basically, we want to teach everyone to fish. But with drones.
Why we're doing it and how it'll work
At BuzzFeed's core, we care about data science and technology and rethinking traditional web formats. Typically that benefits BuzzFeed and our readers. The Open Lab will be our R&D arm that allows us to extend that core value of technology to the rest of the media industry and, more important, to the public domain so we can help create new formats, new ideas, and new technologies, all at the service of journalism and media as a whole — and ultimately in the service of the general public.
It was extremely important to us that the lab be open source. There are so many closed-source labs where great ideas from smart people get smothered by the obsession of capitalizing on the idea. If we could build a new algorithm through data mining that helps journalists better report on public transit, that helps the industry as a whole. If we can build hardware for drones that allows you to keep the data when a drone crashes or a camera that gives you a better aerial angle of a crowd, and that hardware is open source, the impact of that work is greater than if it was closed to only BuzzFeed journalists.
So here's how it's going to work. We're soliciting proposals and résumés from engineers, hackers, journalists, artists — whoever, really — and we're going to select a team of four fellows (one year) and one senior fellow (two years) to come work in our lab. These are all paid positions with benefits. We're looking for both hardware and software proposals, and we're open to all kinds of cutting-edge areas. You could be developing new applications for drones or robots in journalism, or using novel sensors or hardware for data collection. We want people with ideas about machine learning, AI, or data science that can help us identify hidden stories and sources. Or maybe it's an idea about how to tell a story more effectively, something related to visualization, interface, VR, or some other technology for communicating complex stories. Really, we're open to any technology development project with the potential to advance journalistic goals, give reporters new tools, and provide news consumers with better information.
Partners and Advisory Board
To help us, we've partnered with GE and Eyebeam to sponsor two fellows. GE is a particularly strategic partner for us because of its expertise in hardware and the intersection of the physical and digital. Those interested in the GE Fellowship should submit proposals for project(s) related to the industrial Internet of Things (IoT). Projects could be related to intelligent cities and environments, connected factories, and advanced technologies that can connect machines, data, and people for better outcomes. The fellow will be advised by an expert from GE Software's Global Center in San Ramon, California.
Our founder and CEO, Jonah Peretti, was the R&D director of Eyebeam, a not-for-profit lab at the intersection of technology and art, from 2001 to 2006. When Jonah and I were dreaming up BuzzFeed's Open Lab, we were inspired by his time at Eyebeam, where the first reblog was born and projects like Ayah Bdeir's littleBits, openFrameworks, and other game changers got their start, alongside internationally recognized and award-winning artists working with technology. We wanted to expand their mission and spirit of openness in igniting courageous art and technology from Brooklyn to San Francisco. We're pumped to be partnering with them, where an Eyebeam fellow's proposals should focus on the potential to shape the way news is created, consumed, and distributed. Eyebeam will be helping us tap into their network of artists and engineers to help fill the role and its director, Roddy Schrock, will be joining the advisory board.
During their year tenure at BuzzFeed, our fellows will spend time with fellows in Eyebeam's creative studios in Brooklyn and will work with GE's team in San Ramon.
In addition to GE and Eyebeam, we've brought on an awesome advisory team: Founder and CEO Jonah Peretti, BuzzFeed Publisher Dao Nguyen, BuzzFeed board member and a16z partner Chris Dixon, Chris Anderson (CEO of 3D Robotics and former Wired editor-in-chief), and artist and engineer Natalie Jeremijenko. They'll be interacting regularly with fellows, helping them solve problems and come up with creative ideas. It's going to be a blast.
I came to BuzzFeed largely because I wanted to be in a place that embraced experimentation, where smart people were frantically pushing the boundaries of what is possible and what is permissible. That's what this lab is all about. We want to embrace fearlessness and the possibility of failure. We want to jump the fence. We want to see what else is out there. And then we want to bring the world with us. Come on. Let's go.
How to apply
This summer, BuzzFeed will award fellowships to five individuals with winning proposals to bring the most exciting minds in media, technology and the arts together to spend a year working collaboratively in our newly formed Open Lab for Journalism, Technology, and the Arts. Four one-year fellowships will include a $100,000 award, access to a lab outfitted with specialized equipment, and an opportunity to collaborate with award-winning journalists. In addition, a single two-year fellowship will award a $150,000 annual stipend. All are fully benefitted. The fellowship awards afford talented technologists the opportunity to do important work in the public interest by advancing the state of the art in journalism. The application deadline is July 30. See our jobs page for more details.
Open Lab will begin our first class in late summer 2015 with five fellows, including:
• A senior fellow who will join BuzzFeed for 2 years, advise the fellows and will work on self directed projects. Please indicate in your submission that you are applying for the senior fellowship position.
• A GE fellow will explore the industrial Internet of Things and have the opportunity to develop on Predix, GE's Industrial Internet cloud platform. Please indicate in your submission that you are applying for the GE fellowship.
• An Eyebeam fellow will focus on creative practice in art, technology, and journalism through critical exploration, particularly engaging with privacy, ad-hoc-ness, and tracking-resistance. Please indicate in your submission that you are applying for the Eyebeam fellowship.
• Two additional fellowship spots are available for a wide range of proposals.
• Ben Kreimer, a BuzzFeed Open Lab beta fellow, will begin June 30 focusing on drone journalism and sensors.
Please submit the following materials as attachments or links to openlabfellowship@buzzfeed.com. Applications will be considered by BuzzFeed's editorial and tech staff, as well as the advisory board. The fellowships are full-time positions. Current and former BuzzFeed employees may apply but will not be given special preference. Applicants must be authorized to work in the United States.
Application materials
• Résumé or CV
• Details on three to five past projects you feel are representative of your best work
• If applying for the senior fellowship, please include examples of successfully leading product launches
Project(s) proposal: Please explain in detail, in separate sections:
• The specific project(s) you intend to work on with a proposed schedule.
• How the project(s) can be completed in only a year.
• If involving hardware, how the project(s) can be scaled up, including rough cost estimates.
• Why you are qualified and capable of doing work others haven't or can't.
• How the project(s) is consistent with the open source idea of bettering the media industry.
• Three letters of recommendation: Please have your referees email their letters directly to us at openlabfellowship@buzzfeed.com using the subject line "[Candidate's Last Name] Reference." Your referees should attest to your knowledge of your subject matter and your professional abilities, and your ability to create and innovate shareable technology.