The Definitive Ranking Of Incredible And Ridiculous Q&A Moments
Our great national car-crash.
Who thought it was a good idea to invite Zaky Mallah (a young man who was once found convicted then acquitted of terrorism charges) to question the parliamentary secretary on foreign affairs?
Well a review into the incident will probably find out. It also prompted Tony Abbott to ask the ABC, "whose side are you on?"
Only Australia's most colourful mining billionaire would call the Chinese government "mongrels" who "shoot their own people". The case angered China and forced Palmer into an apology.
This country. This show.
11.
When the farmer from "Babe" couldn't shake an in-studio fly.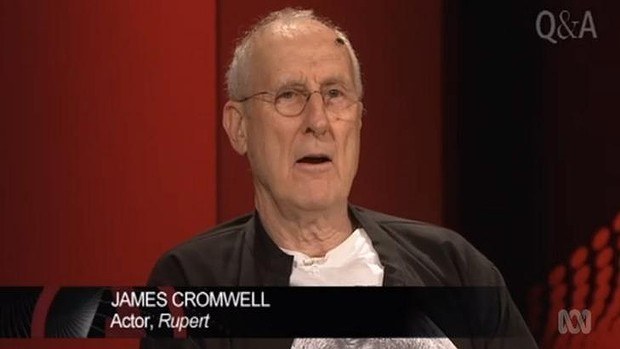 Like the pig he once nursed, actor James Cromwell was terrorised by a fly and it was a high moment in Australian television.
10.
When Malcolm Turnbull kept showing up in leather jackets.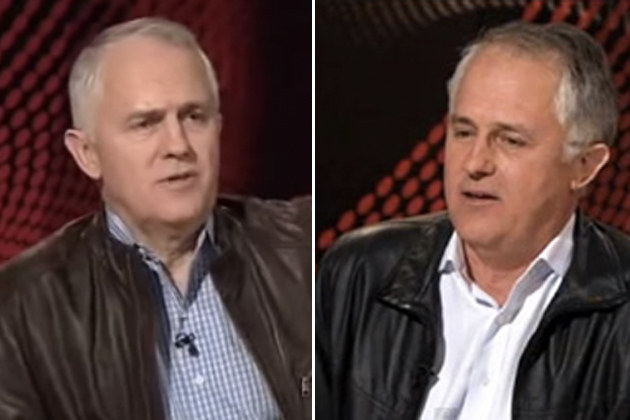 The undisputed darling of Q&A famously kept wearing different leather jackets on his many appearances, until he sold one for $1800 for charity.
He's such a bloody favourite with the audience his mere presence means at least one questioner will ask: "Oh Malcolm *bats eye-lids* when will you be prime minister?"
9.
When Annabel Crabb hosted and totally bossed it.
Look, everyone loves Tony "The Silver Fox" Jones and his ability to take things as comments. But when Annabel Crabb hosted earlier this year (and those times Virginia Trioli hosted) the questions had even tastier asides.
8.
When rapper 360 called the Australian flag racist.
Matt Colwell faced an all-out fan revolt when he went on Q&A and called the Australian flag racist.
"There are so many racist bigots in this country," he said, adding that people who wear the Aussie flag on Australia day can be "pathetic".
7.
When transphobic tweets appeared under military official, Catherine McGregor.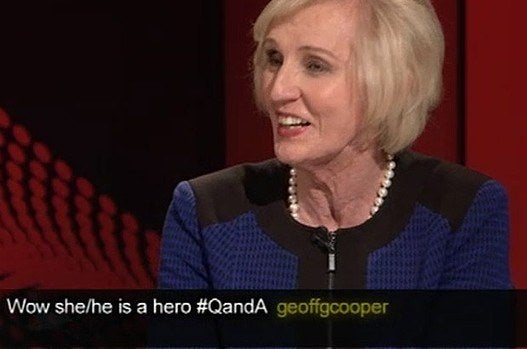 It's VERY well known that Q&A's Twitter moderator has a sick trolling sense. And the ABC was forced to defend the moderator earlier this year when a series of transphobic tweets appeared under the world's highest ranking transgender military official.
6.
When feminist writer Roxanne Gay was asked about men being included in feminism.
Q&A has struggled to have gender equal panels in recent years but that changed when the show had an all-female panel for International Women's Day earlier this year. It was a jam-packed episode that showed what happens when women take control, with feminist writer Roxanne Gay's DGAF attitude only just outshining a totally mad-cap Germaine Greer.
5.
When GetUp's Simon Sheikh fainted mid-show.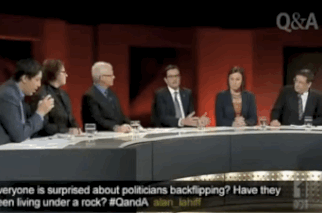 It wasn't so much Sheikh collapsing on-air during an episode in 2012 but former Liberal MP Sophie Mirabella's AMAZING reaction. It was left to former Labor MP Greg Combet who alerted everyone to Sheikh, while Mirabella looked on aghast.
4.
When comedian Josh Thomas took federal MP Bob Katter to town over homosexuality comments.
Responding to a question from the audience about LGBT people struggling with mental health issues in country areas, Katter said in his north Queensland electorate, "to my knowledge nobody has ever come to me with this problem."
Thomas launched into an impassioned rant and said, "you go out and you deny the existence of homosexuals in north Queensland; they exist. There's an app called Grindr; I'll put it on your phone."
3.
When a group of student socialists interrupted Christopher Pyne (who laughed manically at them).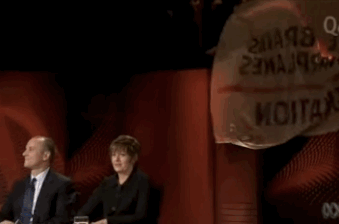 The group of student socialists went apeshit and unfurled a banner in May last year, in what has been the longest disruption in the history of the show. By the third minute, Tony Jones decided to play a song from the ABC archives... Australia has never been more excited to hear Katie Noonan.
The Australian of the Year gave several heartfelt answers during Q&A's anti-family violence special earlier this year. But it was when she addressed a woman in the audience about what women deserved which made the news.
"You deserve to live a life where you can wake up every day and not have to worry about the day ahead."
You could hear a pin drop in lounge rooms across the country.
1.
When some dude threw his shoes at John Howard.
The former prime minister was calmly going through an answer about Iraq when the questioner, activist Peter Gray, stood up and threw both of his shoes at the stage. He was escorted out from the studio and it was the first of many times the ABC was forced to apologise to Australia.
Australia, we nervously smile and brace ourselves every Monday night for what is equal parts compelling and unhinged. Never change #qanda.