Australia's Cricketers Called A Radio Station And Were Completely Smashed
Aussies under-fire for boozy celebrations.
This morning Tasmania's Heart 107.3 "Dave and Kylie show" spoke on the phone with a group of Australian cricketers who were partying on the roof of a Melbourne hotel.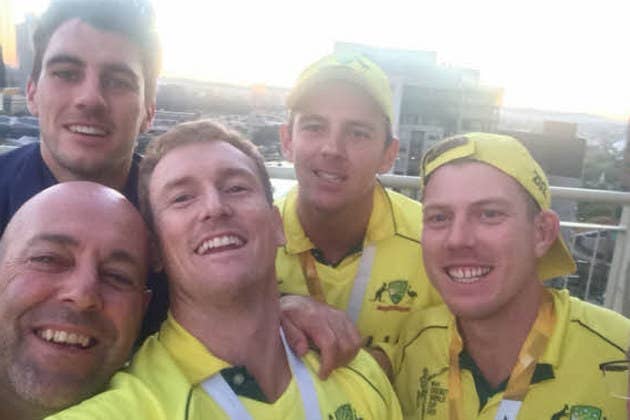 Dave: Good morning George Bailey!Bailey: We're on! We're on! We're going on! We're going on!Dave & Kylie: *cheers* Hey Georgey how are you mate?Bailey: I am, I am, I am, very, very, Dave I know I've always looked after you but tonight… today… this morning, I have for you…Dave: Who have you got?Bailey: We've got the coach, Steve Smith, Patty Cummins, Josh Hazelwood, Mitchell Marsh, George Bailey and the Man of the Match James Faulker. He's just making his way back.Dave: *laugh* What an absolute legend.Bailey: James Faulker, Dave Noonan.Dave: Hey Jimmy Faulker!Faulkner: I am an absolute legend.
Throughout the night, Australian coach Darren Lehmann tweeted several photos of the players celebrating pretty hard.
Dave: You are an absolute legend, mate, how well did you bowl? you bowled really well mate. Bailey: He did bowl well! And he has this capacity to just take wickets at the right time even at 124km/h.Kylie: Now Jimmy the whole of Tassie is singing your praises apart from the rest of the Australian cricket team you did a brilliant job, Tassie is very proud of you.Faulkner: Yeah they are aren't they.Kylie: *laughs* And so they should be!Dave: How's it feel? How's it feel to have won the world cup?Faulkner: It's obviously fantastic, it probably won't sink in till tomorrow. The sun's coming up here in Melbourne, we are looking out over the city and just enjoying it.Kylie: I'm guessing boys that none of you have been to bed and you're enjoying watching the sunrise after an incredible night celebrating.Faulkner: Yeah look sometimes you just have to do that it's not every day you win a world cup for Australia, particularly on home turf, the boys are making the most of it.
It was one of the most bizarre radio interviews in recent times. Even coach Darren Lehmann was handed the phone.
Dave: Is Boof Lehmann there?Smith: Boof Lehmann is here, Boof! Would you like to say a few words. Lehmann: Hello guys how are you!Dave: Good morning Boof!Kylie: Hey Boof!Lehmann: Yeah how are ya?Dave: Mate congratulations.Lehmann: I've just got to have breakfast I'm just checking on the lads. Kylie: Oh yeah sure.Dave: Mate you've really done a great job catching that team, it's been fantastic, you've really brought a lot of solidarity together. Were you proud of them?Lehmann: Yeah very proud but it's very hard work looking after these blokes they'll *inaudible*.Dave: My only complaint about you is that I love George Bailey, I'm a huge fan, I'm so disappointed he didn't play more World Cup cricket.Lehmann: At the moment I'm not.
The cricketers had a public party in their honour later in the day. Cricket Australia were aware that the glasses were likely keeping hangover eyes protected from cameras.
Like BuzzFeed Australia on Facebook.