Broadcasters Have Now Hired Private Guards To Protect Political Reporters And TV Guests Outside Westminster
TV networks made the joint decision after an ugly incident involving pro-Trump protesters pursuing a Guardian columnist away from cameras.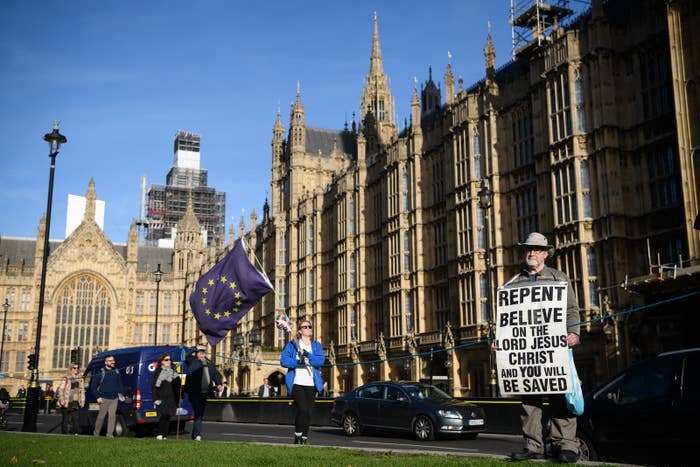 British broadcasters have hired a team of private security guards to watch over reporters and TV guests covering the Brexit mess outside Westminster after ugly scenes involving threats and abuse from protesters wearing pro-Trump apparel last week.
The BBC, Sky News, and ITN — the company that produces news for Channel 4, ITV, and Channel 5 — have pooled resources for the round-the-clock security to watch over the huge media contingent permanently broadcasting from outside the Palace of Westminster on College Green.
According to an email to Sky News staff seen by BuzzFeed News, Westminster and the police "do not have the resources" for a permanent presence.
"We are working with the Yeoman Usher and the Palace of Westminster police on security on Abingdon Green," read the email. "The Palace of Westminster and the Met Police do not have the resources to staff the green with a permanent uniformed security presence.
"So we are now pooling security 24 hours a day with BBC and ITN."

TV reporters have been stationed outside Westminster covering the Brexit crisis for several weeks, from early in the morning until late into the night. Crowds of demonstrators have become fixtures in the area, with one anti-Brexit protester dubbed "Stop Brexit Man" making it his mission to crash live shots.
But industry sources have told BuzzFeed News the joint decision to hire private security was taken by broadcasters after left-wing activist Owen Jones was harassed by protesters while doing a TV segment last week.
Jones was filming the segment alongside the Sun's political editor Tom Newton Dunn last Tuesday when people carrying pro-Trump signs began hurling anti-gay abuse at the Guardian columnist.
Video footage from the incident, which was widely shared online, shows the group of men — some of whom were wearing Trump jumpers and red Make America Great Again hats and were draped in flags — then pursued Jones from the area, yelling threats and abuse.
Jones told BuzzFeed News on Monday that the incident represented a far-right contingent in Britain that's becoming increasingly hostile due to Brexit.
"The incident was symptomatic of a broader growing far-right movement in Britain that loathes the left, rather than hostility towards the British media," he said. "Without getting a violin out, I get threats of violence and death on a daily basis online, all of which is focuses on the fact I'm a leftist, gay, and a traitor to my country.
"Both the media and politicians — with rhetoric of 'enemies of the people' to 'traitors' and 'saboteurs' to the left being 'terrorist sympathisers' and haters of their own country — are partly to blame for this increasingly toxic atmosphere."

The beefed-up security also follows a Brexit street protest and counterprotest around Westminster on Sunday morning. Far-right activist Tommy Robinson led a group against Theresa May's deal, while Jones and other prominent left-wing activists marched against Robinson.
But the practice of semi-permanent private security for members of the UK media may be the start of a worrying trend. Last year, the BBC's political editor Laura Kuenssberg was assigned a private bodyguard for the Labour party conference after she was the target of abuse.