Everyone Is Taking The Piss Out Of These Idiots Sending Bacon-Laced Christmas Cards
#spreadhummousnothate
by
,
A couple of weeks back an anti-Muslim Facebook group called the Aussie Infidels told its followers to send Christmas cards "smeared in bacon fat" to the local Muslim association.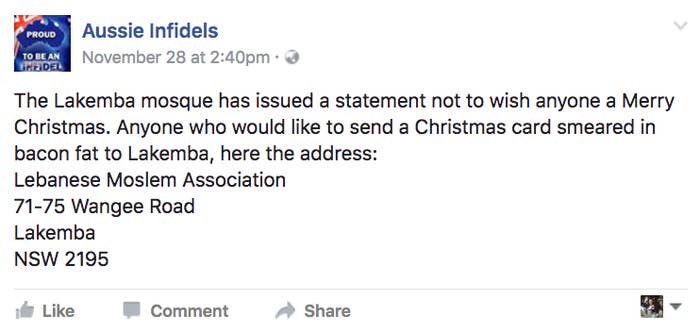 It's unclear what provoked the status. There are no recent public statements from the Lakemba mosque or the Lebanese Muslim Association about Christmas.

Well it happened. The Lebanese Muslim Association posted a photo of some of cards they have received, which included bacon bits, rinds and grease.
Mostafa Rachwani from the LMA said Muslims "recognized the sheer animosity" behind the hate mail but felt the "best way to deal" with what he saw as "violence" was to laugh about it.

"Laughing about it is actually an inherently Australian way to deal with it," Rachwani told BuzzFeed News.
The cards were a step-up from the offensive "grammatically horrendous" comments the association received on its Facebook page.

"We get sent a lot of stuff online any time there is a positive or negative incident involving a Muslim and a lot of the time the messages use images of pigs, rape, death and bombs," he said.

"We are the ones that apparently have a all the time sitting on our hands on welfare and these guys have all this time to cook bacon, smear it on a Christmas card and post it."
Last week, comedian Nazeem Hussain also posted on Twitter about rashers of bacon which had been left in a Sydney hospital prayer room.
He was also taking the piss.
Muslim human rights advocate Sara Saleh encouraged bigots to send her Nutella instead which she said was "absolutely forbidden" and "100% haram".
"Please feel free to leave boxes on our prayer mats, or send some along with the below Christmas well wishes cards we received in the mail," Saleh posted.