A Gold Coast woman has been reportedly presented with one of the most horrific rice paper rolls in the history of Vietnamese cuisine: a dead mouse. No really, proceed no further if you don't want to see what appears to be a bloodied, dead mouse.
According to the Gold Coast Bulletin, she opened her roll on Sunday at the local Woolworths and found this. Really.
The Bulletin reports that local health authorities are investigating the incident and Woolworths is questioning whether the mouse was even inside the roll when it left the store.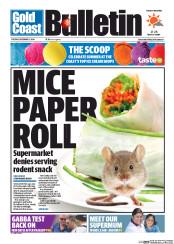 We'll be waiting to hear what happens next in the "Mice Paper Roll Saga". But for real in the meantime: