A group of three men disguised by a motorcyclist helmet, Ku Klux Klan outfit and niqab have attempted to expose security arrangements at Parliament House.
Parliament House brought in a so-called "burqa ban" earlier this month that would have seen women wearing burqas or niqabs forced into different viewing areas behind glass. The new rule was dropped just weeks later following public furore over the ban.
The men on Monday appeared to be trying to test the security arrangements.
The men were photographed outside Parliament House and gave a short media conference.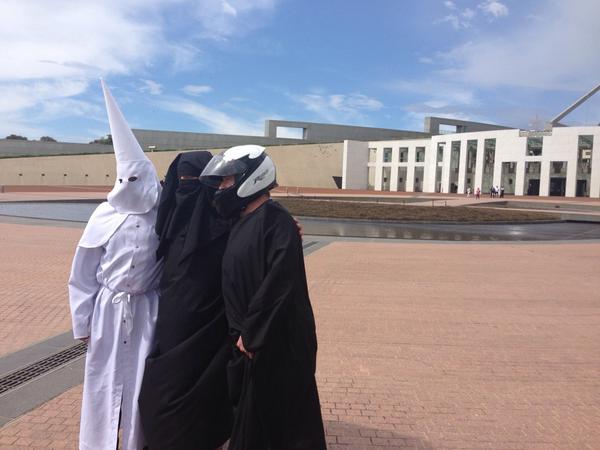 Before striding towards the nation's parliament looking like absolute dickheads.
Fairfax reporter Latika Bourke posted video to Instagram that shows one of the men taking off the KKK suit to reveal a niqab and asking whether he can be let in now.
But as per the new rules, all people entering the building - including women wearing niqabs and burqas - need to be identified once at the door.
The men were forced to identify themselves. As per procedure. The system works, even against dickheads.