Meet Labor's candidate for the Melbourne seat of Wills, Peter Khalil.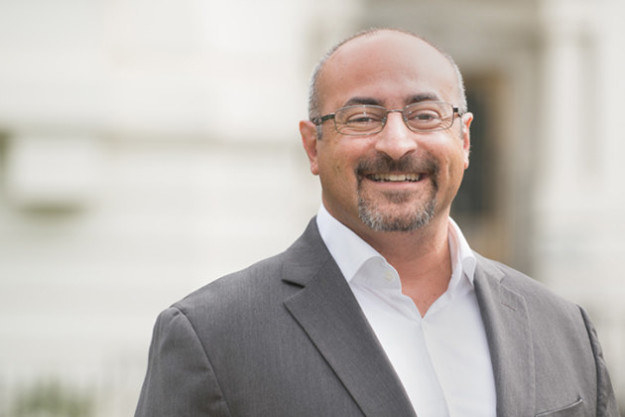 Earlier this month, BuzzFeed News interviewed Khalil in his Melbourne electorate office where he confirmed that he used to have secret, off-the-record meetings with US government officials in his role as a foreign affairs adviser to former prime minister Kevin Rudd.
But when we asked Khalil about briefing US officials in 2009, when he was no longer working for Rudd, things got a little weird.
Khalil told us that meeting with the US embassy was "a normal part of diplomatic work", but he refused to tell us who exactly he was working for in 2009.
BuzzFeed News showed him a US diplomatic cable from 2009, which clearly shows that Khalil was an informant for the US government at that time, and briefed officials on government asylum seeker policy.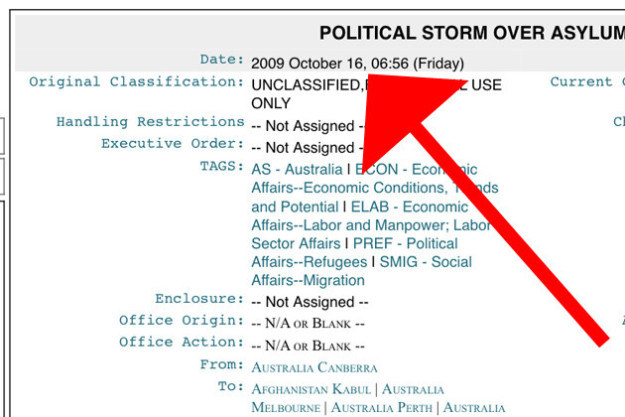 When confronted with the information, Khalil would not say what he was doing in 2009.
"I wasn't working in government, no," he said.
Since then BuzzFeed News has submitted follow-up questions to the candidate and Labor's campaign headquarters seven separate times to ask who Khalil was working for in 2009.
It appears both the candidate and the ALP want to keep information under wraps, as they have refused to comment or provide any more information on his past.
Labor wants the people of Wills to vote for a man whose work history remains top secret.
Senate documents confirm Khalil was no longer working for the Australian government in 2009. He was instead working for Labor-aligned lobby firm, Hawker Britton, and taking private meetings with the prime minister's parliamentary secretary.

Khalil's name popped up in Senate Hansard in February 2010, in a question asked to then immigration minister Chris Evans.
According to Evans, Khalil held five "private meetings" with Rudd's then parliamentary secretary in 2009. On two occasions Khalil held one-on-one meetings with him, three times he was in the company of others.
On one of those occasions in March, Khalil turned up with representatives from a gold mining company called Sinogold Mining Ltd, who "discussed their gold mining projects in China" personally with the parliamentary secretary.
As well as lobbying and working as a "protected source", this speaker list from a 2009 security conference suggests Khalil was also working for the University of Sydney's Centre for International Security Studies.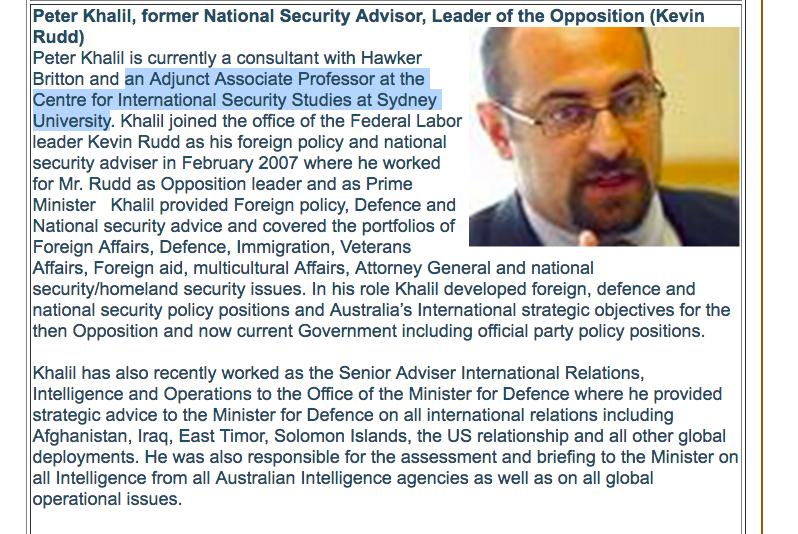 So Khalil was working for Hawker Britton in 2009, holding private meetings with the prime minister's top aide and providing information on the quiet to US officials.
BuzzFeed News asked him three times whether he was still considered a "protected source" for the US government and he replied, "I don't know" each time.
CORRECTION
Peter Khalil held meetings with Kevin Rudd's parliamentary secretary in 2009. A previous version of this article said the meetings were with Rudd.